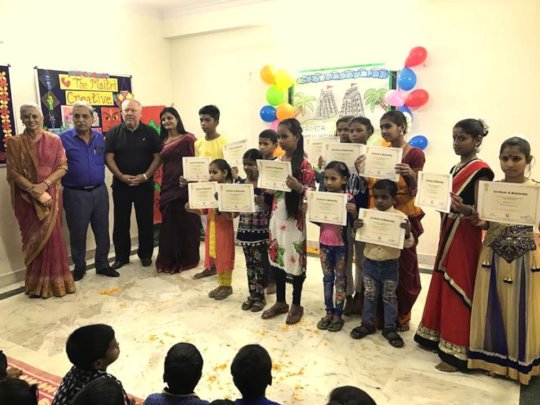 Dear Maitri Friend,

It has been an exciting quarter for our Afterschool Programme. we continued to hold After-school classes for children from low-income communities in two co-locations. The students we have are aged five to sixteen. Our teachers are able to give them individual attention, which they don't normally get in school because of bigger size of the classes. Our overall goal is to enhance their understanding, better their academic performance and enrich their holistic development. We bring you highlights and recent update on the project.
The last quarter has been of fun and education packed together. They are progressing well in their classes and have had outstanding results. They are dedicated towards their studies and are very happy with the teaching they are being provided with. During Dr. Ulf's visit meritorious students from Maitrigram
school ARD complex and Sonia Vihar were awarded certificates of merit and scholarships of Rs. 5,000 each.
The first month of the year, started with a lot of excitement and enthusiasm with in students and teachers. Our teachers- Ms. Manisha, Ms. Estherleena and Ms. Pooja are dedicated teachers who come every day from 3pm-5pm. We also have a volunteer, Ms. Wamika, who teaches English to class 9 th from 3pm-4pm every day. Despite of cold weather, the school attendance was up to mark. The total number of students is 63. No new enrollments were made and 4 students discontinued.
The New Year started with the introduction of Yoga classes at the school. The yoga teacher, Mr. Naresh Sachdev visits the school twice a week, i.e., Monday and Friday. Other than yoga, Mr. Naresh also teaches moral values and the other things like, importance of healthy eating etc. Each class is for half an hour, i.e., from 4:30pm – 5pm.
On 22 nd January, kids celebrated Basant Panchami. The signification of Goddess Saraswati was explained and bajans were played in school. Yoga teacher, Mr. Naresh Sachdeva distributed a goodie bag of a scale, pencil, eraser and sharpener to the students.

On 25 th January, Republic day was celebrated in school. Tri color tattoos were decorated on student's cheeks. Speeches were made by four students about the significance of republic day, how and why it is celebrated. Tiny tots from class's 2 nd to 3 rd presented various slogans given by our freedom fighters. Our rights and duties as a citizen of the country were explained to the students. At the end National Anthem was sung. A total of 609 packets of biscuits, 108 packets of tea pots and sandwiches, chips fruits and
chocolates were also distributed to both the schools.
Last week was full of fun, activities, games and learning when students of The British School volunteered at Maitrigram,Our school Programme to provide supportive education. The students were involved in different activities and games which creates a different and holistic experience of learning
Thankyou for all your support .