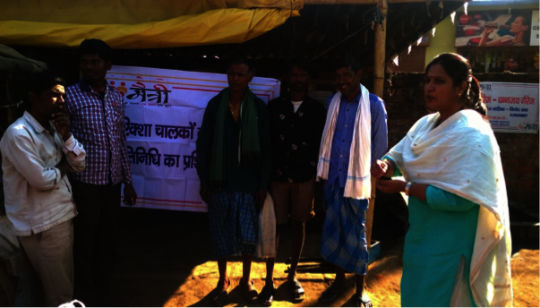 Dear friends,

Everyday large numbers of people migrate from rural to urban areas causing unplanned and explosive growth of cities in India. A vast majority of these migrant workers get absorbed into various unorganized sectors. A significant number of migrant workers take up cycle rickshaw pulling to support their families back in their villages.

Pulling cycle rickshaw is one of the easiest ways they can get employed because it doesn't require any formal education or job application. However, it is one of the most physically demanding jobs. They have to paddle the cycle rickshaw in harsh weathers all day long for as low as few hundred rupees a day. Most rickshaw pullers cannot afford a cycle rickshaw so they take one on rent. After they pay the daily rent and send home some for their families, they practically have nothing left for their own sustenance. That's why many of them don't rent a house. Instead, they sleep on their rickshaws, at the railway stations or at the rickshaw garages. An estimated 2 million cycle rickshaws ply the roads in India. It is believed that the actual number could be much higher than this.

Maitri has been working among Rickshaw Pullers (RPs) in Ranchi City, Jharkhand, India since 2012. Most of these RPs live in dire poverty, with a lack of adequate housing, clean drinking water, sanitation and medical facilities. Maitri works to improve living condition, promote access to citizenship rights and other challenges Rickshaw Pullers confront on a day-to-day basis while doing an unglamorous job to sustain themselves.
Organisation of BCC camps
Amidst all forms of interventions, Maitri organises BCC camps focuses on empowering RPs and eventually their families and a larger population of the community, to make decisions based on correct information and improved understanding and to motivate them to help create positive social norms. This month a new concept was added in BCC where information on "how to behave respectfully and responsibly towards women, elderly and children" is being imparted amongst the RPs; importance and usage of UID, ration card, BPL card, Bank account, how to take benefit pension amount, UWIN cards registration process, importance of hygiene and sanitation like keeping cooking place clean etc; inducing informed heath seeking behavior etc.; the concepts of identity, dignity and respect and correlating them with the RPs vocation of rickshaw pulling and their life as a whole.BCC camps provide thrust on generating awareness, disseminating information and behavioral change amongst the RPs. Important case studies are collected after the BCC session.
Case study- Here is how your help has made him take a descision in life
One of our benefeciaries had been in the vocation of rickshaw pulling for past many years (7 – 8 years) before switching to e-rickshaw some six months before. He said that he was quite satisfied with his prior vocation. He added, "I raised my family quite well with the money I earned from rickshaw pulling. I used to earn INR 400-500/- almost every day. But when I got an opportunity to drive e-rickshaw, I decided to try it."
When he started driving e-rickshaw, his daily income increased considerably (INR 600- 800/- per day). He liked the change and embraced the change positively. As he got used to driving e-rickshaw and e-rickshaws started to become prominent on Ranchi roads, traffic rules and regulations on them started to form and come to fore. With this, the
daily income of e-rickshaw drivers got affected to some extent. He shared that his daily income came down to almost half of what he was earning before, that is, INR 200- 300/- per day. Although, he manages to earn at least INR 400/- on some days, daily average income has reduced.
As a matter of fact, He is earning less than what he used to earn on a daily basis as a rickshaw puller. But he has no regrets. He stated,
"Rickshaw pulling is a vocation that is close to my heart. My family thrived on it. But today when I have changed my profession, I don't wish to go back to rickshaw pulling again. Several factors are their like physical comfort, less labour etc. but most importantly, I feel it has given me a status. People in general look down upon rickshaw pullers but the attitude is not same for an e-rickshaw driver or for nay driver for that matter. There is a sense of respect and feel good factorassociated with being an e-rickshaw driver than a rickshaw puller."
He said that he could have never thought of switching his job and do something else if e-rickshaw did not come into scene. The transformation was easy and it serves him and his family well. He is positive that in coming days the traffic rules will loosen up gradually and as such, the daily income of e-rickshaw pullers will increase eventually.
Since Maitri also promotes alternate livelihoods for the RPs, this comes across as a positive case study.
We thank you, our loyal donors, for joining hands with us in coming along side with Rickshaw Pullers and helping them actively participate in improving their lives. We will keep you updated on the progress we make and the lives we transform!