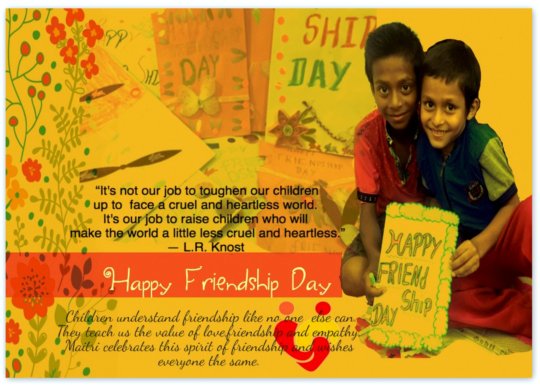 Dear Maitri Friend,
It gives us a great pleasure to inform you about all the "work and play" happening at MaitriGram. July and August are months with important dates that celebrate the spirit of friendship, love, brotherhood and freedom. Maitri has witnessed some of the most beautiful meanings that the children have attached to these days. We would love to share these meanings and moments, because you are contributory in creating such a motivating and magical place.
Celebrating friendship:
There was a heap of chart papers, crayons and sparkling/sketch pens in the hall. Creative minds were supplied all the essentials to utilize them and make the best out of it. There were butterflies, flowers, friendship bands drawn on the colorful chart papers. Just after material distribution, these children of Maitrigram started their colourful work. It was card-making session for the kids. Divided into a group of four, with one elder and three young, it took a lot of perseverance and patience. The activities were based on the theme of friendship day and rakhi. Everyone depicted different meanings of friendship and a lot more was shared. It was a day full of love and warmth, when children, while some of them were also siblings, collectively made rakhi by ribbons, cotton balls, decorative stars and what not!
Today we live amid so many riddles, so many heartbreaks, so many unfinished responsibilities. It's also because human wants are ever growing and recurring in nature. Aspirations are perpetual. But here, the children have taught us meanings of friendship and love in a different manner. The want is minimal, here less is more. Happiness is as strong as the bonds they believe in, and as sharp the shapes of the cards they made.
Undoubtedly it's the children who make these days much more fun and pleasant, and collectively teach us the meanings of friendship and love.Maitri (Sanskrit) means benevolence, loving-kindness, friendliness, amity, good will, and active interest in others. The children have successfully depicted these emotions in all the activities they were involved with.
Celebrating independence:
The Indian flag, tri-colored balloons, innumerable packs of tri-colored badges and wrist bands scattered on the table. That's how everyone at Maitrigram began, by decorating the walls and windows of MaitriGramschool.\Despite the sweaty weather, everyone toiled enthusiastically and by 3 p.m the room was full of vibrancy. kids in white kurta-pyajama and other performersin dashing attires. It was an evening of young energetic poets and dancers. Songs like vande mataram secretly recited in their hearts and the tri-colored badges thumping on our chests. It was a beautiful feeling to be part of this school, where young minds added on to the spirit of freedom and independence. They all danced on patriotic songs, recited poems and sung songs.
After the celebration, they were provided snacks, which surely made their evening, a pack of biscuits, chips and juice. The hustle was part of the celebration, since so many nippers in one big room were hard to handle.
They sang the national anthem with full vigor and valor, with caps on their head and wristbands on their hand.
Teaching a lot more than learning
MaitriGram provides not just tutorial classes but opportunities for personality development, skill enhancement and participation in extra-curricular activities. These activities requires a lot of effort from both the sides, teachers and as well as students. Giving ideas and applying them is a two way process. Teachers help kids here, in communicating as well, since many kids especially younger ones are timid and often become reluctant participators. By working in a group, it makes them interactive, share ideas and make full use of facilities provided by the school.
Such celebrations are significant because they shape different meanings in the mind of a child. Surprisingly, Children of Maitrigram have rather added new feathers to the spirit of these celebrations. While Maitri has provided such an environment, the children are the ones who have added different meanings and shades to them. And while Maitrigram and the children are the key participants, it's because of help and support from donors like you, that such dynamics has been created. You have helped impart meanings to emotions and feelings of friendship, love and freedom with the children of MaitriGram. What more can an education expect? And what more journeys can we all take? Thank you for all your support and lets create more of such meanings and journeys,