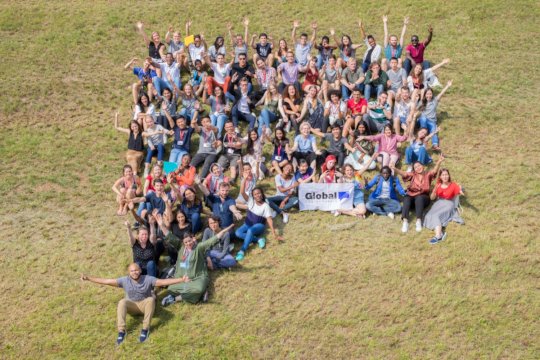 2019 Has been one of the most impactful years we have ever had. We launched three new programmes and brought on two core team members and four programme contributors. We were able to reach and train more young people, and award more grants to youth-led projects than ever before.
The Global Youth Summit is a fully funded week of training, skills development, capacity building, interactive workshops and networking. The 2019 Summit, the eleventh to date, took place from 13 -19 July in Aarau, Switzerland under the theme of Solutions for Change.
At the summit, participants participated in and lead training sessions, networking and workshops to enhance their skills such as campaigning, fundraising, project management, leadership, public relations and pitching. The changemakers also had the opportunity to pitch their ideas to an enabling panel. After the summit, participants become eligible to apply for grant funding to scale existing initiatives or create new projects.
This year we launched a virtual mentorship programme that was created by two of our changemakers, Kathia Salazar and Yasmin Morais, who run the programme. It takes place online over 12 weeks and is open to 15-22 year olds from across the world who are mentored by one of our Global Changemakers*. This year we had 80 participants from 65 countries, with plans to expand the programme to 120 participants in 2020.
Over the course of the five-part mentorship journey, participants are equipped with tools, skills and knowledge to "be the change [they] wish to see". They are provided with curated supporting materials and have the opportunity to participate in regular meet ups with other participants.
Our webinar series was created to develop key skills and provide useful information to young people without the barrier of geography or cost. We invite expert guests and changemakers to record a 20-60 minute lecture style webinar which is made available on our website and YouTube channel and is freely accessible to all. This year we had 2,692 webinar views, a 89% increase from 2018.
Our tool kits are downloadable resources on project management, fundraising and digital media strategy. They have been translated into 8 languages and used by organizations such as the US Peace Corps, World Vision, the World Bank Institute and UNAIDS Brazil. This year we had 683 downloads, 32% growth from 2018.
In November this year we launched a podcast which was created by three of our changemakers George Chapman, Sophie Staheyeff and William Reyes, who also host the show.
The aim of the podcast is share the stories of fearless young people working to create lasting change in their communities. We interview young changemakers from across the world about their motivations, ambitions and lessons learned along the way. The podcast aims to show you the incredible impact of youth and that you too can make a difference.
In the first three weeks we had 651 listeners from 72 countries.
We are a pioneer in supporting youth-led projects. Our approach is to train, support and trust young people to develop their own solutions to the challenges they experience. Our grant programme allows people who have attended our training at a Global Youth Summit to apply for funding to implement or scale their own initiatives.
This year we funded 36 youth-led projects in 29 countries. Initial reporting shows a combined impact on 2,019,820 people.
Looking Ahead
2020 Is looking like it is going to be another big year for us and there will be some big changes. With the record number of applications to our annual Global Youth Summit and the huge growth in our outreach numbers, it is clear that the demand for the support we provide is only growing. To answer this demand, we are developing an online school that will provide skills, knowledge and tools to any person who would like to create a positive change in their community.
We will also be launching GCMx, a combination of an independent and a 'train the trainer' model, where young people will be able to host skills training events for other young people in their own communities with support and resources provided by Global Changemakers.
Very Special Thanks
To our contributors, members of our alumni network who go the extra mile and share their skills and time and allow us to provide great content for young people on our extremely limited budget. Whether by hosting webinars, providing mentorship, hosting our podcast (or being featured on it!) or by filming, editing or allowing us to use their music and pictures for our content. Global Changemakers has grown to where we are today thanks to the unlimited talent in our network and their willingness to share it with others.
To our team of five, working from five different countries and 3 different continents to support youth around the world to make a positive impact.
Last, but absolutely not least, our record-breaking year would not have been possible if not for the generous support of donors like yourself. Words seem inadequate to express our gratitude.
Thank you very much.
Links:
Attachments: