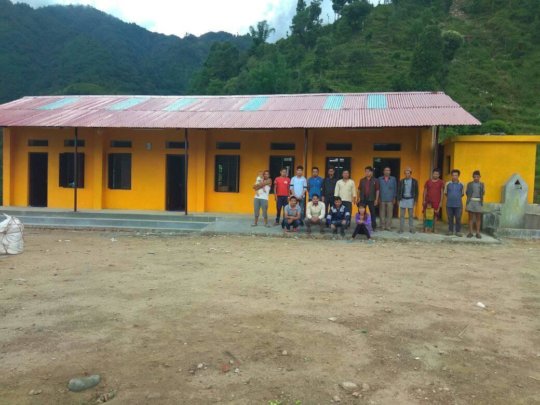 A New School Building in Baruwa, Sindhupalchok.
PHASE Nepal has successfully completed rebuilding a three-room building and gender friendly toilets for Ganesh Basic School in Simpani settlement of Baruwa. Baruwa is located in the upper hilly terrain of Indrawati Valley. The whole village was completely damaged by the 2015 earthquake and the rebuilding of private houses as well as public infrastructure is being done with the support from Government as well as the organizations like PHASE.
Seeing the funding gap for rebuilding this school from Nepal Government Side, PHASE received a recommendation from Sindhupalchok DLPIU (District Level Project Implementation Unit) and thus rebuilt 3 rooms for running-grades 1 to 3. After the school was completely damaged by the 2015 earthquake, more than 30 children of this locality were forced to walk 2-3 hours to reach another school.
After this rebuilding, PHASE plans to provide classroom materials, teacher training, and parents orientation to bring these children back to their own local school.
" I am very relieved that the village has got its own building. I will work to bring the local children back to the school now. Going to school will be much easier now."
-School Chairperson, Ganesh Basic School.