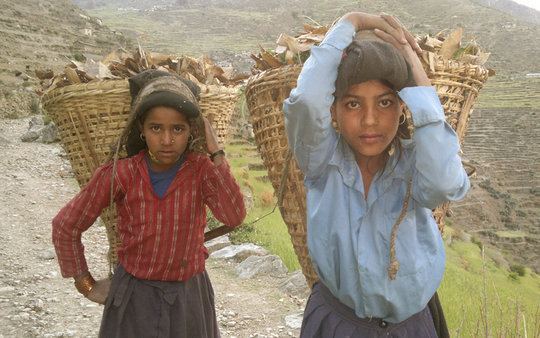 In a scattered village like Maila, it is difficult to access available health service in remote Himalayas of Nepal. Friends! Meet a man from Maila this time, who lost his daughter because of remoteness of health service access. He is Ghamanda Shahi. He lives in ward number 5 of Maila Village Development Committee. Maila is the farthest village from district headquarter of Humla which is a 4 days walk away.

"I am the father of four daughters and one son. The days were passing on well and I was happy thinking that all of my children are growing up faster. One day my two daughters elder and middle got sick unexpectedly. My elder and middle daughters are 14 and 12 years respectively. At first I was thinking that this is a normal illness and it may not harm but several days went by and both daughters stopped eating. They started to have a high fever every day."

Maila village is scattered and it takes half day walk to reach the health post from some remote village. Due to remoteness, most people do not want to waste their time spending a whole day for health service and so did Ghamanda Shahi too. He adds:

"It was a critical time for me. I knew about PHASE serving from a local health post but it takes more than 3 hours walk to reach the post so I decided to take my daughters to a nearby medical shop called Gallawada. After a normal check up the shop owner gave them some medicines. We returned back to home. My daughters felt quite better."

Ghamanda's livelihood is also same as others in Maila - a poor family having steep dry lands. It is only possible growing small amount of food grains which is not sufficient for living on, however he says;

"As we have to continue our daily works, I was busy and forgot to notice about my children's wellbeing; whether my two daughters got better. They kept taking the medicines and I was hoping to see them well very soon. After 2 or 3 days, I found that they were getting worse. They started vomiting when they took their foods. At night their bodies were shook because of high fever. Again I took both of them to Gallawada medical shop. The shop owner gave some medicines and was encouraging that both will be fine soon!"

Ghamanda kept noticing his daughters' health. Both the daughters went to worse condition day by day. However he had to go for his work too. He explains:

"I was serious about my daughters' health but I was also convinced that the medicine would help my children. One gloomy day, I lost my middle daughter after 12 days of serious illness. We were all in deep pain; the entire neighbourhood knew this unexpected shock. The older daughter was also in the same condition and we were scared with her possible death too."

The rumour spread all over Maila, because there was a sudden death of a little young girl. PHASE Nepal staffs who were working in Maila Health post also became aware this and they rushed immediately Ghamanda's house.
"When PHASE health staffs rushed into my house, I explained all the incidents to them. They checked my elder daughter Kabita and advised me to take her to the health post immediately. I was scared and senseless because of fear that Kabita would die very soon. PHASE staffs tried to convince me that Kabita would be fine if I took her to health post, however, I did not take her to health post that same day."

Ghamanda thought that Kabita would also die. The health post is very far to walk; Kabita was in bad condition and could not walk herself. Neighbours also tried to convince him and they also encouraged him that they help to take Kabita to the health post. Ghamanda Says:

"The following day, some neighbours arrived to my doorstep, saying let us take Kabita to health post. Me and Kabita with some neighbours, departed for health post. Neighbours helped to carry Kabita on the way to health post. We arrived health post in mid day. PHASE health staffs were working inside clinic and they were very pleased when they saw us with my daughter."

Immediately, PHASE staffs accompanied with local CMA (Community Medicine Assistant) focused on emergency treatment of Kabita.

"PHASE staffs started to examine my daughter. They dispensed medicines and helped Kabita to take medicines; they also injected her. After examinations they advised me to leave my daughter at the health post so they could monitor her health. After two days, I saw Kabita was quite brighter, and ate little bit of food and started to speak with the staffs. I was excited to see all these. Kabita's health was improving day by day and after 5 days of intensive care by PHASE sisters, she was able to walk around herself."

Once, Kabita got the right treatment and she was able to move around, started to eat food slowly, she started to speak and smile. She overcame death!

"It was Unbelievable! Kabita recovered. I do not have words to thank PHASE staffs who took care of my daughter like she was their young sister. They gave medicines on time. They helped her eating food. After 5 days, we (father and daughter) returned home. Kabita walked home herself from the health post. I am very happy with the service provided by PHASE. I also like to say that- Do not love your work when you are sick. Do not go to traditional healer, do not stay home with illness, just go to nearby health post and you will get the right direction."

With Gratitude!
PHASE Nepal Team.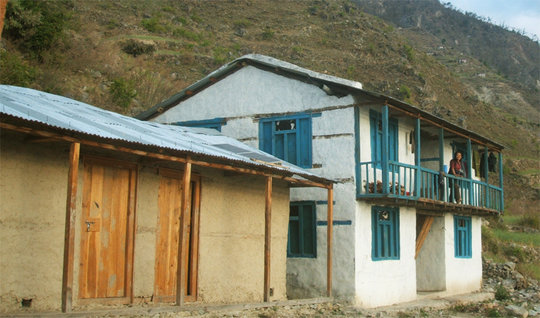 Dear friends, namaste This time we are putting not a story directly related to our health work in Maila but a story of a woman from Maila who is suffering because of how the society takes son and daughters. It is not only the story of Ms Bedana Nepali but of the majority of the women in remote areas of Nepal. Here is the story in her own word:
"I am Mrs Bedana Nepali (untouchable lower caste) from Maila. I was married at the age of 18 and gave birth to my first daughter before my 20th birthday and 2nd daughter at the age of 22. When I gave birth to my second daughter my husband and mother in law started complaining about not giving son to them and eventually my husband married a new wife, but she also gave birth to a daughter. After that my life got miserable. My family abandoned me and I could not go back to my natal home since I had my step mother and they are very poor. I was not treated well by the community and the neighbors telling me that I was a barren woman since I could not give son to my husband's family. My friends also did not treat me well and hesitated to talk thinking they will also be barren if they got too much intimate with me. They said rather than having a daughter it would have been better if it was miscarriage or I should have killed my daughters immediately after they were born. I was so sad that I thought my daughters are sole cause of my sufferings and they will have the same fate if they are grown up in this society. I did not think of any consequences and I tried to kill my small daughter three times by pressing her neck but probably her suffering or probably mine has not ended yet so she did not die.
Though everybody in my village know this I had never got an opportunity to tell this story to anyone else. I would like to thank the nurse Ms Indira Kuwar from PHASE for listening my story and giving this opportunity to tell my story to the outer world, now after telling my story I feel better. I really hope that some day it will come where both son and daughters will be treated equally and no mothers will be treated badly for giving birth to either."
As you can imagine, there is not only need for health service but a lot more and your support has made us able to contribute a bit in the area where people have so many problem, thank you very much for your support.
PHASE Nepal runs two similar clinics in the remote district of Humla: one in Maila and one in Melcham. During our visit we had the pleasure of visiting the clinic in Melcham and observing how it is run. There are no roads to Melcham, and it took us several days to hike to the village. In such a remote part of the country, a clinic like PHASE's has a big impact.
We walked inside the Melcham clinic to discover a well utilized space: the floors were sanitized, the medicines were organized, and there was equipment available for most imaginable situations. The clinic staff was even prepared with "Emergency" and "Home Delivery" backpacks when home visits are necessary! During the hours we were there, the clinic was quite busy. We learned that people come to the clinic from five or six villages in the area, and they sometimes walk for seven hours to arrive! The patients that we met had concerns which ranged from infection to bandage changing to family planning. Each patient was assessed in a private room, and then the necessary medicines were administered, free of cost.
Kalpana, the clinic's cheerful nurse, kindly hosted us during our visit. In addition to showing us around the clinic itself, she explained the many charts and calendars that papered the office walls. Many of them corresponded with PHASE's community health initiatives. Among many other things, PHASE Nepal hosts monthly immunizations by government staff, organizes school education days, and schedules health visits to surrounding villages. This keeps the small staff of three very busy!
While we enjoyed watching the clinic in-action, our favorite part of our visit in Melcham was the opportunity to speak to many community members! Almost everyone we met along the trail from Simikot to Melcham had heard of the PHASE Nepal clinic, and they had nothing but good things to say about it. Many of them wanted to share ways that the clinic has helped them or someone they know; I only wish I knew enough Nepali language to understand and translate those stories!
WARNING: Javascript is currently disabled or is not available in your browser. GlobalGiving makes extensive use of Javascript and will not function properly with Javascript disabled.
Please enable Javascript
and refresh this page.