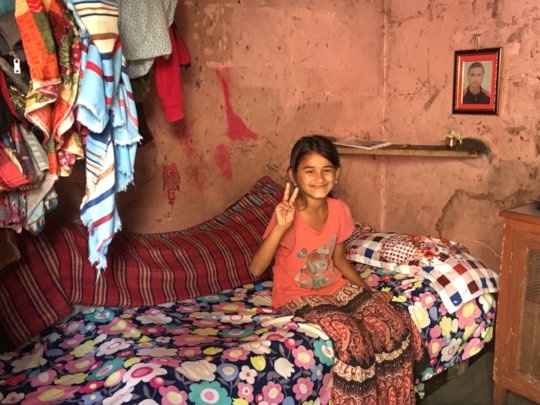 Bahini Newsletter
(January – June 2019)
The Problem:
Despite progress over the last decade, girls and women remain the majority of Nepal's unwanted, uncared-for, unhealthy, unfed uneducated, exploited, abused ad stunted!
OurMission:
We are determined and committed to change this sad and intolerable truth!
It is our declared objective to prevent worst forms of abuse, discrimination and exploitation of girls and women in Nepal. To this end we are providing the most vulnerable and impoverished, namely single mothers with dependent daughters with the basic needs for them to live a life in safety and dignity.
EDUCATION is one of the main pillars in our objective to make our beneficiaries independent and confident and prepare them for a life of equal opportunity, free from oppression and discrimination.
Objectives:
1) Prevention of worst forms of abuse, exploitation, and trafficking of the most underprivileged girls and women in Nepal.
a) Empowerment of girls and women in Nepal by means of education, vocational training and awareness programs.
b) Prevention of malnutrition by providing nutritious food to the poorest/marginalized.
2) Addressing Rural poverty and Widowhood
a) Providing single mothers/grandmothers with dependant daughters' food, education & healthcare to ensure better livelihood and decrement in poverty.
b) Supporting some of the most discriminated and stigmatized in Nepal, namely young widows with dependent daughters and help them to live a life in dignity and hope for a better future.
3) Education, Health care & Counseling
a) We are providing our beneficiaries with adequate education.
b) We are providing basic health care to the poorest & most underprivileged.
c) We are providing Awareness on Puberty, Menstrual Health & Advocacy.
d) We are providing psychological counseling and therapy if needed to the mothers and children alike.
4) Addressing Child Friendly Governance & Human Trafficking
a) Empowering girls with awareness on child rights.
b) Prevention of child marriage and child-pregnancy.
c) Prevention of trafficking with Education, Awareness & decreased poverty.
Our Programs:
Educare Family:
The EduCare Family Project is an innovative, unique, pragmatic and efficient new approach to support the helpless, hopeless and the most vulnerable.
'EduCare' stands for Education, Healthcare, Food, Clothing, Hygiene, Counseling and Assistance & Protection whenever this is needed.
We are prioritizing the most vulnerable, namely girls and adolescents! However, boys are not explicitly excluded and it will always be situational when we are deciding to support boys.
OPTIMIZING-NETWORKING!
We are constantly aiming to improve and optimize our service and to this end we are putting strong emphasis on "NETWORKING" .
In one of our "Educare-Families" the mother is attained by AIDS: Since her physical condition got worse and she needed more care and support we referred this family to the organization "Star-Children-Pokhara", This organization is specialized in helping AIDS affected people and they are now providing adequate care and support for this family.
Another of our "Educare-Families" , a single mother with two dependent daughters have been referred to "SOS Bahini" and this mother is currently being trained as a "IFAP-Family-Mother".
Currently, we are providing support to 22 such families in and around Kaski. These families consist of 22 Single mothers/grandmothers, 45 girls and 13 boys.
Education Support:
We believe Education is that window, which helps to see the whole wide world and that all children must be entitled to education! Therefore all children from marginalized families (orphans/semi orphans, poor parents, sick parents) are supported for education.
For all beneficiaries that receive Education support, we provide the following:
1.) School fees
2.) Books and Stationary
3.) Uniform and Foot wares
4.) Raincoats/Umbrella
Currently, we are providing educational sponsorship to 36 beneficiaries: 28 girls and 8 boys.
School Graduates:
2 of our daughters and a son completed school successfully. They have passed with good grades. We wish them the best for their lives ahead.
Health Care Insurance:
The government of Nepal has initiated a 'health insurance program' for the people and we participated in this program in the best interest of our beneficiaries. We are of course providing our beneficiaries with health support but this insurance policy is making it easier. This insurance is covering medical costs and service for up to Rs. 50,000 per year. The yearly fee for this insurance is minimal and it is covered by the "Bahini-Educare-Foundation".
23 mother and 58 children have been insured and many have taken advantage of this facility. Recently a mother of a family was in need of surgery in her right hand (she was unable to work) was treated and surgery done with less than ten thousand rupees, which in private hospital would cost her more than Seventy thousand rupees!
Advocacy for Women's Health:
We advocate for women's health by providing medical assistance, where possible and Awareness on health and Hygiene!
Within the last 6 months Bahini Foundation provided assistance to women through awareness and a Gynecology -camp with free medicines distribution. A total of 100 women benefitted from this program.
Also a group counseling program has been conducted for the Educare Family mothers and the senior girls in the family.
Improved Cooking Stove:
For many families in Nepal, using a gas stove is quite a luxury. The gas stove and cylinders are quite expensive. Then there are the (natural and unnatural) shortages which hits these families harder. Some of them use them, but many are still using traditional mud stoves that use a lot of fire wood and emit carbon mono oxide which is health hazardous.
We are tackling this issue by providing more fuel-efficient stoves, namely Improved Cooking stoves that are made up of metal. This helps in usage of less fire wood, subsequently, burning smaller amounts wood fuel means less smoke will engulf their homes and their lungs.
So far this year we have installed Improved Cooking stoves for three such families.
Period Without Shame:
We organized a program for young girls in a school in Puranchour, a village, 15 kilo meters away from Pokhara.
An awareness class lasting 130 minutes was organized for girls on puberty and menstrual health. The school has been provided with 108 boxes of sanitary pads for the girls. This is an initiative to promote safe and clean menstrual hygiene and most importantly for girls not to skip school at all.
A peer group has been formed to handle distribution of pads and aware other girls.
Child Friendly Governance:
As an NGO working in the sector of children, we have been involved in various programs related to Child Friendly Governance namely PREVENTION of early child marriage, Education for all children, Awareness to parents and mother groups in general etc.
Annual Picnic:
Picnic, is a much celebrated social event in Nepal and especially for the children it is a feast and an event of joy and laughter. For many of our beneficiaries this was the first time they were able to participate in such an event and accordingly for them it was a day of great joy and happiness.
A total of 100 people participated in the picnic, which had an introduction program and story sharing between the families besides food, games and dancing. Every one enjoyed it to the fullest. We would like to continue this as an annual event. The Board volunteered to sponsor the event. We are currently looking for sponsors to continue this program in the years to come.
Please visit our website www.bahinifoundation.org for details.
Foundation in Numbers:
EDUCARE FAMILIES [22 Families: 81 Beneficiaries]
22 mothers/grandmothers with 45 girls and 13 boys
Education Support: [36 beneficiaries]
28 girls and 8 boys
New Beneficiaries [5 Mothers,20 children ]
5 Educare Families. 5 Single mothers and 10 girls.
12 Education Support. 7 girls, 5 boys
Distribution of Education supplies:
115 children received education supplies for this year
Medical care/ Health Checkup:
22 Educare Families, 58 beneficiaries received normal checkup
4 mothers and 10 girls received treatment.
Food Delivery and Home Visit :
23 Educare Families received food every month and 35 children for education support have been visited.
2 girls and 1 boy passed SEE exams.
3 stoves to Edcuare Families.
100 Beneficiaires
16 Families, The remaining families will be insured soon.
22 mothers, 15 girls from our Educare Families
100 girls from a school in Puranchour, Kaski
2 families; 5 girls and 1 boy.
Brief Summary:
2019 has begun on a good note. Our beneficiaries are all happy and thriving which is what we are working for.
More children are going to school and most importantly not with an empty stomach!
We are staying true to our mission and working wherever possible to PREVENT all sorts of abuse, exploitation and discrimination of girls and young women through our various grass root projects.
A big mention goes to our esteemed members of the board for their time, efficiency and pragmatic decision making for the successful running of our organization.
Last but not the least, we would like to thank our generous donors for their kindness and nobility and all our friends and families who have stuck with us through thick and thin and helped us do what we do!
Namaste!
Attachments: