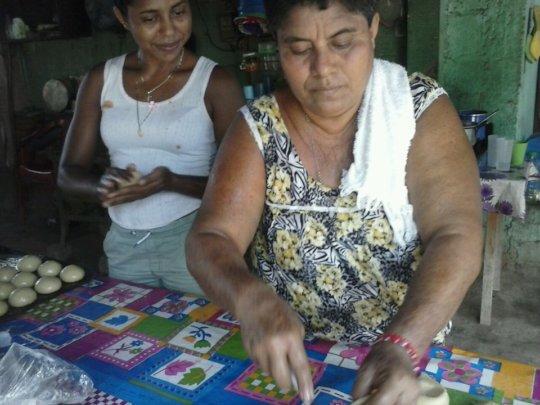 Hola que tal, estamos muy contentas porque los hornos y fogones ¡Ya estan produciendo!.
Sí, así como lo leyeron, después de el esfuerzo de todos, los hornos y fogones ya estan listos y produciendo, pero acaso se preguntaran ¿porque produciendo? Pues porque los hornos y fogones no solo son un elemento más dentro de una cocina de el lugar, si no que es un medio por el cual las familias reactivan la economia de la comunidad y se atreven a emprender con nuevas cosas.
Aqui breves frases que nos dicen las beneficiarias:
"Estoy muy contenta de tener ya mi hornito, ya puedo volver a hacer mi panes para vender" -Nos expresa la Sra. Carmela
"Me hace muy feliz el poder tener un horno y expandir mi negocio, los mariscos al horno serán la especialidad" - Nos dice muy sonriente Perla.
"Hice unas costillitas al horno para mi familia el fin de semana, me quedaron deliciosas y son más sanas que hacerlas fritas, estoy muy entusiasmada de aprender más cosas que cocinar en el horno"-La Sra. Toña nos comenta.
El escuchar todas pequeñas experiencias, nos llena de mucha alegría y queremos que se sientan parte porque ustedes hicieron posibe esto con su apoyo.
De las mujeres que reconstruyen sus vidas y comunidades y Alianza Cívica Pinotepa Nacional AC te damos las infinitas gracias.
Hello, how are you, we are very happy because the ovens and stoves are already producing!
Yes, as they read it, after everyone's effort, the ovens and stoves are ready and producing, but perhaps they will wonder why producing? Because the ovens and stoves are not only another element in a local kitchen, but it is a means by which families reactivate the economy of the community and dare to undertake with new things.
Here are brief phrases that the beneficiaries tell us:
"I am very happy to have my little oven, I can make my bread again to sell" - Mrs. Carmela expresses
"It makes me very happy to have an oven and expand my business, baked seafood will be the specialty" - Pearl tells us very smiling.
"I made some baked ribs for my family over the weekend, they were delicious and they are healthier than making them fried, I am very excited to learn more things than to cook in the oven" -Mrs Toña tells us.
Listening to all the little experiences fills us with great joy and we want you to feel part because you made this possible with your support.
Of the women who rebuild their lives and communities and Pinotepa Nacional Civic Alliance AC we give you infinite thanks.