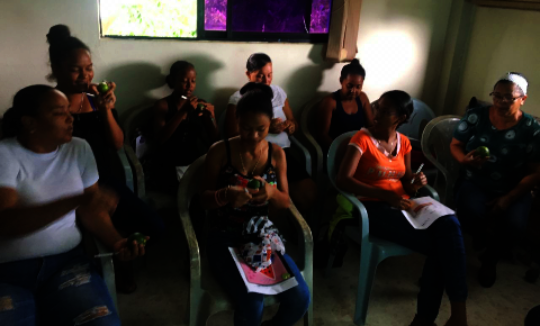 In March 2019 a new group of women arrived at our office, ready to become trained as Community Health Leaders. Now that the course has wrapped up and all 9 students have successfully passed their final exam, we're looking back at what set this group apart.
From the first day, these women demonstrated their determination to learn, and they began forming a bond of friendship and fellowship, despite being from different communities.
The group highly valued responsibility, whether it was in regular attendance, punctuality, or completing the work with which they were entrusted.
Despite their ages and low academic levels, these women understood and "got" more than was expected of them. It was beautiful to see how day after day, lesson after lesson, they heard new information and discussed how their experiences related.
What impacted me most happened during the lesson on mental health. Most of the women thought the term "mental health" was only related to "crazy" people [sadly a common stereotype in our area]. But as we elaborated the topic in detail, the women began sharing their own personal experiences from daily life as examples of what they were learning.
One woman in particular, Blanca, realized during this lesson that she has been living with depression, but didn't know that is was a mental health issue. I saw her, in tears, able to express herself and share the challenges she faced with her spouse and children. But a couple weeks later I visited Blanca at home to share more information with her, and I was so happy to hear her tell me that her family was different now, thanks to what she had learned in class. Blanca said was able to change her way of living, but more important than anything she was able to recognize that she had a problem to begin with, and is now learning how to manage it.