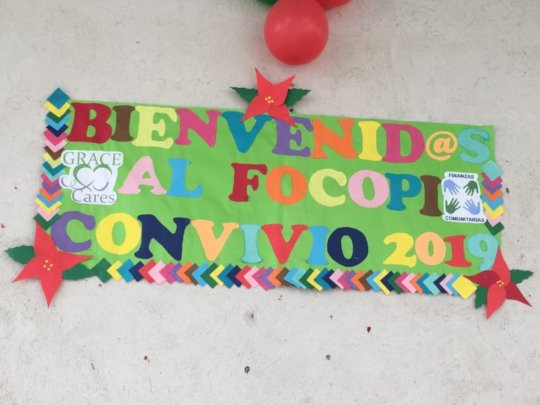 Dear friend,
We hope this new year is bringing you joy. We wanted to share two updates from the Community Finance Program. First, although the holidays might be over, it's not too late to revisit a little Christmas festivity and joy with a recap of our annual year-end event. Second, we thought you might be excited to read about an innovation we are piloting in order to increase cash flow to the groups and expand the impact of your donations.
Maya community principles and our year-end holiday event
The annual holiday "convivio," or get-together, is the only time of year all members of all 19 of the savings groups (FOCOPIs) are invited together, to get to know one another and share experiences and successes from their year. Some groups have been around for awhile--a few now finishing their fourth one-year cycle--and others are just a few months old. By sharing they strengthen one another and create a sense of being a part of something bigger than their isolated communities.
Community leader, Ortencia, gave a talk on "values that strengthen our community work," highlighting four principles from their indigenous cosmovision as principles that are shared by the work of Community Finance. They are (translated from their native language of Kaqchikel):
Pa K'ex: The exchange of ideas and knowledge within the community

Pa komon: Sharing within the community

Pa q'uch: Community solidarity

Pixa': The giving and receiving of counsel
Although these values are a cultural inheritance, there is a greatly felt sense that they are being lost in Maya communities. However, they manifest in the collective nature of Community Finance, and demonstrate how the program has been shaped by local ownership and cultural context. Ortencia spoke of how these values help to maintain harmony and community resilience. She ended by noting that central principle of these values is LOVE, and encouraged the women to question cultural barriers around freely and openly expressing love. A beautiful moment of camaraderie and openness ended the talk when as a practice of expressing love, Ortencia invited everyone to share hugs with those around them.
The convivio continued with fun games, a gift given to each woman, and a delicious meal shared by all. Leaders from several of the groups expressed sincere and heartfelt gratitude and warm holiday blessings to GRACE Cares and all who have supported the program.
Directly investing in our savings groups to multiply impact.
Some of the women's savings groups of Community Finance give so many loans their cash box is virtually always empty. Because funds are always in circulation, the interest earned on savings in these groups tends to be very high. So, we saw an opportunity to both help these groups have access to more cash and to earn a little bit of interest to go back into supporting the program.
Here's how it works: Community Finance becomes a member of an existing savings group and deposits an amount that won't destabilize the group's equilibrium, typically Q1000 (approx. $125), to be used as seed money for loans in the group. The group continues normally throughout the year. At the end of the year, the group shares out their savings back to all their members. The Community Finance program gets their Q1000 plus any interest earned on that Q1000.
Through this innovation your donations can go further, the women have more access to cash, and they have an opportunity to support the program through the abundance they are creating in their groups. So far, it's a win-win-win. We are piloting this idea with a few of our longest-standing groups who were enthusiastic about participating, and will be providing the option to participate to more groups over time.