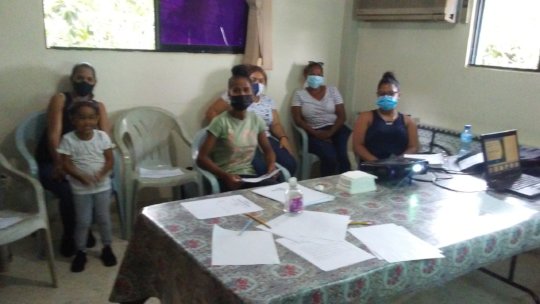 When the newest CHL cohort (our 7th since 2014!) attended their first class in February 2020, we all thought we were beginning just another typical year.
We were wrong.
In March, DR ordered a period of quarantine throughout the country in an attempt to slow the spread of COVID-19. Initially we all thought the lockdown would only last a month and a half, so Project Hearts ceased most of our operations (we did deliver food to those most impacted by not being able to work) and waited till we could get back to normal. But cases kept increasing and the quarantine kept getting extended. It was a bit of a shock when July rolled around and we still weren't able to gather in large groups. We realized that normal wasn't going to return anytime soon – if ever – and we needed to figure out how to educate and empower in new ways.
Our staff began recording informational videos on a variety of topics, and we did the same for our Community Health Leadership course. On August 5th we shared the first lesson – on the correct use of antibiotics and non-steroidal anti-inflammatory drugs – through a series of pre-recorded videos that students could watch at their convenience from home. We chose to send recordings as opposed to hosting live video meetings because not all of the women have electricity (and thus internet) 24/7, plus most of them have to take care of children and family obligations while at home.
The women were able to ask questions and share feedback on lessons via a group chat, but the comradery that students usually share simply wasn't the same.
Even after the government re-opened the country, Project Hearts opted to continue teaching in an online format, since new daily cases of the virus were still very high.
But on October 7th, we finally met in-person with our 2020 CHL cohort, and it was such a joy to see all of the women together again.
We asked one of our current students, Genesis, what the class has meant to her so far. Here's what she said:
"It is of the utmost importance that they continue to teach this type of course, because that way people can educate themselves in an easier and safer way, but the most important thing is that we leaders have the commitment to share this knowledge with others, and bring awareness to every home. My expectations have been met and surpassed so far; I have loved the course, and the friendship established with my classmates and teacher, Juana, has been a great blessing to my life and I feel that soon I will be leader in my community, an example to follow. Thanks to this course I have been able to understand my place and who I want to be. Thank you for giving us this opportunity so that we can educate ourselves and learn without any ulterior motives, always demonstrating values of unity and teamwork."
We aren't quite back to normal here in Baitoa, and honestly we're hoping that rather than return to a past "normal" we can instead advance to a new and better way of life. But for now we are grateful to once again be meeting with this group of women, equipping, empowering & encouraging them to transform the communities where they live.
"Mil gracias" ("1,000 thanks") to all of you who have made these meetings possible!