Imagine fleeing violence in your native country, only to be abandoned by your caretaker upon arriving to New York City. That is what happened to 14-year-old David*, a special immigrant juvenile from Angola currently in our foster care program.
In Angola, David's mother was held up at gunpoint and abducted, as he and his brothers escaped and went to live briefly with their uncle. Their uncle refused to permanently adopt them, so they were then left again to fend for themselves. In the absence of having any adult family, David briefly joined a gang until he met a benevolent pastor. The pastor heard his plights, and arranged for him to move to the United States with a chaperone — but that chaperone abandoned David once they arrived to New York City.
David was then placed in our foster care program and began living with a family in Westchester County. Due to everything David has been through, he was very shy and timid at first. He eventually opened up after some time, and has since bonded with his foster mother. He continues to work with his social worker Victoria Meza, MSW and a socio-therapist to overcome the trauma he experienced back in Angola, address any behavior concerns or remote learning issues during COVID-19, and to ensure he is well-adjusted in the foster home. Victoria is helping David attend the necessary in-person meetings to help with his legal paperwork, even during COVID-19, and reports that he continues to slowly open up. "In February, the socio-therapist and I accompanied David to the Angolan Consulate. He was eager to explain the symbolism of various pieces of art around the consulate. It was one of the first times he discussed Angola with us."
Looking to the future, David's foster mother said she is interested in beginning the process to permanently adopt David. After a turbulent and painful road getting here, David is finally achieving a sense of normalcy he never thought was possible. Thank you for helping social workers like Victoria as she supports David throughout the pandemic and beyond — at every step of the way.
*Since this is an active foster care case, we are using an alias name to protect the safety and security of our client.
Links: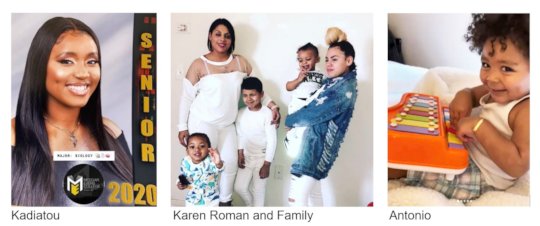 One year ago, New York City was emerging as the global epicenter of the COVID-19 pandemic. Since that time, you and 1,764 other generous people from New York City, across the United States, and from five different countries around the world helped raise about $160,000 for our city's young people. It's been truly remarkable how the global community unites to care for one another during a time of crisis.
Over the past year, we've been dismayed by the loss and hardship, but also inspired by strangers helping strangers, children and families overcoming adversity, and the rapid development of vaccines. We have now passed the worst of the pandemic and hope to soon return to a sense of normalcy, but issues still remain. Like so many others impacted by this pandemic, our children, youth, and families continue to grapple with academic losses, hunger, poverty, unemployment, and emotional wellness. But we remain assured by the inspirational words of our young people and their families. We'd like to share a few of those with you:
"Starting my first college experience online in an asynchronous course, I took advantage of tutoring that Children's Aid provided and that changed my life. I started to see my grades increase, and now I have a 3.8 GPA."
-Kadiatou, Medgar Evers College student (pictured left)



"It feels like a family. Like I have support. These are people who care about me and my children, and want to see me succeed as much as I want to see myself succeed."
-Karen, whose children received mental health support this past year (pictured center)



"Playing at school with my friends is so much fun! I love my teachers and singing songs in class."
-Antonio (pictured right)
Links: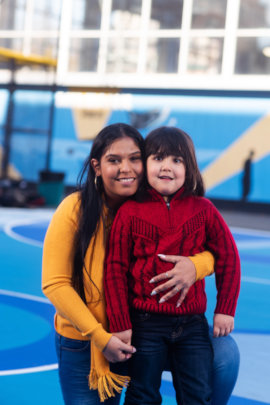 A year into the pandemic, we have just crossed an important milestone: We just provided our 100,000th hunger relief package to New York City's families affected by food insecurity. And that was due in large part to the generosity of so many of you. Thank you for giving this important gift to our community!
Your support helps people like Marlin and her 4-year-old son Aidan, who live in Staten Island (pictured above). Aidan has special needs and receives medical support from Children's Aid, but like so many New Yorkers, the pandemic placed extra pressure on the family. Marlin lost her job because of the pandemic, and could no longer afford food for her and her son.
With your support, her case worker was able to deliver hunger relief packages directly to their home so they could survive the difficult months and avoid prolonged periods of hunger. Today, Marlin thankfully has a steadier source of income, and hunger is no longer an issue.
Thank you again for helping people just like Marlin and Aidan who face the prospect of going to bed hungry tonight. We appreciate your generosity as our communities recover from the COVID-19 crisis, and will continue to provide relief to more New York City families in need.
P.S. Please also be sure to look out for emails next week about our GlobalGiving match campaign.
Links:
WARNING: Javascript is currently disabled or is not available in your browser. GlobalGiving makes extensive use of Javascript and will not function properly with Javascript disabled.
Please enable Javascript
and refresh this page.