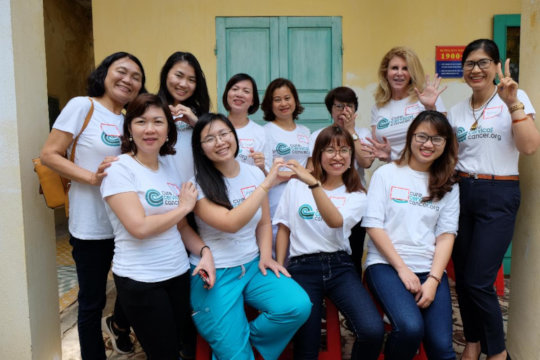 In the early months of the screening and treatment project in Hue, Vietnam, we are thrilled to announce that more than 2,000 women have received screening and treatment for cervical cancer across the three clinics: Viet Nhat Clinic, Institute of Cancer Research & Community Health Development, and Nam Dong District Hospital. We are well on target to meet our goal for the first two years, but we are hoping to achieve even more.
We are developing our strategy to ensure that we reach the most women in need of service with the three devices. Cure Cervical Cancer is working with us to assess the abnormal pap smear rates in the region, and to compare the prevalence of cervical cancer in Hue with other parts of Vietnam. Once we have this information, we can use it to target the screening program to reach women at high risk for cervical cancer.
We are extremely grateful for your support in these early months in providing rapid treatment for the women identified, preventing them from advancing to later stages of cancer. Please spread the word and help us to deliver care to even more women around the world. We could not accomplish our goals without the support of the GlobalGiving community!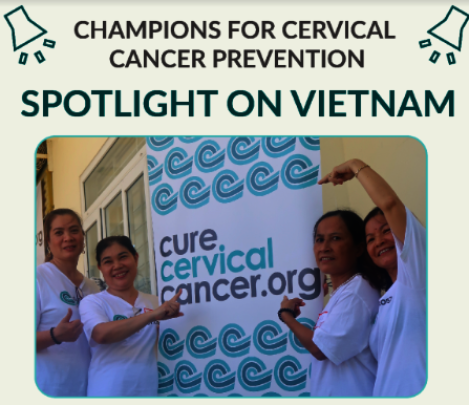 After a successful and exciting launch to the program in August 2019, the three Wisap thermocoagulation devices were transported to their respective permanent sites across Hue, along with the newly trained staff. During the month of September, an additional 430 women received screening while the three sites integrated the early cervical cancer screening techniques into their existing services.
Updated statistics for the months of October and November will be shared on our website before the end of the year. We have also identified the need for strategy development with the local teams. High return rates for screening suggest that the awareness campaigns may need to identify villages that were not previously targeted by the program to improve the collective impact of the new equipment. We are also seeking feedback from the providers on their impressions of the new services, and any changes or additional support that they will need to manage a successful program in 2020.
As part of our next steps, HERHealthEQ is working with Cure Cervical Cancer to further develop a long-term strategy of support for Vietnam, including participating in discussions with the Vietnamese Ministry of Health regarding testing and medical staffing protocols that will increase the availability of diagnostic testing.
Links:
Thanks to a fantastic response to our Global Giving campaign, HERHealthEQ was able to move forward and secure three thermocoagulation devices from Wisap at the end of July, which were carried by Cure Cervical Cancer to Hue Vietnam on August 3rd.
With these devices, the Cure Cervical Cancer team led a training for the Vietnamese Association of Midwives (VAM), for 20 healthcare professionals from 7 different facilities, including the referral hospital for Hue province and the 3 new CCC "See & Treat" clinic sites. Not only does this assist in developing the skillset of the healthcare professionals – namely midwives, but also brings awareness to cervical cancer and encourages treatment in the local communities.
CureCervicalCancer identifies midwives as trusted "care providers [and] community educators and advocates". HERHealthEQ agrees, and sees this opportunity for training and increased access to screening as a way to cull the cervical cancer rate in Vietnam. Currently, it is estimated that only 10% of the population has been screened. During the first week following the training, 877 women were screened at intensive clinics. These women included Hue locals, teachers and policewomen. Some women who required treatment were immediately treated using the thermal ablation devices. Others with more advanced stages of cancer development were referred to Hue Central Hospital for colposcopy and biopsy.
HERHealthEQ is immensely grateful to everyone who contributed during our June fundraiser to make this project launch possible. Although we have not yet reached our target of funds required to sustain the project over the long term, we were able to support the initial phase to introduce the cervical cancer treatment. Our campaign remains open, and we will continue to raise funds until our target is met, to ensure the most women can benefit from this equipment and the program can be sustained.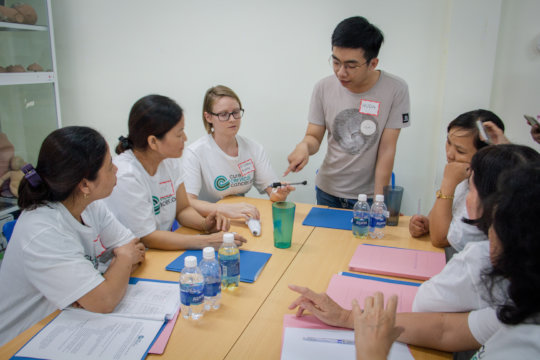 Links:
WARNING: Javascript is currently disabled or is not available in your browser. GlobalGiving makes extensive use of Javascript and will not function properly with Javascript disabled.
Please enable Javascript
and refresh this page.