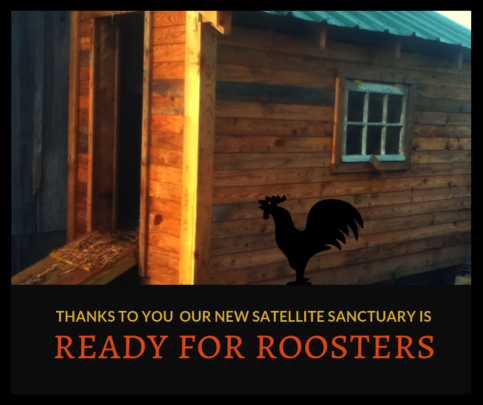 We have exciting news: As promised, our new satellite refuge for roosters is ready to welcome birds! We've built the coop and fenced the foraging yards and are right now making arrangements for the first bird to arrive. We'll have a "grand opening" in the spring, at which point we will also have signage and literature available on site.
This new satellite refuge will be operated by Aram, a longstanding VINE community member who is a trained veterinary technician with many years of experience in caring for roosters. The location is on Smith Island on the Delmarva Peninsula in Maryland — a region dominated by the poultry industry. From spring through fall, tourists visit the island, strolling a route that will take them past the new rooster refuge. So, in addition to saving lives, the new refuge will promote compassion for roosters in a region where chickens are especially persecuted.
This is the first of three elements of the first phase of The Rooster Project. The other elements of the first phase, a rooster manual for sanctuaries and humane authorities and a "wiki" for sanctuaries, also are on track. We've begun work on the manual and expect to publish it by the end of the year, as promised. The wiki for sanctuaries will take a bit longer than planned, but for a very good reason: In consultation with advisors and other sanctuaries, we have identified a few additional features that will make this resource even more useful. Implementing those features will add a few weeks to the timeline for that project, and we now anticipate it going live in the first weeks of February.
Looking ahead to the rest of 2019, we will need to keep the crowdfunding going, as we have not yet secured the funds for the next phases of The Rooster Project, which will both increase the capacities of sanctuaries and reduce rooster homelessness by intervening in the problems that lead roosters to be exploited and abandoned.
So, please do tell your friends about your support for The Rooster Project. Even if they are not inspired to give, you will have become an even bigger part of The Rooster Project by helping to dispel the myths that lead roosters to be so endangered.
Thank you again, and I look forward to letting you know when the next part of The Rooster Project is ready to go.