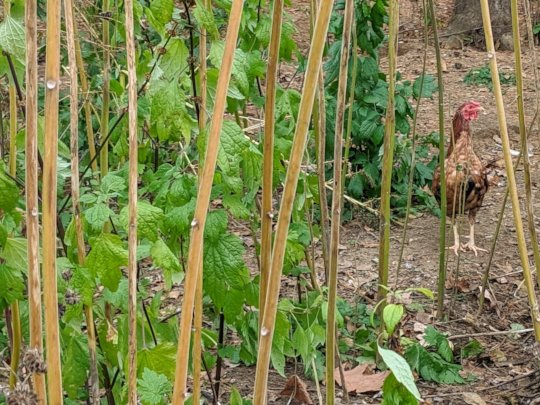 Greetings and thank you again for your support of The Rooster Project! For this report, I thought you might enjoy meeting one of the roosters rescued as a part of the project.
The young rooters I call Sparky lives in "the green yard" (so called because the coop is painted green, but it's also very verdant) with several other roosters and three times as many hens. He spends his days socializing with a group of semi-feral hens who were rescued together from a breeder of birds for cockfighting. Together, they forage in the weedy brush and perch on the branches of a fallen tree. At night, they retreat together to the coop, where they roost to sleep on simulated tree branches attached to the wall. Sparky neither likes nor dislikes the other roosters who share his coop and yard—if they don't bother him, he doesn't bother them.
But Sparky wasn't always so easy-going. He came to the sanctuary with his mother as a chick after they both were seized from a breeder of birds for cockfighting. Along with another hen and her chick also rescued from that facility, Sparky and his mother moved into a small coop and yard reserved for elder, juvenile, and disabled birds.
Most hens are fiercely protective of their chicks, but Sparky's mother Ion was particularly ferocious in defending him from every perceived threat. When he reached adolescence, Sparky began starting fights with the other chick, who also turned out to be a rooster. Sparky then moved on to attacking adults, including an elderly rooster with only one eye.
Sparky had been a downy chick when he came to the sanctuary. He was raised by his mother in safe surroundings with plenty of food for all. He grew up in a flock within which several adult roosters lived peacefully together, so he had plenty of opportunities to learn the social skills by which roosters can solve conflicts without fighting. No injuries or ailments could explain his combative behavior. We tried moving him to another yard, but he easily flew over fences to rejoin his mother. Sparky seemed franticly fearful during his brief times away from his mother, but as soon as he was back with her he began attacking others.
If we didn't know better, we might have mistaken this behavior for some sort of in-born aggressiveness. After all, stereotypes say that roosters are inherently bellicose. But we know better than that. It's certainly true that the birds used in cockfighting are genetically indistinguishable from the wild junglefowl of South Asia. Less "domesticated" than other chickens, they seem to have retained the high-strung nervous systems of wild birds who must always be on the alert for potential predators.
Judging from his mother Ion's behavior, Sparky probably did inherit such a nervous system. If so, that might mean that his attacks were more about fear than aggression. Sparky also observed his mother behaving aggressively, and this might have had a stronger effect on him than watching the other birds in the yard, including the other roosters, get along.
We hated to separate them, but we could not allow him to hurt others. We decided to use a modified version of our rooster rehabilitation protocol to acclimate Sparky to an adjoining yard, so that he and Ion would still be able to hear each other and know that each other were well. To acclimate Sparky to his new digs, we decided to try a modified version of the rooster rehabilitation protocol. We used the same spacious sleeping cage inside the coop and outdoor kennel centrally located in the yard that we would use if rehabilitating a former fighter. We could not, as we usually would do, let him go free several times each day because he immediately flew out of the yard and over to his former yard. Instead, we focused on helping him to feel comfortable within what would become his new community.
Since the hens in that yard are in and out of the coop all day, we sometimes set him up with food and water within the (quite spacious) indoor cage during the day instead of taking him out to his outdoor exercise area. This gave him time to really get to know several of the hens without having to interact with or even see the roosters, who tend to stay outside all day. Only after he seemed to have established solid friendships with those hens did we try letting him out each morning, ready to intervene if he started a fight.
For the first few mornings, Sparky did start fights, from which we rescued him, but he was no longer fixated on flying back to the other yard to rejoin his mother. We also noticed that his fight-starting seemed nervous rather than domineering, so we tried waiting until after the initial hubbub of opening died down before allowing him out.
That did the trick! He behaved well all day that first day out, retreating into the weeds to be alone when he felt overwhelmed, and then taking himself to bed by roosting next to familiar hens that night. He hasn't caused any trouble since. Quite the contrary: Sparky is now a vital member of the community and recently helped to welcome survivors of a factory-like egg facility to the sanctuary. Just this morning, I saw him escorting some of them to one of his favorite foraging spots.
Thank you again for your support of The Rooster Project, through which we will continue to rescue roosters while sharing the knowledge that allowed us to find a solution for Sparky.
Sincerely,
pattrice
P.S. I do think that Sparky inherited hyper-vigilance from his mother Ion. He's very hard to photograph because he disappears into the brush as soon as he senses that he is the focus of attention. He is literally invisible in many of the photos I tried to take of him today, which led me to a better understand of how multicolored feathers can be a kind of camouflage. I did manage to get two photos in which he is visible, and I hope you enjoy them.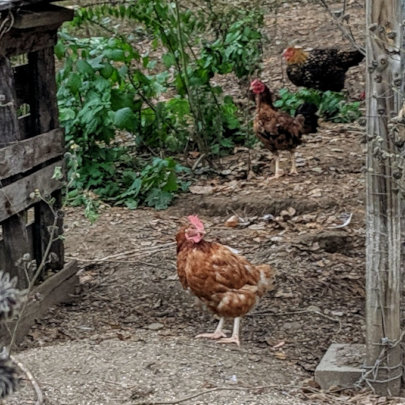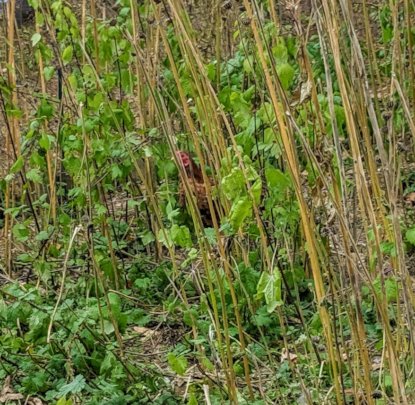 Links: