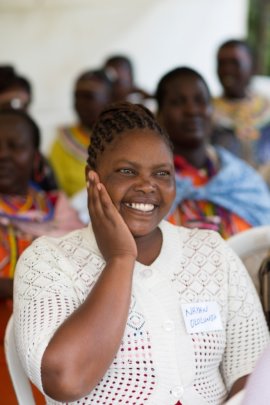 Naiyan, a member of MADRE's partner organization, the Indigenous Information Network in Kenya, is the very definition of a woman climate defender. Your support allows her to raise awareness about climate change issues and facilitates exchanges with other Indigenous women's groups. She also advocates for the inclusion of women in decision making on natural resource management in her community.
Indigenous Peoples, like Naiyan's community, are on the frontlines of climate change in Kenya, where they face frequent, severe droughts that damage the crops that herds of animals depend on for survival. Women and girls are tasked with the heavy burden of securing water for their families. When trees are cut down, erosion can contaminate water sources, which forces them to travel even longer distances to find potable water. To make ends meet, parents are forced to pull their daughters out of school and marry them off in exchange for a dowry. Luckily for her rural community, Naiyan is doing everything she can to combat these issues.
Naiyan comes from a generation known for advocating for a political stance and grew up inspired by the role models around her. Her earliest inspiration comes from her mother, who created a safe space for rural women to come together to talk about the struggles they face due to climate change and find solutions. Naiyan understands the value of intergenerational leadership — so she includes young people in her work.
"We involve young women - the new generations - in our reforestation efforts because they are the ones to face climate change now and find solutions." - Naiyan
Naiyan has seen first hand the challenges that the climate crisis brings to rural communities. When she was little, she would see women fetching water from up to 20 kilometers away because deforestation caused there to be a lack of rainfall and an overall drier environment. Over the years Naiyan has noticed that women suffer the most from climate crisis. Some of these women fetching water were pregnant, walking long distances in hot months putting unnecessary strain on their unborn babies. Not only does it put a strain on their unborn babies and themselves, but their children also become very sick when there is a lack of clean water.
Naiyan saw that her environment was changing right before her eyes and understood the root cause of the issue, climate change. This led to her dedication to defending communities against this global threat. And thanks to your support, she's created lasting change.
Stay tuned to learn about Naiyan's local solutions to big problems!
Photo credit: Poppy Miyonga