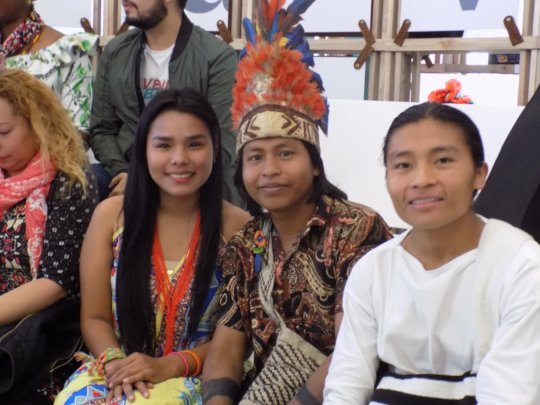 Since 2001, MADRE and our partner, Taller de Vida, have worked together to put an end to the long-term armed conflict, promoting justice and building a sustainable peace in communities affected by war across Colombia. MADRE has supported Taller de Vida to bring art therapy and healing to Indigenous and Afro-descendent communities and support younger generations to step up and reclaim peace for their present and their future. With your support, Taller de Vida leads psychosocial support and reintegration programs for former child soldiers, and helps empower survivors of the armed conflict.
Earlier this month, Taller de Vida agreed to work with the Truth Commission to shed light on the atrocities communities suffered due to decades of war. With the peace accords signed and at the crossroads for reparations and justice, Taller de Vida is ensuring that children, young people, and girls from Indigenous and Afro communities across Colombia are not only included, but that they play an active role in the peace process. Thanks to their local advocacy, Taller de Vida brought the voices of young people to the Truth Commission to document and acknowledge human rights violations committed during the conflict. This is an important step toward justice and the recognition of the human right to survivors of knowing the truth about the consequences of armed conflict in remote communities.
With MADRE's support, and yours, Taller De Vida will play a critical role in the Commission, ensuring that the voices of children, young people, Indigenous peoples and Afro-Colombians can be listened to and taken into account when writing the history of the country's turbulent 50 years of conflict. For Taller de Vida to have their peacebuilding contributions recognized at such a significant level is an historic achievement for the organization and its members. It's role in the Truth Commission underscores the value of their community-based leadership that MADRE has supported over 15 years.
Taller de Vida will contribute their expertise in art-therapy and psychosocial approach to support the Truth Commission in documenting cases of human rights violations of children and youth during the armed conflict and bring about reconciliation and restorative justice for children, young people, Indigenous peoples and Afro-Colombian communities. This represents a fundamental step to recognize survivors' experiences and build a stable and lasting peace in Colombia. The transitional justice mechanism of truth seeking represents a catalyst for prosecutions, reparations and institutional reform. Thank you for making this possible!

Photo credit: Taller de Vida