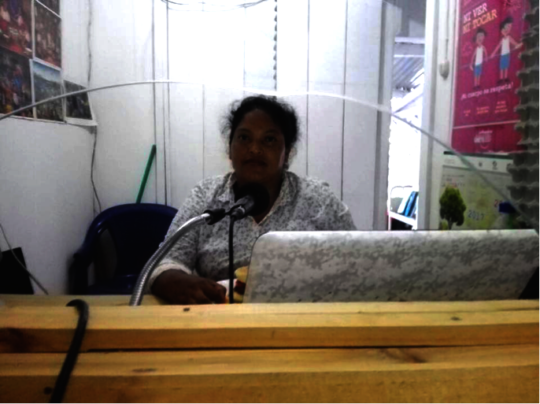 The women's rights radio station that we support through our partners, Wangki Tangni, changes people's lives and brings communities together.
Men and boys who listen to the radio station have reported they changed their behaviors after learning about the impact of violence. They hear the voices of women's human rights defenders on the radio, spreading the powerful message that women have the right to a life free of violence, and those broadcasts trigger new conversations with men and boys.
The radio also serves as an important way to communicate across communities, as people are able to call in and send greetings to friends and family in other towns. This is especially important for the most remote communities, who reported that they felt abandoned and alone prior to the launch of the radio station. Thanks to your support, we are making strides to reduce violence in communities and help families stay connected!
Photo credit: Wangki Tangni
Through our partners at the Indigenous Information Network, MADRE supported the participation of four Indigenous women at the annual UN climate change talks. Thanks to your generosity, Indigenous women in rural Kenya have had the opportunity to learn about how to combat climate change and become leaders in their communities. Their efforts were rewarded when governments committed to incorporate perspectives and knowledge of Indigenous Peoples in new environmental policy platforms.
Thanks to donors like you, Indigenous women like Christine can participate in leadership trainings. Christine is a local activist and built a new stove to reduce the amount of wood needed, saving trees and reducing the amount of smoke women breathe when cooking. With MADRE's support, women are taking on leadership roles to combat climate threats, making their voices heard and creating lasting change.
In Iraq, as the conflict evolves, people are beginning to evacuate displacement camps and return to their hometowns. But many women are left behind. Often, they cannot find their families or afford to make the return trip home. This leaves them stranded and alone in displacement camps where they are at great risk of sexual harassment and abuse.
Thanks to your support, these women can turn to our partner, the Organization of Women's Freedom in Iraq (OWFI), to find a safe place to stay and the support they need to heal.

OWFI runs a network of shelters, and the support they provide there does more than shield survivors from further violence. They give women a new chance to engage in public life, interact with others and find a sense of purpose. The women who flee sexual violence and find safety at OWFI's shelters also find a community. They feel less alone, having a space to heal with other women who have faced similar crises. The counselor at the shelter helps them to look beyond their problems and towards solutions. OWFI helps these women heal and gain the courage and support they need to rebuild their lives outside of the shelter. Thanks to your support, over 50 women received counseling in just one of OWFI's shelters!
Thank you for standing with MADRE, OWFI and women worldwide!
WARNING: Javascript is currently disabled or is not available in your browser. GlobalGiving makes extensive use of Javascript and will not function properly with Javascript disabled.
Please enable Javascript
and refresh this page.