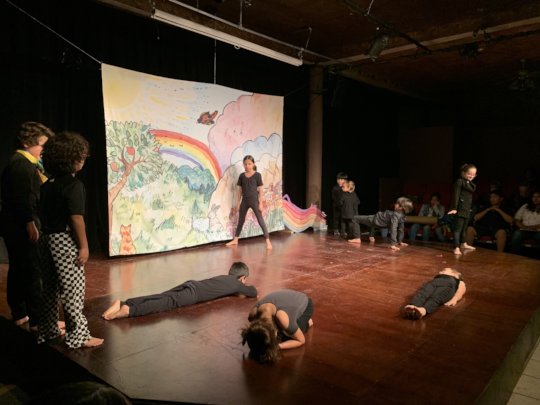 Libros para Todos started the year off with a bang. In January we hosted a lovely event for young children at the San Miguel Playhouse. The event featured a play, music and a presentation and book signing by author Alex Slucki. Schools and after school programs had been given Slucki's book, El Viaje de Arcoiris a la Tierra Olvidada, beforehand for the children to read. See the pictures below of the children acting out parts of the play based on the book.

In February, the Steinway Series organized two nights of concerts with visiting musician Dwight Blake at Bellas Artes. Thank you to producer Fred Dannen and to all those who attended! The Steinway Series donates a portion of their concerts to Libros para Todos.

Lastly, we have begun our second big read event of this school year. 11 schools and 400 children will be participating. The selected book is Max el Terrible by Jaime Alfonso Sandoval. Sandoval will be visiting San Miguel March 12-15.
We thank you all for your continued support for the many projects of Libros para Todos.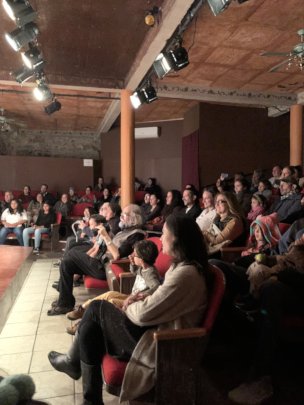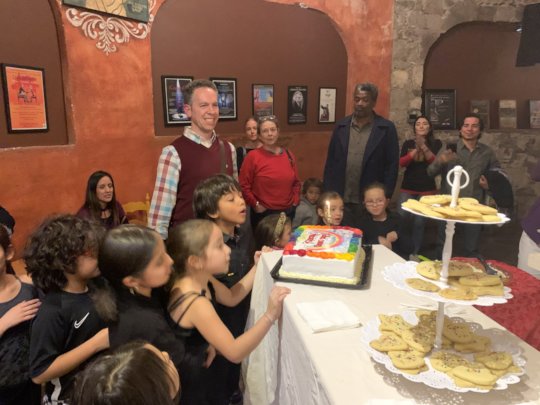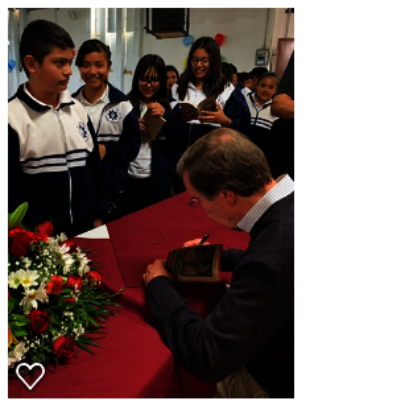 Thank you, friends, for all the support you have shown us this year. Because of you, we had a very successful Big Read 2019 with Mexican American author Francisco Jimenez. We reached over 700 children in fifteen communities and the enthusiasm was high at each of the events. I wish you could have heard the cheering that continued as "Panchito" came to the stage at the school in our nearby city of Dolores Hidalgo.
Get ready to hear about Giving Tuesday on Dec. 3 and our exciting plans for TWO "Big Reads" in 2020.
We wish you a very happy Thanksgiving and holiday season.
The volunteers and staff of Libros para Todos are getting ready for the "Big Read" in November with returning author Francisco Jiménez. Events will take place between Nov 6-10 in several rural communities around San Miguel de Allende and at Bellas Artes in SMA on Saturday, Nov 9 (11am) and an event in English at the Unitarian Universalist Fellowship of SMA on Sunday, Nov 10 (10:30am).
The chosen book for this year is Cajas de Cartón (The Circuit in English) and is already in the hands of over 600 children. Several of the communities involved this year are new to the program. Teachers from the participating communities attended a workshop in September which encouraged participation and enthusiasm for this year's program.
Francisco (Panchito in his memoir) was our first LpT author in 2013 and his presentations launched this successful program. We are proud to have him back in SMA and know that he will connect well with the young people reading his book.
These are the words of Francisco Jiménez after the events in 2013 with Libros para Todos:
"My participation in Libros para Todos was a rewarding and enriching experience. I was impressed by the leadership and commitment of the founders and organizers of this wonderful program to promote reading in the San Miguel de Allende community and, most of all, I was inspired by the children who read my work and were eager to learn--they give us all hope for a better future."
We are grateful for the many generous donors through GlobalGiving and will continue to keep you up to date on this year's "Big Read" as well as the many upcoming programs for 2020.
WARNING: Javascript is currently disabled or is not available in your browser. GlobalGiving makes extensive use of Javascript and will not function properly with Javascript disabled.
Please enable Javascript
and refresh this page.