Emma and Alima are two of 15 young women who received scholarships for primary school teacher training last year thanks to this project. They are entering their second year of training this year: practice teaching in the classroom. Both come from subsistence farming families. They are in teacher training thanks to their academic success in secondary school and to the postsecondary scholarships they have received from generous GlobalGiving donors and others. They are passionate about teaching young children and are extremely grateful for the opportunity to receive teacher training.
Of the 105 young women whose teacher training scholarships we have supported in the past eight years, 90 have graduated and are teaching and thirteen are in their second year of training: 98% success among highly motivated and capable young village women. We are most appreciative of the opportunities given these young women and we are proud of their hard work and accomplishments. Coming from subsistence farming families, their only hope for postsecondary educations is through the modest scholarships offered to them, thanks to our GlobalGiving partners to this project.
As we embark on the 2018-2019 school year, thanks to the generosity of GlobalGiving donors, we are supporting teacher training scholarships for 15 young women. We will share photos of these happy young women in the very near future.
We invite you to celebrate the International Day of the Girl by donating generously to teacher training for young village women in northern Burkina Faso. These women will enable the government to further extend primary school education in the villages and they will be role models for future generations of young village girls.
Mamounata and Alima are two village girls who entered primary school in 2010 thanks to the Lambs Support Girls' Education Project. Following six years of primary school, both will enter their third year of middle school this fall.
Both girls are already successful entrepreneurs. As happens occasionally, the lambs they received from this project when they entered primary school turned out to be pregnant. In keeping with the project's strategy – parents raising and selling their daughter's lamb at the end of each school year in order to pay for her school fees and materials for the next year while buying a younger lamb to raise and sell the following year – the girls were able to keep the younger generation lamb. Mamounata now has nine sheep and Alima seven. The sale of their lambs/sheep have continued to pay for their school fees and materials and one set of clothes each year. It has also enabled them to pay for their lunches and library fees at school and allowed them to get bicycles which are necessary for them to get from their villages to their middle schools. Mamounata adds that, along with progressing well with her studies, she has started raising chickens as a small side business. Alima's goal is to become a primary school teacher. Mamounata and Alima express their deepest gratitude to GlobalGiving donors for having given them the opportunity for an education.
This year, 89.6% of village girls enrolled in primary school with the support of this project passed their year-end national exams compared with 61.6% of students nationally. As the beginning of the new school year approaches, we hope to enable another 75 young girls from five villages to begin their educational journey with the help of a lamb to support their remaining 12 years of primary – secondary school. An initial $80/girl is all it takes. We ask for your help in giving these bright young girls the only opportunity they will have to embark on their educations. They and their indigent parents will take it from there.
Thank you!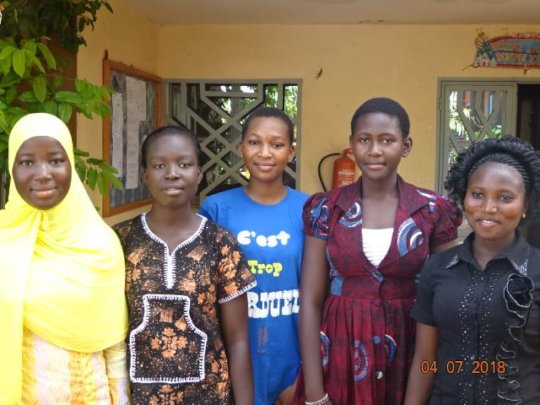 "Education is the basic human right of every girl. Once you educate girls, you change the whole community, you change the whole society." Malala Yousfzai, 2017 UN Messenger of Peace.
The right learning environment - committed teachers and a modest noon meal - contributes to academic success among bright village girls in Burkina Faso!
Thanks to your support for a noon meal at the Lycee Modern de l'Amitie (LMA, the combined middle/secondary school or girls in northern Burkina Faso), 72.5% of middle school students have passed national year-end exams, qualifying them to go on to secondary school, compared with 43.9% of middle school students region-wide.
The top grades in the entire region were earned by the five girls in this photo. The top student was Ruth (second from the left), who scored 100% in math and hopes to study engineering at the university. Close behind was Aida (third from the left) who hopes to become a physician and serve the country's health needs. Both young women credit the quality of instruction they received, along with a noon meal, as motivating and enabling them to work hard.
These are the faces of future women leaders in Burkina Faso. Your support for modest lunches (rice, beans and spaghetti – the main meal of the day for most of the students) gives these girls the energy and encouragement to work hard through the heat of the day.
As the fall semester approaches, we want to ensure that the village girls attending this school have the basic conditions necessary to succeed. Your support for noon meals is crucial and very much appreciated!
WARNING: Javascript is currently disabled or is not available in your browser. GlobalGiving makes extensive use of Javascript and will not function properly with Javascript disabled.
Please enable Javascript
and refresh this page.