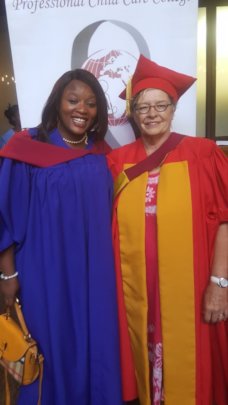 No one's history, upbringing, social class or intellectual capabilities should be a stumbling block to accomplish something in your life. Jane Ngeu (27) can testify to that.
Coming from a totally dysfunctional home, she ended up at Thandanani House of Refuge in Zandspruit, an informal settlement just outside Johannesburg, when she was 13. She was moved from Masakani Primary School in Zandspruit to Kingsway Christian School in Randpark Ridge.
"I was never bright at school but I was a hard worker. In grade 7 I was made a prefect."
When Jane finished primary school she went to Sparrow School where they teach children various kinds of skills. Jane chose to do sewing. At 19 she left to go to Sew Africa, a fashion design school in the CBD of Johannesburg, but after a year she realised that fashion design is not what she wanted to do for the rest of her life.
It was also around that time that she knew she was going to have to leave Thandanani (due to her age) and that she would have to step out on her own - a daunting task.
"When they told me it was time to leave Thandanani I had nowhere to go. But I refused to do what so many girls do to try and survive and that is to get a boyfriend to support me. And I refused to go and live in a shack.
"Thandanani is an amazing place. My mindset was formed there. I was loved and the house moms were always there for us. They taught me that although life is not easy, I must never give up. They also encouraged me to think about my future and to make plans to fulfill my dreams.
"I asked God to help me and guide me on the right path and then a friend I made at the Sparrow School told me about friends of her parents who had a cottage available on their property. They let me stay there for only R500 (US$35) per month.
"At that time I managed to find a job as a receptionist which lasted two and a half years. After that, the people where I stayed asked me what I wanted to do with my life. When I told them my dream was to become a teacher they paid for me to study at the Professional Childcare College in Johannesburg. They even let me stay in their cottage for free. They are amazing people. They treat me like their own child," she says.
Jane successfully finished the three-year course as a basic childminder and pre-school teacher and graduated on 16 December 2018.
Now the big hunt is on for a job in a pre-school. Her dream for the future besides getting married one day, is to open her own aftercare centre that stays open until eight o' clock in the evening to accommodate parents who can't fetch their kids earlier in the afternoon.
Links: