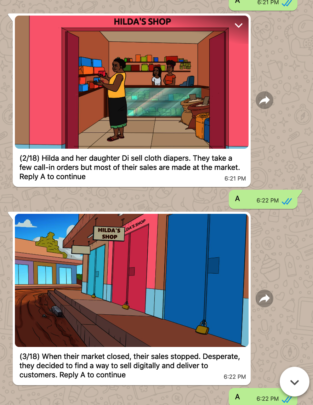 Hello GG community,
We hope you and your loved ones are safe and healthy as you read through this update. 2020 has been a very challenging year for all of us, but it has also highlighted how the ubuntu (the essential human virtue of compassion) spirit that has created a global community to support each other through tough times.
Given that Thanksgiving is in a few days, we wanted to give an update on where we are with our current Learning and Livelihoods campaign. And thank each of you for supporting our initiatives through your donations. The impact of your donations has, and continues to have, far reaching multiplier effects in the communities where we work.
Since our last update, we have successfully launched our digital training program, DigiSomo, and rolled it out across three cities in Kenya. Our digital training content covers topics such as customer service, personal vs. business finance and competitive analysis. Digisomo is available in 3 forms; DigiMessage, DigiVoice and DigiVideo. DigiVideo is free on our Youtube channel, please have a look and leave us a comment! Our trainees have been very receptive to these new modes of training, and we have received encouraging reviews from them. They are pleased with the lesson structure and delivery style and have used the training to improve their capacity as leaders within their businesses. At the moment, the content is in English; one of our next steps is creating the same content in Kiswahili.
Sincerely,
Caroline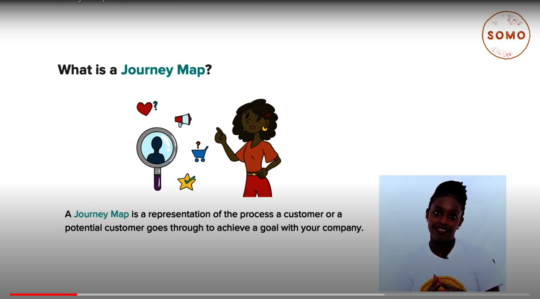 Links: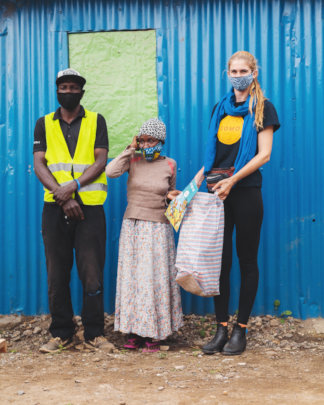 Hi Somo and Metis Community!
Thank you to those who donated to support Learning and Livelihoods during COVID-19! Below is an update on what we achieved.
We reached 2,082 vulnerable families with the food products, hygiene supplies and masks and supported 44 small businesses around Nairobi and Kisumu. We bundled these supplies with Metis Home Learning Guides that have supported youth from vulnerable families to continue learning from home.
In partnership with Arifu, Metis has availed learning content that is being distributed via SMS and WhatsApp to support learners from vulnerable families. As well, Somo has developed easy-to-use WhatsApp and video-based content that tells local stories, as well as gamified quizzes to reinforce learning.
We are currently creating dial-in voice messages to make our learning content accessible to learners with a low level of literacy — story-based training content that gives them the tools to learn from home or run successful businesses.
Follow Somo on Instagram, Facebook, Twitter, and LinkedIn or subscriber to our newsletter.

Follow Metis on LinkedIn, Twitter, Facebook, and Instagram or subscribe to their newsletter.
Sincerely,
The Somo and Metis teams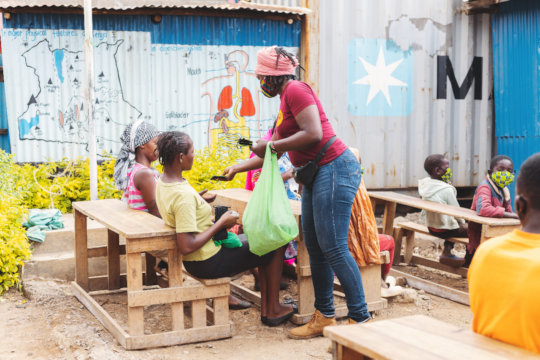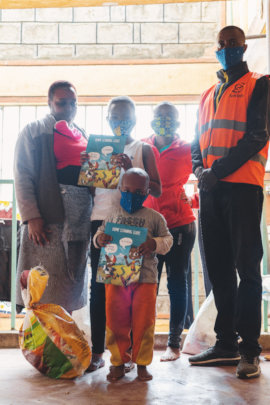 Thanks to those who donated to our #tujengekisumu campaign! We have started construction and will be launching our Hub by the end of February. We look forward to sharing with you the final product!
We also graduated our first cohort in November and will be launching our first five businesses this month. Below are the profiles of each.
Victoria Aquaria
Victoria Aquaria produces delicious, healthy fish products and organic vegetables through aquaponics. They set up fish farms in schools, producing both healthy vegetables for the school and the community at large.
O'ngollo

Victor was inspired to start a construction company due to the lack of proper housing in the community he came from. Houses often would fall down during rainy season because of being informally built. O'ngollo aims to build affordable housing out of local materials in low-income areas.
Paugen
Pauline is the founder of Paugen, which provide affordable detergents to the Manyatta community. Pauline is working towards improving the hygiene conditions in Manyatta and creating employment through her business.
Awesome!
Beryl's cousin suffering from malnutrition as a child inspired her to start producing organic peanut butter and honey to help boost their immunity. Awesome! produces healthy and affordable peanut butter and honey.
Fablab
Fablab is a company that deals with making of affordable furniture in Kisumu. The business employs youth to produce the furniture, helping address the high unemployment rate with youth. They use a model that makes the furniture easily replicable and more affordable.
Links:
WARNING: Javascript is currently disabled or is not available in your browser. GlobalGiving makes extensive use of Javascript and will not function properly with Javascript disabled.
Please enable Javascript
and refresh this page.