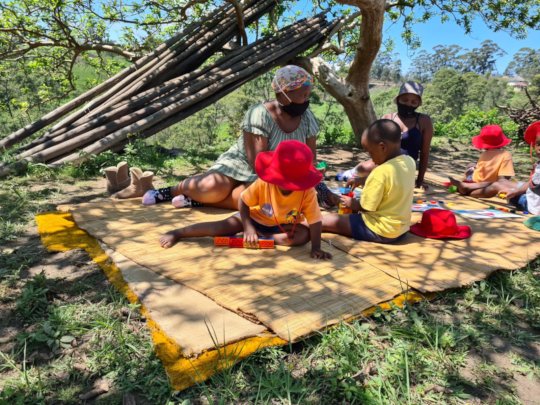 2020 has been a whirlwind of a year, operational plans and budgets which make our heads hurt, and on the flipside, heartwarming stories from the community, demonstrating resilience, hope and growth. All this encouraging us to continue believing, pushing and adapting, ensuring that no community member gets left behind!
Since April 2020, Thanda has distributed over 144 tonnes worth of food parcels to homes in the community, easing the burden of loss of income, more mouths to feed in the absence of meals children would usually receive at school or in the Thanda After-school Programme. In addition to providing food parcels to families, we have been able to continue to provide educational support to children in our ECD and After-School Programmes.
We began developing our Learning at Home Programme in March, which replaced our Education and ECD programmes until early September. The programme, Learning at Home, which catered for children in ECD through to grade five, provided fortnightly education packs to children that allowed them to have a little bit of Thanda fun at home. There have been many benefits of this "in-community" programme, guardians and parents now understand that the point of the fun is to learn. The programme also enabled us to establish stronger bonds with guardians who stepped into the role of stay-at-home teachers for their children.
This was a huge undertaking as many guardians have a limited or negative experience with their own education. But everyone did a phenomenal job and those who struggled asked neighbours to help with activities or received assistance from the Thanda Home Visiting Team weekly, with all safety precautions in place. Because guardians and children were benefitting from home visits in more ways than we could ever expect, we have since decided to continue the home visits as we evolve into our Thandukwazi Outdoor and Neighbourhood ECD Programmes.
The programme was adapted when the older children returned to school in August. Children continue to receive activity packs bursting with activities like word searches, colouring and puzzles but these packs do not require as much involvement from guardians as the Learning at Home packs did. In the second week of September, 13 Neighbourhood ECD's led by facilitators who live in each of the 13 areas began lessons outdoors. Children are brought to the designated neighbourhood area where the facilitator sets up the ECD classroom for the day to commence a morning of fun learning and seeing their friends again. We are practising social distancing, in as much as it is possible with small children, by using individual Masonite slabs as work areas for each child, by being outside, by sanitizing all toys and resources throughout the day and by erecting tippy-taps at each cluster for frequent handwashing.
Our drivers deliver a meal once a day and collect dishes and containers from the day before to bring them to the community centre for cleaning. On rainy days, we have secured the use of a designated building in each cluster, which has been generously offered for use by a local family who has space to dedicated one room to the ECD classroom.
At the end of September, we began our Thandukwazi Outdoor Programme for older children up to grade 3, which replaces our After-School programme for the time being. Thandukwazi Outdoor Programme (TOP) works in the same way as the ECD clusters but, because of school commitments and a much greater number of children, sessions take place twice a week in each location. Facilitators have three separate TOP groups for two days each, every week. They spend mornings at our community centre doing a curriculum handover for the week, preparing samples for art projects and undergoing training – all socially distanced and using PPE of course. We have 29 groups up and running with the last 4 starting next week.
Children love being with their facilitators and are really enjoying learning and doing activities with their friends again. Sindi, who facilitates three groups with children in Gr R-3, loves working directly with children again and is adapting to the new way of doing things. Even though papers get scattered all over the place every time the wind blows and it goes from too hot to too cold very quickly, Sindi says the pros of TOP far outweigh the cons. For instance, with smaller groups, she gets to spend more one on one time with children and is better placed to offer individual help to children who are struggling with learning concepts and activities. She feels that the extra time she can spend supporting children one on one is going to be very beneficial to children's development which more than makes up for seeing the group only twice a week instead of five times a week as she previously did in our After-school Programme.
Just like in After-school, children still get a large nutritious meal to ensure their tummies are full and they are able to concentrate on doing activities and developing skills. There are still lots of fun learning activities based around themes and lots and lots of games. Sindi confirms that children really missed being able to play games with friends during lockdown. Therefore, she makes sure to include as many games as possible to make up for all the socializing children didn't to do and to help them burn off some of that pent up energy from months of being cooped up at home. The groups are currently enjoying the theme "Come Back Cat" a book created by Book Dash, at TOP. They are reading the book, creating cats out of toilet rolls, learning about food chains and using the crayon resist art technique to draw their own cats.
As our programmes evolve and adapt to the changing regulations in South Africa, we are excited to continue offering our community support through home visits and learning models where lifelong learning can continue.