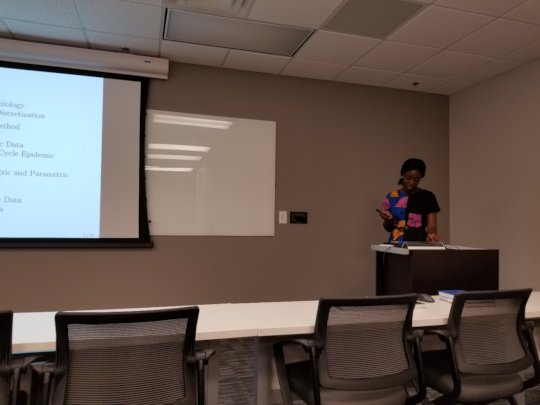 She CAN [she DID, and she WILL] with an IUGB STEM Scholarship
Dearest Friends,
In this season of gratitude-we are grateful for your loyal support! We are reaching out to you, our strongest allies and supporters, because we know you understand the value of STEM education for females, especially those in remote communities. You have helped us raise $6,220 to date. We need your help to go the financial distance to secure IUGB STEM education for more than one female student in Côte d'Ivoire. $16,400 covers all costs for the academic year (excluding room and board) for two female scholars.
The strongest formula for success and achievement for a nation to give its female population equal access to a superior STEM education. Female engineers, technicians, mathematicians make unique contributions to their respective fields. Just ask these IUGB alumnae:
Dr. Aurelie Akossi, who defended her Ph.D (GSU, 2019; IUGB alumna 2011) on applied mathematics in epidemiology, plans to keep working on problems in the field of inverse problems and mathematical epidemiology and hopes to contribute something meaningful to Côte d'Ivoire.
Mariam Fofana, MS, Quantitative Risk Analysis; Data Analysis; Data Scientist and recently named a 2019 Forbes Under 30 Scholar offers a rare and necessary skill. [Her] "passion is in transforming raw data into meaningful information that can be easily understood by a non-technical audience."
Fatima Doumbia, MS African University of Science and Technology, Abuja, Nigeria, and IUGB Alumna (2017) says, "At IUGB I was taught to ask the tough questions-and to develop my own solutionsAs .Côte d'Ivoire is ranked first in the world regarding cocoa production, my answer is to use programming to model farmer decision making processes. I will propose solutions to help them make decisions in the context of climate change."
The IUGB STEM Scholars can help change the lack of STEM education in underserved areas by serving as role models. With your help, more young women can attend-and have HOPE from these IUGB scholarships.
You can help us achieve our goal for underrepresented female students in following ways: (1) Ask five of your friends to donate to our campaign. (2) Be an IUGB Foundation Campaign Superstar and share with at least 20 other people across social media channels. (3) Mobilize your professional and women's associations to invest in a scholarship! Finally, watch for our Giving Tuesday announcements December 5th.
In Côte d'Ivoire, there are so many women with unrealized intellectual capacity. All they want is the opportunity for STEM training at IUGB so that they can contribute their innovations to the world. We know you share hope in the future of Africa every bit as much as we do-and that you will help us support this next generation of future changers.
Note: Dr. Akossi, Ms. Fofana and Ms. Doumbia grant their permission to use the photographs here.