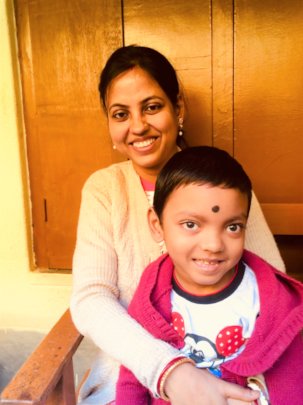 Parents of disabled children in India have an extremely difficult time. They are often scorned in their villages by people who believe that they are being punished by god, and that they must have done something wrong to have a disabled child. This prejudice often happens even within families.
This social stigma, compunded by poverty and lack of access to services makes for a miserable existence for these parents.
The Bhalobasha project offers a lifeline to parents - offering not only practical support but also a different perspective. Here parents are educated about their child's condition, and are taught the truth about why their child may have been born with a disability, and how they can best look after and support their child as well as themselves.
Parents also gain a great deal from meeting each other and sharing their experiences with others who also have a disabled child. This reduces the sense of isolation they feel, and creates a sense of hope and purpose in their lives through solidarity.
I met with a group of mothers at the project when I visited recently. All of them were unanimous in their appreciation of the project and each one told me in their own way how things have changed for them since they got involved.
One mother told me - "When I first came here with my son, I was stopped by my family members many times and I used to have to lie to them to bring him to Bhalobasha. Now with the help and facilities from here, there have been remarkable changes in him, my son has started responding. My family too has now changed their outlook towards me and my son. They have started accepting my son, and I am extremely grateful to Bhalobasha for bringing changes in my him. This day care is now like a temple for me."
Bhalobasha is changing the lives of many parents in desperate circumstances in rural West Bengal, creating a ray of hope and a sense of possibility when previously there was none.