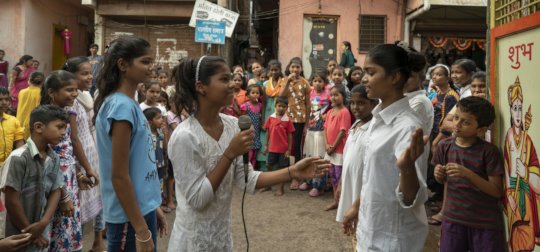 Meena is growing up in a difficult slum and was growing up lacking confidence and refusing opportunities to go to school. From a family with very little literacy, Meena didn't see a way of learning without being laughed at by other girls. Fortunately, this project reached out to Meena and things have changed.
It's our privilege to share Meena's story of change with you:
"In our classes, we are told about our rights. Many different activities increased my confidence. I've started talking, standing in front of the girls. My fears have disappeared. I've started understanding how to be a leader. I learned how to resist bad things. I learned good things. I learned that girls also have rights as boys do. Now, I can even talk about my rights at my home.
My studies are progressing. If there are any girls in the area whose education is stopped, then I will try to tell community organiser and she can get help to complete her education. I understand how to protect myself now. When a boy in the school was doing eve teasing (sexual harrassment), I immediately told the teacher and informed home of the incident too. Fear did not remain in my mind. With confidence in me now I can speak without fear.
I want to be an IPS (Indian Polie Service) Officer in the future. I want to be in the same locality and make changes. I want to emphasize the importance of education to all. After learning in class I told my mom that when I will get married and have my own family, at that time I will not discriminate boy and girl and I will give equal rights to both. I also fight for my rights at home and told my mother whatever you give to my brother I also want that. Since then, my mom gives us both things equally.
This change in me, this confidence, getting the to this stage, it is all due to attending classes here. I thank this project very much."
With your support with can continue to support Meena and her peers to get an equal education and to take their place in society with pride. Thank you for your role in this journey!