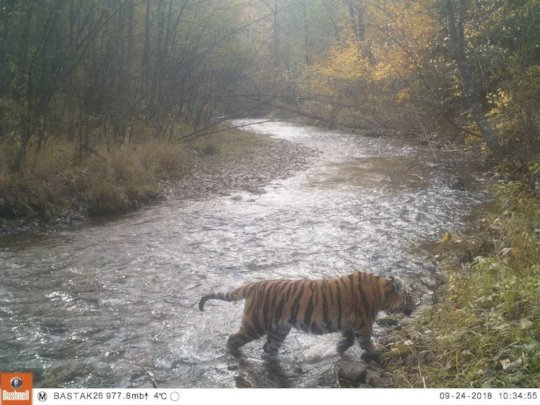 Dear supporters, some great news brought the end of 2018!
The monitoring at Bastak nature reserve lately showed that the reserve staff was wrong believing that in the second litter tigress Cinderella had only one cub. New footages from a camera traps surprised everyone: Cinderella was captured with two cubs! Currently, the cubs are about one and a half year old. According to photo and video materials, one of them is a male, and the second, with high probability, is a female. During this winter, the cubs will stay with their mother, and in spring will begin an independent life.
Other news came from the Jewish Autonomous Region where the Hunting Management Department and the Rehab Centre specialists have finished monitoring the Amur tiger population. The results showed that Borya and Svetlaya, two tigers released in 2014, still share the same grounds and are doing well.
"The tigers are well nourished; they hunt regularly and productively, which is obvious. The results of the tiger cluster checks prove this," said Viktor, director of the Tiger Rehabilitation Centre.
Experts also believe that Svetlaya now has at least two female rivals: Filippa and Lazovka, the tigress from Lazo.
Another tiger, Saikhan, who was released in May 2018, in November 2018 travelled to China for one week and then returned to the Far Eastern taiga.
In addition, the tiger survey provided experts with the first photos of Filippa from camera traps. She is now about three years old and in perfect shape, which proves that she has successfully adapted to living in the wild.
And the latest news from the Rehabilitation Centre is that the tiger cubs captured near Aleksei-Nikolskoye turn out to be different genders! Experts from the Centre have recently conducted a routine examination of the cubs. That is when they learned that one of the cubs, both of which had been previously identified as females, was, in fact, a male. The check proved the animals to be perfectly healthy. Now the cubs are about one year old. The young tigers hunt animals on their own, and properly react to humans by instantly taking cover and getting out of sight upon spotting or hearing people nearby. If the rehabilitation process continues to go smoothly for the cubs, they will be released in the wild in spring 2019.
Information provided by MRNCO "Tiger Centre" and The Amur Tiger Programme