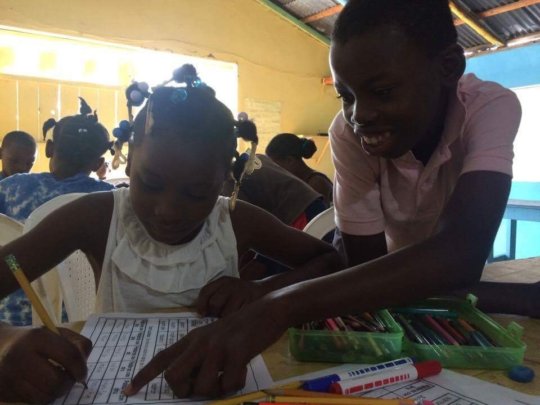 Founded in 2010, Yspaniola has dedicated itself to providing supplementary Spanish literacy education for the community members of Batey Libertad, a marginalized Haitian migrant community in the Dominican Republic. Since 2014, our Learning Center has supported and encouraged students by providing Spanish literacy instruction outside of the public school system.
Over the years we have developed and expanded our Spanish literacy program, however this growth has not occurred without its obstacles and failures. For the 2016 Fail Forward Contest, we would like to share a story of a time where we failed in our Learning Center and how this failure allowed us to develop as a team, gain fresh insight, and grow stronger through the realization and resolution of our mistake.
Children who attend the Learning Center face many obstacles to their education, such as lack of healthcare, nutrition, and proper documentation. This, coupled with institutional racism towards Dominicans of Haitian descent and a complex history between both countries, leads to a hostile school environment that is unable to support the needs of Creole speaking students.
Yspaniola now has over 140 children currently enrolled in Spanish literacy classes in the Learning Center. In order to accommodate the growing number of students, this semester we opened up a new preschool building where our youngest students can benefit from a space tailored specifically to their age group. With this increase of new students, most of which do not possess an advanced command of Spanish, it is of the utmost importance that we do whatever we can to adapt to the needs of all our students and make sure they feel fully supported.
Since its opening, the Learning Center has always been intent on fostering a culture of reading and speaking in Spanish in order to prepare students to succeed in the public school. From the beginning, we understood that our students' mother tongue is Creole and that outside of school there was a very limited amount of time where they used Spanish. For this reason, we decided to create a "Spanish-only rule". Also, at this point in the Learning Center's development, the majority of international staff and volunteers could not effectively communicate in Creole, further reinforcing the exclusive use of Spanish. Although many of our students' first language is Haitian Creole, we thought that we were acting in accordance with our mission to improve Spanish literacy by promoting a Spanish-only environment. However, as our Center grew and we began to see positive results, we became blind to the negative effects of excluding Creole from our classroom.
We began to receive more children that had either come from monolingual Creole-speaking households, had just recently migrated to the Dominican Republic, or did not attend the local public schools, and thus had very little to no understanding of Spanish. Incoming students were placed in a class according to their level and were taught in the same Spanish-only style as their classmates. However, with explanations being given in Spanish and students only being allowed to respond in Spanish, these incoming children were unable to fully express themselves without feeling the need to switch into speaking Haitian Creole. It soon became clear to us that although we had had the best intentions, the incoming students could not benefit from this Spanish immersion model because their language level was not advanced enough to comfortably communicate and face the challenges of a Spanish-only classroom.
As we became aware of this mistake we had made, we also realized that there was a historical, ideological layer to the issue that could be applied to both new, incoming students and students easily able to communicate in Spanish. The complicated history between the Dominican Republic and Haiti has produced a tense, hierarchical relationship between the use of Spanish and Creole in the Dominican Republic. Usually, Spanish is unquestionably accepted as a language, whereas Creole is often characterized as a mere dialect, not carrying the same validity and superior connotation that Spanish possesses. Growing up in a Spanish-speaking society, many Dominicans of Haitian descent, particularly from batey communities, are made to think that Creole is inferior, subsequently making them more self-conscious about their Spanish level. In some extreme cases, Dominican teachers can often be quick to criticize the Spanish of Dominicans of Haitian descent, even though the Dominican population as a whole suffers from low Spanish literacy rates.
This is a particularly sensitive topic as many of our Learning Center teachers have experienced similar feelings about speaking Creole. One of our teachers, Willy, recalls experiencing similar feelings saying, "When I was in school, some professors told us not to speak in Creole because they wanted to know what we were saying, but there were some professors that wanted to make us feel like speaking Creole was a bad thing."
At this point we realized that although we were successful in our goal of promoting Spanish literacy by having all children communicating in Spanish, by continuing our Spanish-only rule we had been failing not only our new, beginning Spanish learners, but we had also inadvertently reinforced this negative culture of discouraging the use of Creole.
Thanks to our staff of local teachers, we were able to gain their personal insights into how we could incorporate Creole into the Learning Center without detracting from our mission of fostering a Spanish-speaking environment. We then collectively decided that incorporating Creole into the Learning Center would give students the freedom to express themselves and create an opportunity for intercultural exchange between our students and international volunteers in the classroom.
Now, when one enters the Learning Center classrooms, one can hear children switch freely between Creole and Spanish. This has inspired a spirit of camaraderie and helpfulness between classmates who speak in Creole to help less fluent children complete their Spanish exercises. In addition, our native Creole-speaking teachers have started using Creole more and more to support new students as they learn the foundations of beginning Spanish. Our recently opened preschool program boasts a high number of new students, who are now also benefitting from supplementary explanations in Creole when needed. Ronaldo Charle, our preschool teacher, claims that, "For me, it is necessary to always maintain Creole because the youngest students are the ones who have the most issues with Spanish. Since it's the first time that they are leaving home and their Spanish level is very low, we explain things in Creole, but we always keep Spanish as a priority." Willy, another native Creole-speaking teacher uses Creole often in his classroom saying, "I think things are more interactive now because of this change. We understand that we have to let the children express themselves and that afterwards we can translate and correct them in Spanish. There have been many times where I have had to give an entire class in Creole and then had to translate to Spanish."
We also decided to have our Local Program Assistant, Paul Eligene, give Creole classes to our long-term international volunteers so that Learning Center students can see that staff value their culture and language, not just Spanish. Erica, a Princeton in Latin America fellow, shares how studying Creole has helped her tremendously in classes with older students who have just migrated from Haiti."I think these kids are really vulnerable," Erica says, "because although most of them had formal schooling in Haiti, they are bumped back to a kindergarten or 1st grade level when they move here. Being able to communicate with them in Creole has helped me not only in my ability to explain new concepts, but has helped me establish a more trusting student-teacher relationship."
From this failure we have learned that the integration of Creole in the Learning Center has had a positive impact on our students and changed the mindset of the classroom. In a time where it seems that there are more forces trying to pull people apart instead of together, it is important for us as an organization to celebrate different cultures and promote the value of bilingualism. By acknowledging the cultural value of their mother tongue, we are making an active effort to counter the negative connotations associated with Creole and showing students that there is empowerment in Creole as much as there is in Spanish. By having local staff incorporate Creole in their classes, students can feel that they have teachers that they can identify with. Local teacher, Willy, shares that working with students from his community and making them feel like they have a teacher that represents them is of the utmost importance to him. "When I was in school there were many professors that tried to make us feel like Creole was bad. And now working here I have the opportunity to correct that and say to my students, 'No, Creole is not bad. Creole is a language, like any other language.'"