The Yspaniola scholars successfully completed another trimester and are taking classes and studying hard this summer. Scholars Fede, Ramón and Julio have also been working hard to practice their English with Yspaniola's English teaching volunteer. English classes are offered in the literacy center in Batey Libertad on Tuesdays and Thursdays, and in early June six young adult students graduated from the first level of the course.
Because of the popularity and success of last year's summer camp, Yspaniola is pleased to support a two-week educational summer camp this July! Young adult volunteers from the community will lead the kids in different activities: art, education, sports, an HIV/AIDS awareness program teaching through play and games, and music and dance. At the end of the month, the children will display their work from the camp through a concurso, or competition and talent show. Yspaniola will provide a small stipend for the community volunteers and breakfast for the children each day of the camp. Stay tuned with an update about the camp in August!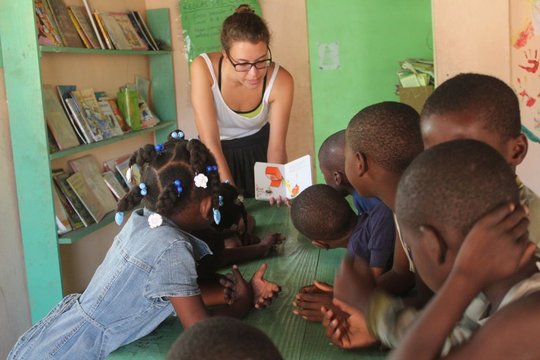 Yspaniola has had a busy and exciting start to 2013!
In January, we welcomed a group of graduate students from Columbia's School of International and Public Affairs for both a study-tour and project collaboration. The group featured several education specialists with previous experience working with Teach for America, the Peace Corps, the Millenium Village Project, and teaching around the globe. After observing classes in the Literacy Center, the SIPA Education Team worked with our local staff to develop a new curriculum to further Yspaniola's literacy initiative in the batey.
The SIPA students also held a training session for Yspaniola's local staff and volunteer tutors, including Mayra Rodriguez, an Yspaniola scholarship recipient. Throughout the training, the SIPA Education Team successfully demonstrated methods of classroom management and introduced innovative activities geared towards children at various literacy levels. Yspaniola has already begun to implement many of the strategies introduced by the Columbia students, and we are looking forward to a continued collaboration toward an effective and inclusive literacy program.
The SIPA group also traveled around the island of Yspaniola, and was accompanied on a trip to Northern Haiti by Yspaniola's scholars Mayra and Ramon. The group observed border relations and various manufacturing and development projects near Cap Haitien, Haiti.
In February, Yspaniola enrolled an additional 30 students in the Literacy Center program, doubling previous numbers. In an educational environment in which over 98% of students fail national exams at the primary level, Yspaniola is eager to reach as many students as possible with targeted literacy interventions. All four scholars have also begun to volunteer monthly in the literacy center, serving as effective tutors and role models for Yspaniola's youngest students.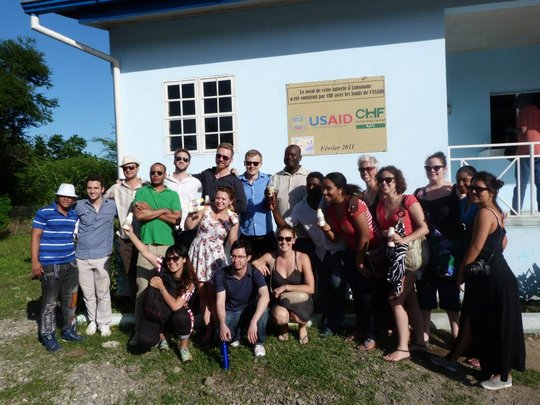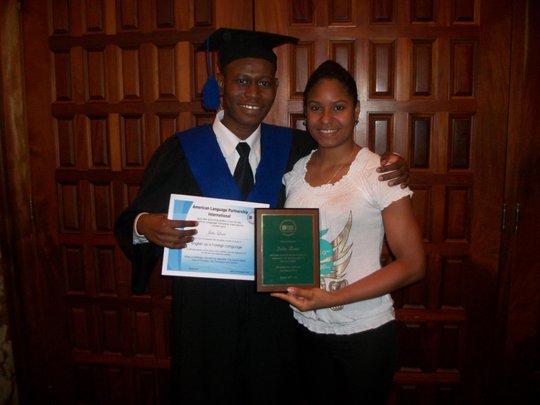 Yspaniola is proud to celebrate the continued success of the University Scholars Program, which fully supports from Batey Libertad while they study at UTESA in Santiago. Our newest scholars, Julio Louis, studying Tourism, and Ramon Sanchez, studying Medicine, are both incredibly motivated and have adapted quickly to both the demands of UTESA and the activities which Yspaniola provides to complement university coursework.
Along with Mayra and Fede, Julio and Ramon have excelled at UTESA in their given fields. The scholars have found themselves working frequently in foreign languages, as well as perfecting their Spanish comprehension and writing skills. Our commitment to improving the skills essential to professional life keeps us in constant search of innovative teaching tools and resources. Recently, our scholarship coordinator, Mirta Aguirre, participated in an educational debate tournament in Haiti, where she acquired helpful techniques that will supplement her individual tutoring sessions with each scholar.
In addition to the happenings at UTESA, Julio Louis recently graduated from the American Language Partnership International, a prestigious English language institute in Santiago. He placed among the top three students in his graduating class. We are confident that Julio, graduating from UTESA next year, will excel in all that he sets out to do.
This Fall, Yspaniola's local team conducted the Early Grade Reading Assessment (EGRA) with students in the Literacy Center and in the Batey Libertad public school. The EGRA, developed by USAID and RTI, is an innovative tool to assess student's weaknesses in oral and written comprehension, as well as phonemic awareness and Spanish fluency. The EGRA results will help Literacy Center staff to implement targeted interventions with each student, as well as assist public school teachers in targeting their own students' weaknesses.
WARNING: Javascript is currently disabled or is not available in your browser. GlobalGiving makes extensive use of Javascript and will not function properly with Javascript disabled.
Please enable Javascript
and refresh this page.