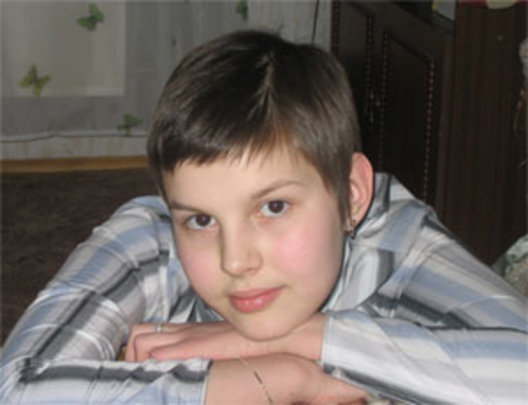 Dear friend,
Earlier this month we told you about Tanya S, who needed a bone marrow transplant from an unrelated donor. We are happy to report that a matching donor for Tanya was found! It also means Tanya urgently needs to pay 10,000 euros to the registry for collection of bone marrow from the donor. Please help us help Tanya undergo transplantation as soon as possible to maximize her chances in her fight against cancer.
For now, Tanya is preparing for the next chemotherapy cycle. She hopes to celebrate the New Year at home, with her family.
Happy New Year! May all your wishes come true!
~~~~~~
Дорогие друзья,
в начале декабря мы сообщили вам, что часть собранных денег была передана на поиск донора костного мозга для Тани Сучковой. К счастью, подходящий донор нашелся! Но теперь Тане нужно срочно заплатить 10 тысяч евро за забор костного мозга у донора. Помогите нам помочь Тане пройти трансплантацию как можно скорее - от этого зависят ее шансы победить болезнь!
А пока Таня готовится к следующему курсу химиотерапии. И надеется встретить Новый год дома, в кругу семьи.
С Новым годом! Счастья и исполнения желаний!
Links:
Dear friends,
we are happy to report that we used the money raised during September and October to contribute to bone marrow donor search for Tanya S., a young Ewing's sarcoma sufferer, who has had disease recurrence since 2004. In December 2009 she had a second relapse and after completing chemotherapy, she will need bone marrow transplant to keep disease from coming back again.
We also used proceeds to make a payment to start donor search for Igor Sh. who has myelodysplastic syndrome, requiring ongoing blood transfusions. Since Igor is not responding to medical therapy, bone marrow transplantation is his only remaining option.
Thank you very much for helping these patients get another chance to live!
Дорогие друзья,
мы рады Вам сообщить, что деньги, собранные нами в сентябре и октябре 2010 года пошли на оплату поиска донора костного мозга для Тани Сучковой из пос. Шушары под Петербургом, болеющей саркомой Юинга с 2004 года. В декабре 2009 года у нее произошел второй рецидив и после завершения химиотерапии ей потребуется пересадка костного мозга, для того, чтобы предотвратить возвращение болезни.
Мы также перевели часть денег на поиск донора для Игоря Шитика, болеющего миелодиспластическим синдромом, при котором требуются постоянные переливания крови. Поскольку Игорь не отвечает на терапию медицинскими препаратами, пересадка костного мозга от донора - его единственный вариант лечения.
Спасибо Вам огромное за поддержку наших пациентов!
Дорогие друзья,
c 12 октября (до 21 октября, если фонды не закончатся ранее) ко всем пожертвованиям, сделанным на сайте Globalgiving.org, организаторы будут добавлять бонус от 30 до 50%. Также будут доступны дополнительные бонусы за наибольшее количество жертвователей и наибольшую собранную сумму. Все собранные средства будут переведены в регистр Морша на поиск доноров костного мозга для наших пациентов! Огромное спасибо всем, кто поддержит проект и наших пациентов!
Наш проект находится по ссылке: http://www.globalgiving.org/projects/bone-marrow-donor-searches/
*****************************************************************************************************
Dear friends,
Starting on October 12, www.GlobalGiving.org is matching all donations at 30%, 40%, or 50%. The match percentage is based on the size of the donation.
Donation Size –> Percentage Match
$10 – $499 –> 30%
$500 – $999 –> 40%
$1,000 – $2,500 — > 50%
There is $100,000 available in matching funds. The campaign will run until Oct 21 or until matching funds run out.
In addition to the match, GlobalGiving is offering a $1,000 bonus to the project that raises the most funds between Oct 12-21 and a $1,000 bonus to the project that receives donations from the most individual donors!
Please join this great opportunity to help your money do even more good for the cancer patients! Our project is posted here: http://www.globalgiving.org/projects/bone-marrow-donor-searches/
Thank you!
Links:
WARNING: Javascript is currently disabled or is not available in your browser. GlobalGiving makes extensive use of Javascript and will not function properly with Javascript disabled.
Please enable Javascript
and refresh this page.