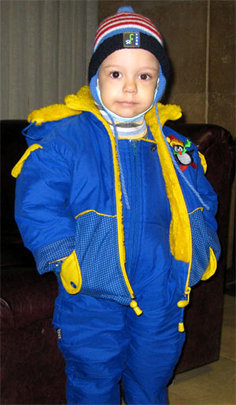 Dear Friend,
Our project aims to help children with cancer from the former Soviet Union and make high quality cancer treatment more accessible.
Slava Voroshilov is a 6-year-old from Ukraine. He comes from a region affected in the nuclear accident at Chernobyl. Slava suffers from relapse of neuroblastoma, common childhood solid tumor. He was initially diagnosed in spring of 2009. His friends and family raised funds for his treatment in Italy, and Slava achieved remission after many months of therapy. Unfortunately, he relapsed a year later. This time treatment in Italy did not result in remission, and Slava's family began looking elsewhere. Cincinnati Children's Hospital had offered a treatment plan, but Slava needs to begin therapy quickly to stop disease progression. Please help Slava get well.
Thank you!
Dear Friends,
Thank you for your support throughout 2012 year. It has been a challenging year for our patients and their families and we appreciate your compassionate involvement in their lives. Although we did not raise as much as we have planned via this project, we were still able to help the following children as an organization: Alina Baurciulu – $1000, Arina Limanchikova – $1000, Maxim Kim – $1000, and Elyor Babaev – $900.
We sincerely thank you for all your contribution and hope on your continuous support in 2013. From all our team, we wish you and your loved ones a happy holiday season and a healthful, prosperous new year!
With gratitude,
Advita Fund USA, Help Children with Cancer Access Treatment
Thank you so much for your support this year!
During 2012 we were able to raise more funds than ever before to help leukemia patients pay for bone marrow donor searches in foreign registries. As you may know, a number of registered bone marrow donors in Russia is too low to allow finding a complete match. In fact, this year the first Russian donor was activated in a database at Pavlov State Medical University in St. Petersburg, while hundreds of patients need transplants annually to have a chance to survive.
Your help made this possible for 17 people - children and adults, men and women.
If you would like to increase an impact of your donation, consider signing up for recurring donations. GlobalGiving will match your first donation (up to $100), and there is a chance to win a bonus if enough of us sign up.
Thank you in advance - and have a wonderful holiday season!
Links:
WARNING: Javascript is currently disabled or is not available in your browser. GlobalGiving makes extensive use of Javascript and will not function properly with Javascript disabled.
Please enable Javascript
and refresh this page.