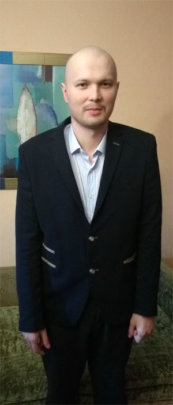 We would like to thank everyone who supported us during the Bonus Day in March, our recurring donors, and everyone who had contributed since. Because of your kindness, we were able to help two more patients with paying the bills from the donor registry in Germany. Both of them have already received their donors' stem cells and are now in recovery period.
One of the patients is Rinat from Surgut, an oil city in Siberia. Rinat is the oldest of two brothers. His father passed away, and his mom is retired. Rinat graduated from college with a specialty in oil production, but could not find a job in the industry. He ended up working in a warehouse. In 2013 he started feeling unwell and blacked out a few times. When he had a severe tonsillitis in early 2014, he had a blood test that revealed blood cancer. After seven blocks of chemotherapy, Rinat achieved remission. Unfortunately, a year ago he relapsed with a more complicated type of leukemia than the first time. Only bone marrow transplant from an unrelated donor would give Rinat a chance to beat leukemia - and thanks to your support he was able to use it!
Another patient, Irina, comes from northern Russia. She was born in Murmansk region and later moved to Karelia. She worked as an elementary school teacher, and then as an emergency call line operator. A year ago, Irina herself began needing help. She suddenly grew fatigued and developed bruises over her body. After going to a checkup, Irina was diagnosed with MDS, a pre-leukemic blood disorder. Irina had to relocate to St. Petersburg, as the doctors in her city had no experience with the disease. She was recommended therapy with a newly approved drug, as well as bone marrow transplant, the only chance for complete cure. There were potential bone marrow donors for Irina, but all of them were in foreign registries. With the help of her son, she was able to afford initial deposit, but the rest of the bill was out of reach. Fortunately, your support enabled Irina to mobilize a donor and undergo transplantation!
Thanks again for your care for patients like Rinat and Irina. There are many other patients like them who cannot afford donor searches on their own. We will make sure to continue bringing their stories to you, so you know exactly who was helped and where your donation made a difference in the world.
All the best from our team and hope you have a great summer!
With love,