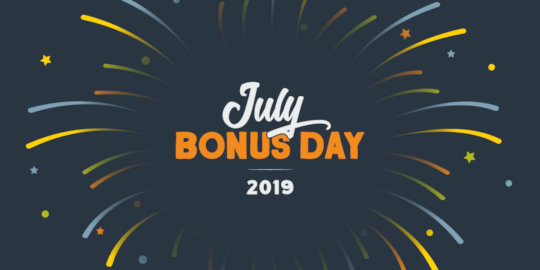 The Independence Day fireworks may be over, but the excitement continues to build! A few days ago, GlobalGiving announced that they will offer one of the largest bonus prizes in their history for their bonus day on July 18th (starting 9 am ET or 16:00 Moscow time). A total of $250,000 in matching funds plus $10,000 in additional prizes will be offered that day.
Donations will be matched based on amount:
Donations $100 - $499 USD will be matched at 15%
Donations of $500 - $749 USD will be matched at 30%
Donations of $750 - $1,000 USD will be matched at 50%
If you are financially comfortable, we encourage you to donate at the top of your ability. The more you give - the higher bonus you will earn for the cancer patients.
Donations of less than $100 will not be matched this time. However, another bonus day is coming up the week of August 12th that will celebrate our small but mighty donors and award bonuses on donations of up to $50. Save the date!
Our partner, Advita fund in St. Petersburg does incredible work supporting patients in need of bone marrow transplants. During summer they often run low on funds, as many of their supporters leave town on vacations and postpone their giving. These bonus days in July and August will give us an opportunity to close this gap and ensure all patients in need are able to access bone marrow donors in foreign registries.
Unfortunately, most of cancer patients in Russia require some level of financial support. Particularly for leukemia patients, imported new medications and searches for bone marrow donors abroad are very costly and not covered by government-sponsored healthcare. Even patients in their prime earning age are often unable to afford lifesaving drugs and procedures.
One of our recent beneficiaries, Alexei, is a young man from Crimea. He got sick suddenly in fall of 2014: his backaches were getting progressively worse until he was hospitalized and diagnosed with acute leukemia. He underwent lengthy treatment, but relapsed in August 2018. Bone marrow transplant is Alexei's chance for cure, but he did not match any of the potential donors in the Russian registry and needed to expand his search abroad. Alexei was unable to afford the services of the German registry, but thanks to your support we were able to cover the cost of the search. On June 28th Alexei received stem cell transplant and is now recovering.
Thank you for supporting Alexei and many other patients like him! We are so grateful to have you as our donor. We hope we can count on you to join us during one of the bonus days and help even more patients.
Have a great summer!