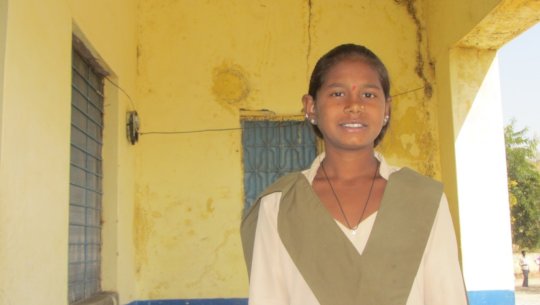 13-year old Gehna* belongs from a rural village in Udaipur district of Rajasthan, India. Gehna has been recently enrolled in Grade 3 of the Government public school in her village. Girls her age are studying in Grade 6 or 7. At first she was apprehensive to attend school, but now she enjoys every single day of it because she likes learning and playing with her classmates!
This was not the situation few months ago. Gehna was identified as an out-of-school girl (OOSG) by Educate Girls' field staff during a door-to-door survey** conducted in her village. The field staff then spoke to her family and realised that they were adamant about not sending her to school. Gehna's elder sister had never been to school either and her elder brother was already working in the fields to support the family. They argued that Gehna was too old to consider joining school now and that it just wasn't right for girls her age to abandon responsibilities at home. Her parents were of the opinion that at this age Gehna should learn all about the household chores as very soon they will be looking out for a suitor for Gehna and she will be married.
The Educate Girls' team did not give up and pursued the family multiple times. Educate Girls' Team Balika (Community Volunteer) Manju tried convincing her parents by explaining the benefits of educating their daughter and the facilities provided by the Government for educating the girl child. After a lot of follow-up visits, Gehna's parents finally agreed to enrol her in school.
Gehna struggled with catching up to the years she lost being out-of-school but she received a lot of support from Educate Girls' learning curriculum which is implemented through 'Gyan Ka Pitara (GKP)' kits which is translated into 'Repository of Knowledge'. Educate Girls' GKP focuses on building micro-competencies of children studying in grades 3, 4 and 5 in English, Hindi and Math. The 3,000 piece kit is child-friendly, context-specific and sensitive to the needs of the most under-served and marginalized children in India.
Today, due to the combined efforts by Educate Girls' staff and the school teachers, Gehna is catching up in her academics and is learning better.
Gehna's father is quite happy with the progress observed in her. He appreciates Educate Girls for helping him make this decision of sending Gehna to school. He shares, "I am not well-educated but now I am aware of how important education is for both girls and boys. I would encourage all the children in my village to go to school regularly!"
*Name changed to protect identity of the minor
**Door-to-door Survey: Educate Girls' field staff and Community Volunteers known as Team Balika conducts a census like extensive activity known as door-to-door survey in the program geography that helps in identifying the exact number of girls who are out of school. Having identified the OOSGs, the staff persuades and convinces the parents of each girl to enrol her in school.