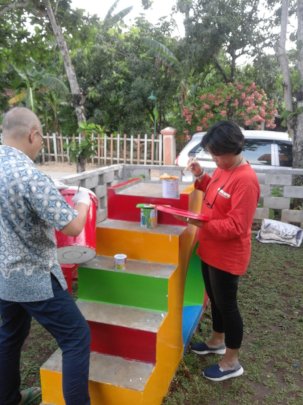 Dearest,
Madam and Sir
Warmest Greetings from ars86care Foundation. As we are closing in on 2018, we are please to announce that your donation has allowed us to compelete the construction of Pertiwi 1 Kindergarten, in Penadaran Village – Central Java benefiting 51 children with two teachers.
We held a Handover Ceremony, commemorating two schools that has been built in parlalel including Pertiwi 1 Penadaran Kindergarten, on the 15th of November in Tanggungharjo Distrcit, Central Java. The Ceremony made it official to which the school is handed back to the village after a 20 weeks renovation process. Teachers, Village communities, Head Village and Village Public Figure had all participated in marking ars86care Foundation 24th and 25th school.

The Ceremony included speeches from both the Foundation and School Representative. Each time a Hand Over Ceremony is held, all participants coming from The Foundation and the Village Community helped with finisihing work around the school such as planting, making a water absorption holes, making signage around the school, creating a herbal corner, making a vertical garden and painting trash bin.
Your donation provided two furnished classrooms, a teacher room, a children's playground, two toilets, one pantry, a clean water supply system, and Green facilities: rainwater harvesting, vertical garden, water absorption holes, trash management, and school recycling center. The whole facility will have a sustainable impact for 30 years (or more) worth of school year (50 children per year).
ars86care Foundation would like to thank all Donors in making this possible, creating a safe space for the children to learn and play. With this Final Report, I will thereby close the Campaign and will be excited to see you on our next campaign for 2019.
Warmest Regards