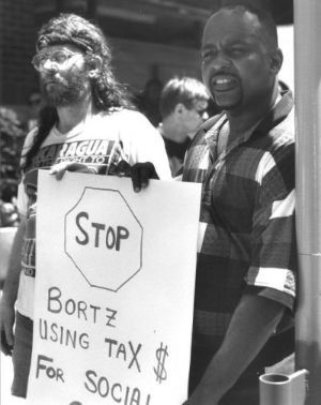 The National Coalition for the Homeless (NCH) has had an eventful last few months. In addition to the hiring of Donald Whitehead as Executive Director, NCH has adopted new by-laws to energize its membership. NCH has adopted by-laws that bring coalitions and individual members across the country into the organization's decision-making process. The new structure has already resulted in greater participation in the decision-making process and significant involvement on committees and town hall meetings.
NCH has created a partnership to provide Technical Assistance in several communities. Individuals are providing technical assistance with lived experience who are paid fair market wages for their work.
Currently, NCH has 14 consultants with the Department of Housing and Urban Development (HUD) NCH is also awaiting word on three additional partnerships that will increase the number of consultants with Lived Experience. NCH has also expanded its speaker's bureau online and expanded the geographical footprint by enlisting speakers from across the country. Nch also partnered with the National Student Campaign Against Hunger and Homelessness to sponsor "Hunger And Homeless Awareness Week."
NCH will prepare to release the Homeless Hate Crimes Report in early December.
The National Coalition for the Homeless (NCH) is renewing its support for Civil Rights, including Racial Inequities. NCH supported the introduction of the Hero's Act to address the many individuals impacted by a housing crisis that has been ignited by the COVID-19 epidemic. The Bill calls for $ 100 Billion in new housing resources and additional funds for Homeless Assistance. The Bill is critical as an economist has reported a potential 45% increase in homeless as a result of evictions caused by the pandemic.

NCH has partnered with HUD and ABt Associates to provide people who have experienced homelessness with opportunities to help shape policy directives released by HUD. NCH continues to collaborate with the National Law Center on Homelessness and Poverty on the Housing Not Handcuffs Campaign to protect against criminalization efforts against people experiencing homelessness. The NCH, Hate Crimes report, is nearing its final stages of development.
NCH has transformed the face to face Speaker's Bureau Activities into a digital format. People experiencing homelessness present their stories as part of the "Faces of Homelessness" speakers bureau on ZOOM calls across the country.
NCH will begin monthly Town Hall meeting in August aimed at raising the voices of people experiencing homelessness and their allies Please stay tuned for more information. Nch is also continuing to ensure participation in the voting system with the "You Don't Need a Home to Vote Campaign"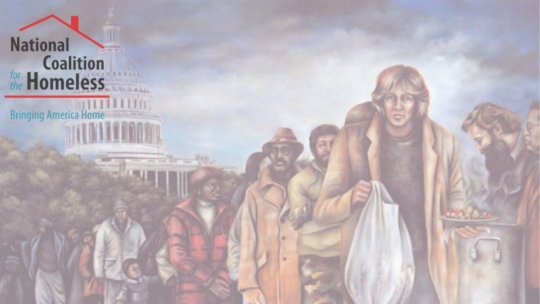 Links:
We applaud Congress for passing the Families First CoronaVirus Response Act, which will provide immediate paid sick leave and paid family leave to millions of people, expanded unemployment insurance, vital nutrition aid, more Medicaid funds for states, and free COVID-19 testing.
Our unhoused neighbors are more likely to have underlying health conditions, use spaces with congregate settings (public transportation, shelters, soup kitchens), have already diminished life-expectancy, have limited ability to follow public health advice, or suffer from stigma and discrimination in accessing basic services. (Read more in the National Health Care for the Homeless Council's issue brief)
It is imperative that services, medical care, resources, and support for people experiencing homelessness is included in any further Federal Coronavirus response.
We are all in this together – we must act now!
We are asking for lawmakers to:
Provide

$15.5 billion specifically targeted to people who are currently homeless. This should include language that adds "medical respite care" services into allowable/prioritized uses for emergency CoC funding.


Cancel the 2020 NOFA: Direct HUD to

automatically renew Continuum of Care Homeless Assistance Funding

in 2020 to programs that were recently renewed through the 2019 renewal process, as currently allowed in the HEARTH Act, so long as the Continuum of Care Entity documents that a) there is a continuing demonstrated need for the project and b) that the project continues to comply with CoC program requirements. Use the 2020 CoC NOFA process to competitively award only additionally appropriated funding for New Projects to meet the needs of those currently on the streets, in shelters, or the newly homeless.


Require HUD to

increase flexibility

to allow communities to utilize CoC Homeless Assistance Funding to meet local needs and local priorities.


Call for a

moratorium on all homeless encampments sweeps

during the pandemic. The CDC has released

guidelines saying encampments should not be displaced

unless housing is available


Provide

$50 Billion of new funding

for expansion of Low Income Housing Tax Credits targeted to housing for homeless families and individuals, expansion of the National Affordable Housing Trust Fund, and expansion of Project Based Section 8 funding for permanent supportive housing and housing for families experiencing homelessness.
These demands are absolutely imperative to the safety, wellbeing, and care of people experiencing homelessness, and we cannot wait. Contact your Legislator below!
WARNING: Javascript is currently disabled or is not available in your browser. GlobalGiving makes extensive use of Javascript and will not function properly with Javascript disabled.
Please enable Javascript
and refresh this page.