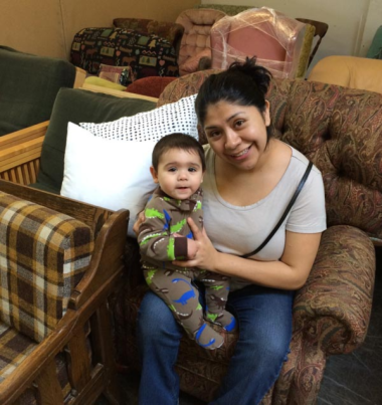 I'm excited to share news from the past three months – it has been a whirlwind at Community Warehouse!
In March, we hired our new Executive Director, Dunetchka Otero-Serrano. A Puerto Rico native, Dunetchka brings sixteen years of experience in the non-profit sector, a master's degree in public administration, and remarkable leadership skills. Dunetchka welcomed donors and friends at Community Warehouse's ninth annual CHAIR AFFAIR fundraiser in April to celebrate the beginning of an exciting new chapter.
"I am thrilled to begin my journey as Community Warehouse Executive Director and I assume this responsibility with a deep appreciation for the impact the organization has made in our community over the past fourteen years. I am confident, together, we will continue to strengthen and expand our important role to eliminate roadblocks to self-sufficiency and happiness for so many members of our community," said Ms. Otero-Serrano.
Several weeks after the CHAIR AFFAIR event, both Warehouses are full to the brim with furniture and other household goods.
While walking through the Warehouse this week, I passed a client next to a large stack of furniture she had picked out, and noticed that she was crying. Concerned, I asked her if something was wrong. She responded through tears: "I'm just so happy."
There's something incredibly empowering about the transition into a home with a bed, dresser, table and chairs, and kitchen items that you have picked out yourself. It's easy to take these basic things for granted. At the Warehouse, we are constantly reminded of the importance of basic furnishings helping people restart their lives.
As Case Manager Colleen affirmed: "Having basic furnishings is such an amazingly empowering part of someone's move off the street and into housing. It comes down to dignity…and moving into a place that has white walls and barren floors is not an especially dignifying or human experience."
Thank you for helping us provide dignity, stability, and hope for families and individuals in our community.
We look forward to an exciting summer!
Warmly,
Anna Kurnizki, Development Manager