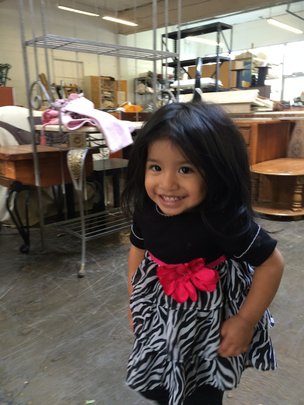 Your gifts of funds, furniture, and friendship helped Community Warehouse create safe and stable homes for 7,234 neighbors in need last year.
Here is a small glimpse of the positive stories you create every day:
Angelica, her mother and daughter visited the Warehouse last month in need of basic goods for their nearly empty home. They arrived on a chilly, sunny morning and were handed their request form with a warm smile and a friendly 'Hello' from staff member Erik. The Warehouse was full to the brim as they walked around, picking out their favorite sofa, dining table, chairs, dresser, lamps and artwork (all donations from fellow community members.) The smiles on their faces were unforgettable.
Our volunteers packed a sizeable box of pots and pans, dishes, and other kitchen items along with a large, warm bag of linens. When it came time to select their beds, they asked kindly if we had any bunk beds. Tom, our Program Manager, sadly shook his head: "We rarely get bunk beds...I'm sorry." Angelica and her family were moving into a very small space, so a bunk bed was ideal, but they were very grateful and understanding.

Fast forward fifteen minutes.
As Tom was loading the last of their goods into the truck, a donor pulled up to the garage entrance with a large vehicle and called out, "Hey – do you take bunk beds? I've got a real nice one here in my truck!" A huge smile of astonishment spread across Angelica's face. She spoke with the donor while we moved the bunk bed straight from his truck to hers.

And that, friends, is the magic of the Warehouse. Your extras can make a huge difference in someone else's life. This happens all year round and your kindness makes it all possible. We truly can't thank you enough.
With sincere appreciation,
Anna and the Warehouse Crew
PS: We need your help! We are low on kitchenware, pillows, dressers, and beds at our Portland and Tualatin Warehouses. Please consider making a gift – all donations are tax-deductible and go directly to support local families in need.