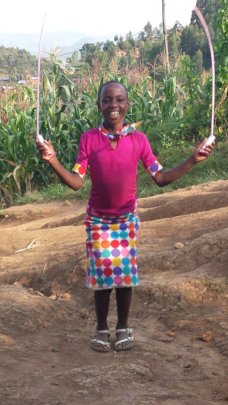 I first met Agape and Vania in 2014 when they were in primary school at 9 and 11 years of age, respectively. I brought small gifts for the children, and when I gave Vania a jumprope she was so happy, giving me the biggest hug ever. I remember being so humbled that such a simple gift could mean so much to a young girl. Vania and her siblings lost their parents post-genocide. They have been raised by their grandmother. Agape and her siblings, live with their mom. Their father died in a car accident in 2013.
Each year when I visit the families in Rwanda, it is delightful to see all the kids growing up and attending school all year. On my recent visit most of the kids were speaking some English with me as it is now a required course in many of the school programs. Learning English in Rwanda will be a great asset as they continue their studies through secondary school and beyond. They also study French and their native language, Kinyarwanda.
Vania and Agape came to visit me one day in April during my stay. They both were on their way back to school and wanted to say goodbye. Agape has been accepted into a good boarding school, and will only visit her family in the few holidays each year. She stays at school, focusing on studies only. Agape is shown in her school uniform as she was leaving for school just after our visit. Vania is attending day school in another district which started the following day.
Providing funds for education is at the heart of our mission through Rwanda-one4one. Attending above average schools will bring them greater chances to attend university and securing work opportunities upon graduation. We are now able to fund 16 children's annual school fees, books and uniforms. Thank you so much for your financial support, both one-time donations and also monthly recurring donations. Your heart and generosity brings stability and hope to our families in Rwanda. How beautiful that is!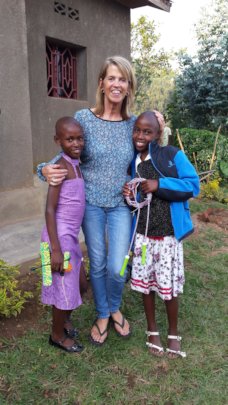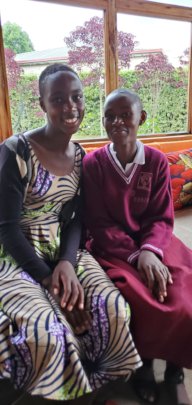 Links: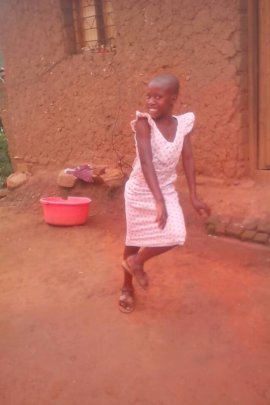 April 7th, 2019 marks the 25th commemoration of the 1994 Genocide against the Tutsi in Rwanda. Kwibuka means Remember in Kinyarwanda.
On April 6, 1994, a plane carrying Rwandan President Habyarimana, a Hutu, was shot down. Genocide erupted overnight. Hutu extremists began executing their master plan: to destroy the entire Tutsi civilian population. Political leaders who might have quelled or temporarily stymied the movement were among the first to be killed. Tutsi and people suspected of being Tutsi, were killed in their homes, roadblocks, farmlands and churches. Planned use of rape by HIV-infected men was used as a weapon of mass extermination.
Today, seventy percent of Rwanda's population is under the age of 35 years of age. The future of Rwanda is in the hands of the youth.
Annually, Rwanda-one4one commits to funding school fees, uniforms and books for the children in our Rwandan families. In 2015, we funded the school fees for 4 children. In 2019, we are now funding 16 children's school fees. We know every child and their families. Each trimester we receive report cards to measure their success at school.
Your generous support allows our Rwandan children to attend school, and more importantly not worry about if they can attend school. They are free to wake up each morning, put on their school uniforms and go to school each day, from kindergarten to 12th grade, and sleep each night with dreams of success in their hearts. Your kindness means everything to the youth of Rwanda, a new generation evolving.
Links: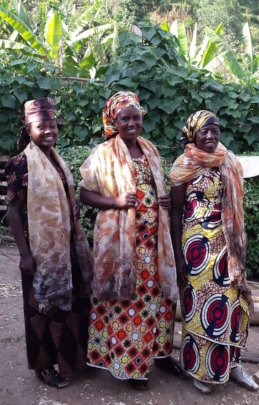 Wishing you and yours all the best this holiday season! We sincerely hope 2019 brings you good health and peace.
Thanks to your generous support we have initiated the payments for the 2019 1st trimester school fees for 16 children in our Rwandan families. We also have paid for their uniforms, books and supplies. As the children are in holiday now we can rest assured they are going to attend school for the first trimester. The children are most excited and thankful for this opportunity to continue their education.
In addition, we are purchasing more fabrics that will be shipped to Rwanda in early spring for dyeing with plants in Rwanda for stunning new Umva wool and silk scarves and wraps. Umva sales are steady, both in the United States and globally. We have set new goals to broaden Umva's artisan products. One goal for 2019 is to employ trained Rwandan seamstresses to sew finished products from the Umva dyed yardage thus broadening our product line. In turn, this will employ seamstresses and return income to them and our amazing Umva dyers and their families in Rwanda. Always our focus is on creating income producing opportunities to Rwandans. Everyone must be lifted together to ensure stability and harmony.
You are a valuable member of our work in Rwanda and we ask you to kindly consider making a donation as our year comes to a close.
We place a high value on transparency and strive to maximize impact on every donation. Thank you for your past support and please know how grateful we are for your continued belief in our efforts allowing Rwandans to shine!
Links:
WARNING: Javascript is currently disabled or is not available in your browser. GlobalGiving makes extensive use of Javascript and will not function properly with Javascript disabled.
Please enable Javascript
and refresh this page.