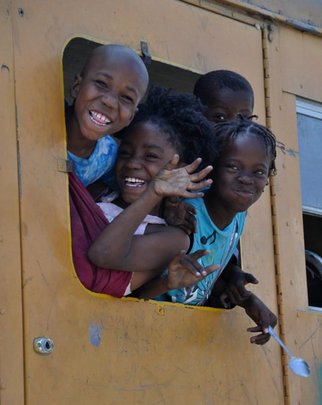 The pig breeding project you have supported has been an essential part of earthquake relief in Haiti. Thanks to pigs that you have purchased rural peasants have been able to provide for the influx of earthquake survivors from Port-au-Prince to rural areas. Some community populations so much as doubled overnight. Working to provide these survivors with adequate food, water, shelter and clothing has been quite difficult for Lambi Fund's partner organizations. Thankfully, communities have been able to use their pigs to provide protein for sick patients in nearby hospitals and clinics and as a source of much needed income to purchase essential supplies for friends and family.
These communities need your continued support. Help replenish this local communities' stock of pigs and provide earthquake survivors with the opportunity to achieve sustainable incomes. Purchase a pig for a rural family in Haiti today.
Below is the main article from Lambi Fund's Spring Newsletter. Hopefully you find this informative- please click the link at the end to read all of the stories and to learn more about Lambi Fund's relief efforts post-quake. Thank-you!
On January 12 the ground shook. It trembled like never before. In just a few horrifying moments, a massive earthquake destroyed Port-au-Prince, Haiti's capital, and major provincial cities like Jacmel, Léogâne, and Petit-Goâve.
The world watched in horror as the toll on human life unfolded. Never before, declared UN Secretary-General Ban Ki-Moon, has a natural disaster been so devastating.
The Presidential Palace crumbled, UN headquarters were destroyed, building after building collapsed like pancakes.
Unbelievably, 250,000 residences were destroyed or rendered uninhabitable.
The horrible stench of death lurked in the city for weeks afterwards. Over 200,000 people were killed. More than 150,000 individuals injured and left to live life as amputees. In the blink of an eye, nearly 2 million Haitians were rendered homeless.
Responding to such a catastrophe has not been easy. Through the rubble, roads were impossible to navigate and trying to coordinate the influx of international donor agencies was declared a logistical nightmare.
Earthquake survivors left with no homes, no food, and no jobs quickly realized that aid distribution would be slow and unreliable.
Thus over 500,000 affected residents caught the first bus they could find to live with family members and friends in the rural provinces of Haiti.
This massive migration of internally displaced persons has wreaked havoc on already impoverished rural communities, where the average person still survives on less than $2 a day. Some rural populations (so much as) doubled overnight.
Keeping with the Haitian tradition of peasant solidarity, rural communities have been quick to take in quake survivors and have shared with them everything they have. The 80-year-old mother of the field monitor for Fon Lanbi Pou Ayiti has taken in 39 people in her small house.
Christianne Adrien, a street vendor, and her husband Ilson, a farmer, took in 18 members of her extended family. "If it were for the money, we would never have done it."
After the earthquake, more than a half million people fled Port au Prince and relocated to rural areas. They, along with thousands of peasants throughout Haiti have spent what little they have on clean water, medical supplies, clothing, bags of rice, and cans of beans for their new neighbors. Peasants have slaughtered precious cows to bring meat to patients at local hospitals.
Christianne continues, "We did this because we wanted them to have a life. If God saved the life of some people from a catastrophe of that size, it's so that we can protect the life of others. People have to live; you have to receive them."
It is here, through fellow Haitians and local grassroots networks that earthquake survivors are receiving the aid that they so desperately need. Resources are tight, but the spirit of sharing stays strong.
Links: