We are sad to report that the mother of our Reginal Monitor Pierre St. Cyr passed away last week. She was a matriarch in her community in the Sud and was always ready to lend a hand or open up her house for the displaced. After the big earthquake in 2010, many people lost their homes and she filled her house with them, sharing food and shelter. When her house was full, she looked for other places to house them.
She did this after every disaster thereon, whether it was hurricanes, flooding, or droughts, and especially for this current project of long-term rebuilding in Haiti. She offered her support, wisdom and food to the many who are rebuilding Haiti. She was a model for many and we hope that her geneorosity inspired more to follow in her footsteps. We know she raised her son Mr. St. Cyr with these virtues because he is still working hard with peasant groups to contribute to long term rebuilding in Haiti.
Rest in power Mme. St. Cyr!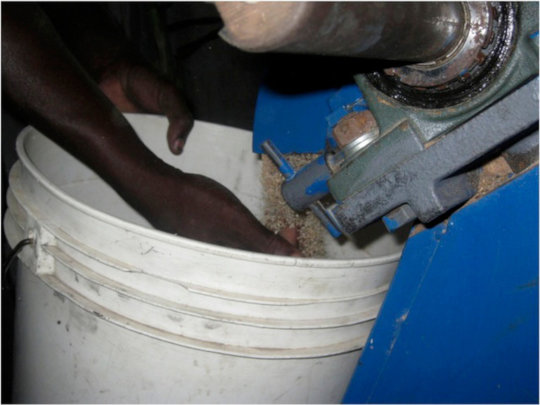 Once certain crops have been raised, farmers can get added value at the market if grain crops are processed into meal or flour. The grain mill projects are invaluable to rural communities because they process grains into meals or flours that are in high demand because they are the basic staples for daily food consumption and caloric intake. Rice, corn and millet are the three major food staples that supply most daily meals of the 70% of Haitian people in the rural areas.
It is critical to food security that certain grains are milled such as corn into cornmeal or millet into flour. Thanks to your support, Lambi Fund is starting grain mill projects with several new organizations in the South and will be reporting more on them in the upcoming months.
Links: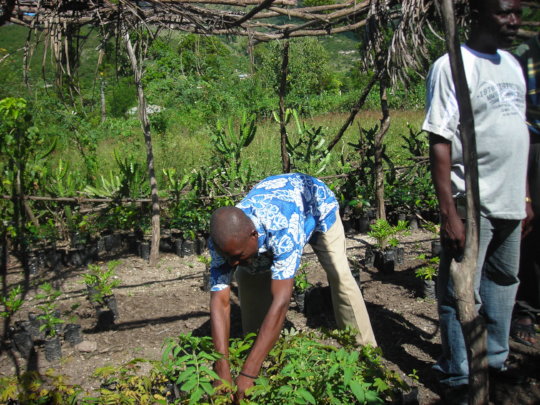 Lambi Fund helps community organizations with two types of tree planting projects:
1) Projects whose main focus is another area such as ox plowing, grain mills, micro-credit or goat breeding are required to implement a small project planting 20,000 tree seedlings for reforestation.
2) Large scale tree planting projects whose main focus is the operation of a tree nursery and planting 40,000 to 200,000 trees. Coffee and Cacao require shade trees so reforestation is also a major component of those sustainable development projects. And some organizations are raising fruit trees, such as mango or plantains, for food and those are major tree projects where the trees are not raised to reforest areas but to feed people.
To illustrate, below is a chart that displays both types of projects and their anticipated number of tree seedlings planted:
Project # Seedlings
Micro-credit for women 20,000
Ox-Plowing 20,000
Reforestation 40,000
Coffee and cacao. 120,000
Reforestation 60,000
Reforestation 40,000
Micro-credit for women 20,000
Mango trees 60,000
Mango by grafting 6,000
Links:
WARNING: Javascript is currently disabled or is not available in your browser. GlobalGiving makes extensive use of Javascript and will not function properly with Javascript disabled.
Please enable Javascript
and refresh this page.