Since the disaster of Hurricane Mathew, one can assert that the restoration of gardens continues since the depth of destruction of soil level, the lost of land encroacment in coastal regions and the salt water deposits were difficult to restore. Although we have seen great progress, the greening of the area is evident and there is work to be done.
The lambi Fund truly conscious of the revival of the south has invested in 21 additional project of rehabilitation in that department. In addition, there were among them, the gardens for food production:
OBDERGM produced 16,020 new plants (grapefruit, papaya, lemon and moringa)
KOKAP renewed 60,000 coffee trees to improve production of coffee for local consumer
OPGDSC grafted 28,010 Mango trees added to their current gardens
COPADET planted 11,321 new fruit and forest trees toward their 20,000 goal
SADN production of fruit trees 26,000 diverse fruit trees in its nursery
APTK and KPM are now actively producing 60,000 trees to establish greater density in reforestation goals in their respective regions in the south.
The gardens are evolving as our partners continue to produce, beans, rice, corn, millet that are milled in their neighborhood mills to produce cereal for daily food intake in these communities.Not only are we involved in restoring but also expanding food gardens and replacing old colonial coffee and cacao fields to improve each harvest.
Thank you for your support and your help in making these productions a reality.
Links: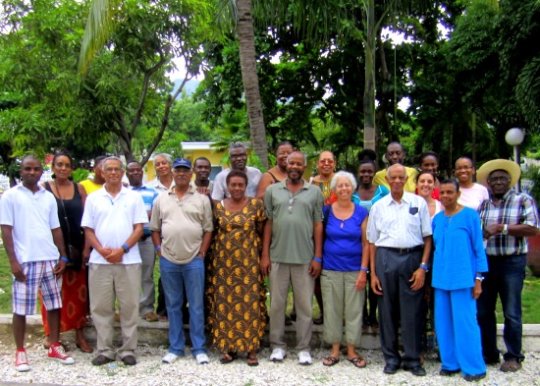 On this 2019 that begins the 25th year of a long term committment, a true engagement between rural farmers and the Lambi Fund of Haiti and the silent partners that you have been. You have supported this committment for 9 years since we set this goal to help us produce sustainable infrasructures like mills, revenue producing individual enterprises and agro related activities that take people step by step further from poverty, closer to food security for their communities, animal husbandry that help with saving for future endeavors and meeting basic family needs..
379 of you gave 591 donations has taken us close to meeting our goals. We are $285.00 away thanks to all of you 379 persons who made this choice among so many people striving to change our world. You are indeed a change agent.
Your generosity has marked lives that you have never seen but have surely touched.
We joined together to thank you and to let you know that our mission is vibrant and relevant. The Lambi Fund will continue to move forward in its partnership with rural Haitian farmers. We look toward to building a home office and training space that will help us lower cost of operations over time as we build the capacity of the Lambi Fund.
We will uphold the principles of bottom up projects, build the voice of the partners through training and education; do economic development with full involvement of the beneficiaries in the decision making through grass root organizations.
Thanks a Bunch and hope you continue to travel with us on a most exciting and complicated journey to greater dimensions of freedom.
M E S I AN P I L
FROM THE LAMBI FUND OF HAITI
Links:
The state of affairs in Haiti continue to worsen at some levels: While insecurity has reved up and access to fuel for transportation is difficult at best, it is essential that there is continuity and opportunity to create revenue while unemployment is so high across the nation, reported at 70% by the World Bank in 2016. In general the cost of living is unaffordable and the rate of exchange to the USD has shifted from 60 gourdes (HDG) to 1 USD .
An effective alternative is community credit among grassroots organizations. The partnership of the Lambi Fund with rural farmers has prioritized community credit to assist women to access gainful activities.
2018 is a commendable year as we have reached 498 women farmers whose harvesting capacities were enhanced at two levels:
a. Having access to low interest loan (2-3%) that benefit the growth of their membership organizattion and substantially support sustainable agriculture
b. Assuring timely repayment so that the opportunity is available to other members of the organization, thereby sharing and extending opportunity; and
c. Lambi Fund further serves the community by assuring the training of those who receive the loans to bring a product or a service needed by the community for the community dwellers; like availing school supplies in a remote village without a formal store. The availability of the loan motivates creativity and diversity in supplying in the local market the needed goods. Small entrepreneurs define the season for the product and invest in the season accordingly. It is a marketing process and a pattern of supplying for the demands of the community. It is also focussed on increasing and enhancing revenue, it is profit based activity. These women are managing, needs, seasonal investment with profit focus, reaching population in need and improving their investment.
The Lambi partnership resulted in 498 women from 9 rural farming communities who initiated their own businesses and create revenue that allowed them to meet their payment schedules in a timely manner and meet some of their family responsibilities in the off season of planting. These women have great pride of their capacity and level of responsibility to the organizations and the solidarrity of the membership.
Links:
WARNING: Javascript is currently disabled or is not available in your browser. GlobalGiving makes extensive use of Javascript and will not function properly with Javascript disabled.
Please enable Javascript
and refresh this page.