As a young woman I often wonder why my options are so limited. Given opportunities I never feel complete till now. I was speaking to one of the woman who have received a loan from the organization named AFGAM. She is a mother of three. She expressed how she felt so limited when even for lamp oil she had to go to her husband who says more than she can tolerate. Waiting for harvest time without any potential for other revenue is so stressful. Her day can be spend like a scavenger, as they says in Haiti, "searching for life"
When an organization member told me her stories, I can best remember the smile she displayed and her gestures, waving in the air and pounding her chest as she says "It is me that put food on the table when there is not enough from the harvest and I do not have to ask for money for lamp oil.
Her story touched me deeply as a Haitian and a mother. It is truly examplary of the impact of the micro loan that Lambi fund has made available with your donation and your support. These loans create opportunities beyond what we expected and bring hope to so many families who had no other options. Most often women recepient of the loan repay timely and assure their responsibilities to reimburse so other women can benefit, in solidarity.
Since we made the request for your help, The Lambi Fund has provided 5 organizations with a total of 1,700.000 HDG to 5 organizations that assisted 410 women and their family members that count more than 2,500 persons (husbands, partners, children). Women received loans of 10,000.00 HDG with a 2% interest which goes to increase the fund and support the administration of the organization.

Thank you so much for your help. We appreciate your care and your vision to join us to make a difference in the lives of many women, accross oceans.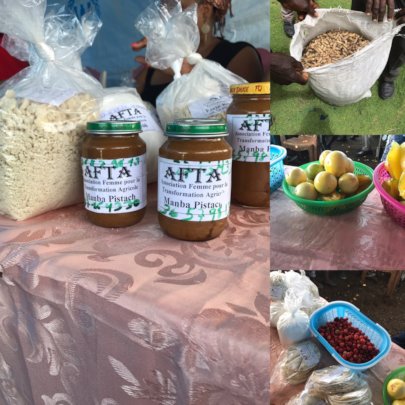 Links:
Accomplishing the work of sustaining long term rebuilding is an esential step toward sustainable development. Often difficult for small organization but do-able with partners looking into the future of communities beyond individual and personal activities. To accomplish this important step, the methodology of the Lambi Fund requires that investment is made into the community through established local organization whose mission is to grow communities and meet community needs working together. for example, establishing a mill that allows all farmers to have guarantee of production and organizing community membership to support the operationn of the meal is a win win for the community and the organization.
This year Lambi Fund is completing 21 projects that we have taken from disaster relief, recovery and now completing rehabilitationn post the devastating Hurricane Mathew in 2016. Today we have completed the evaluation of the [rojects. They have recovered 100 % production level lost in 2016, assuring that the community dwellers are able to produce, transform grains, stok grains and supply the local market. These were capacity lost and regained in 2019.
The evaluation of these projects is an essential tool for growth. Using a participatory process, the Lambi Fund has evaluated the projects to assure lessons learned are shared; The management of organizations improved based on the learning experience and the improvement procedures are incorporated in the practices of the farmers involved.
. The Lambi Fund supported 9 credit fund with an average of 50 persons each starting or restarting their small business in a country where unemployment is over 50%. This is their only chance of getting a loan at 2% interest to create self-employment. Community members started 320,000 seedlings to improve reforestation. We make a step forward everyday in a country where beating the odds can be challenging.
Thank you for making it happen!
Links:
Greetings,
We are experiencing a great silence on the conditions of the population in Haiti, rural and urban. That is since February 7th when the people seem to have decide to march by the Thousands accross the country bringing Haiti litteraly to a halt.
You might be thinking what does that have to do with planting trees? Often we are walking miles, traveling with an all ground vehicle, motorcycle and then on foot, to get to the field to water the seedling; to gather the water from the river beyond. Our partners who plant the seedlings and maintain them by the thousands leave their homes before the sun rise, as it breaks on the horizon line, before it blazes its heat. They often fetch water or pump from the river if there is no rain.
Our office has not opened in 7 days because the streets are blocked with rows of tires burning, blocking the main through ways. People are calling are for change. They are against corruption, gross neglect admnistration after administration with many claims but no deliverables. Haiti is at 60% unemployment with a rampant rate of inflation and those unable to make ends meet are at the end of their ropes.
The thousands of seedlings that are growing must be supported by watering, treating against vermine, moving to expected site for longterm growth. They will not wait for the end of the protest!
Even with clear warning that no one should be doing anything in the streets except protesting, our partners does the most early morning trip to keep caring for their nurseries. They cannot afford the lost of any potential trees even at the cost of $.35 a seedling/tree. As each one take the risk for a better tomorrow , we urge you to support the efforts to plant 300,000 new seedlings to growinto fruit and forest trees in farming communities during this 2019.
You have made this effort possible and we thank you for your continued participation.
https.//www.facebook.com/cnn/videos/1333627470110342/. for more information on the protest
Links:
WARNING: Javascript is currently disabled or is not available in your browser. GlobalGiving makes extensive use of Javascript and will not function properly with Javascript disabled.
Please enable Javascript
and refresh this page.