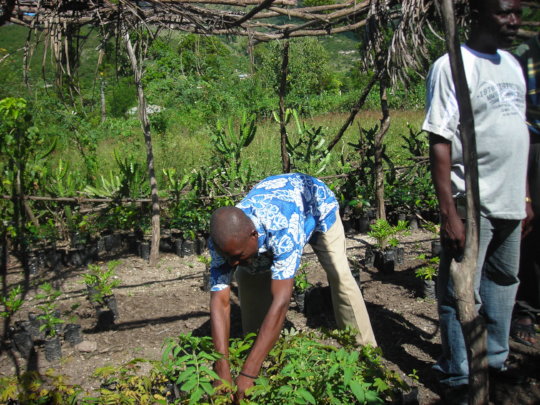 Lambi Fund helps community organizations with two types of tree planting projects:
1) Projects whose main focus is another area such as ox plowing, grain mills, micro-credit or goat breeding are required to implement a small project planting 20,000 tree seedlings for reforestation.
2) Large scale tree planting projects whose main focus is the operation of a tree nursery and planting 40,000 to 200,000 trees. Coffee and Cacao require shade trees so reforestation is also a major component of those sustainable development projects. And some organizations are raising fruit trees, such as mango or plantains, for food and those are major tree projects where the trees are not raised to reforest areas but to feed people.
To illustrate, below is a chart that displays both types of projects and their anticipated number of tree seedlings planted:
Project # Seedlings
Micro-credit for women 20,000
Ox-Plowing 20,000
Reforestation 40,000
Coffee and cacao. 120,000
Reforestation 60,000
Reforestation 40,000
Micro-credit for women 20,000
Mango trees 60,000
Mango by grafting 6,000
Links: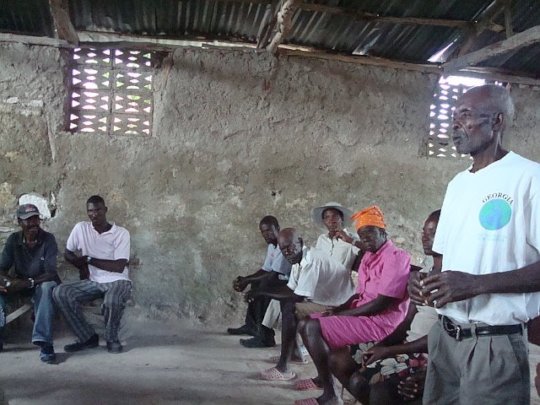 Two of the priority projects that result in more food for Haitians are the Ox Plow projects that increase the amount of land tilled for planting and the Micro-Credit Funds for farmers that accompany the Ox Plow projects. The funds, at an interest rate of 2%, help farmers to pay for the service of plowing at the initial stages. This is a much better interest rate than predatory lenders who charge as much as 25 or 30%. All revenues from the Ox Plowing service increase the capacity of the organization to care for the community.
With longer droughts and shorter rainy seasons, it is critical that plowing the land for planting is done in a timely manner. Farmers can plow the land sooner when they don't have to worry about repayments with huge interest rates. In addition, Ox plowing is much quicker than hand tilling. Thanks to your support, Lambi Fund is starting projects with several new organizations in the South and will be reporting more on them in the upcoming months.
Links: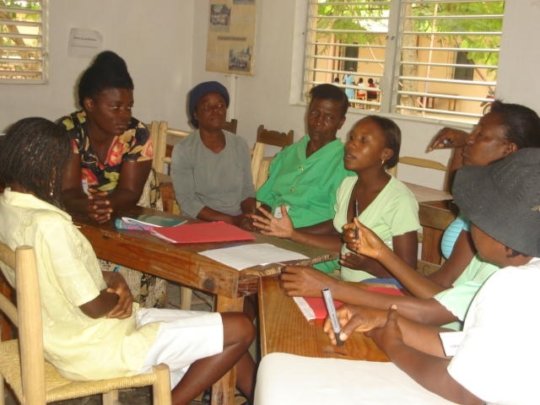 Thanks to your support, we are able to seed another women's micro-credit fund. We will report progress as it moves along but here is the rationale and strategy for funding it.
RATIONALE
Women are investing heavily in the trade of agricultural produce and are the ones who manage the marketing and sales of produce at the local marketplace. Predatory lenders charge 25-35% interest rate to seed the women's small businesses. Lambi Fund seeds the micro-credit nfund, trains the members, and charges only 2% interest, a much more affordable rate for the poor.
PROJECT STRATEGY
To start the project Lambi Fund will provide the community organization with a 500,000 gourde fund to be distributed to 50 tradeswomen. The ladies will get the credit for 6 months with a 2% discount interest. Repayments are made monthly to allow other women to join the program.
The organization sets out a number of criteria for selecting the first borrowers. These criteria are based on women's experience in trading (ability to manage money) and the level of participation in all organization activities.
The organization, in addition to the credit program, will set up a tree nursery to produce 20,000 seedlings to raise awareness among its members about environmental degradation issues and to help protect their personal gardens.
Links:
WARNING: Javascript is currently disabled or is not available in your browser. GlobalGiving makes extensive use of Javascript and will not function properly with Javascript disabled.
Please enable Javascript
and refresh this page.