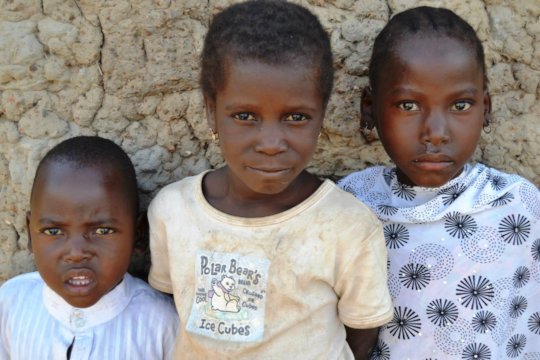 Last month, the Ouelessebougou Alliance held its annual charitable gala auction. This event was our annual fundraiser where a large portion of program funding was raised. At the auction, money was procured for vaccinations, mosquito netting, health agent training, health matron training, economic development, feminine hygiene kits, garden wells, potable water wells and several other projects. While these invaluable projects represent the very heart of the Ouelessebougou Alliance's mission statement, perhaps the most valuable funds raised were for teacher training, classroom construction, school supplies, bench desks and other costs associated with school attendance and maintenance.
Many of our programs change lives, yet one focuses uniquely on sustainable and generational change that can never be taken away: education. Ensuring village health and prosperity is indispensable. However, education gives our villagers the chance to gain something that can never be taken away from them, and can change not only their own lives, but their familys' lives and the lives of future generations as well.
At times, international development can seem daunting. Village improvements and positive changes can seem like a small drop in a very large bucket. However, for the children of Ouelessebougou, money spent on education is never wasted; and improvements and positive changes constitute the difference between a life of growth and flourishment and a life without literacy or hope for economic advancement. For all that you have done for this project, I cannot thank you enough. Perhaps one day the village children will be able to personally tell you what your donations have meant to them.
Iniche!
Unfortunately, Mali is one of the poorest countries in the world. Malnutrition is rampant. Malaria is endemic. Famine is a not-so-distant memory for the majority of residents. However, in the face of seemingly insurmountable odds, no natural disaster, disease or food shortage has been able to break the will of the Malian people. Mali, the former seat of one of the greatest empires of Africa, has a storied culture, a rich heritage and an indomitable spirit. Malian culture and general etiquette teaches hospitality, grace, kindness, honesty and resilience.
The famous Malian singer, Vieux Farka Toure, said it best when describing his culture as it pertains to music and an emphasis on collectivism: "We have oral traditions in Mali, and songs are passed down and around this way. I think in the U.S. you can play all the time in your own room and never see another musician your whole life. We can't understand that in Mali."
Attempts at sustainable development in Mali must first recognize the resiliency of the Malian spirit and the attitude of the Malian people. They ask for no assistance and want no hand-outs. They merely ask for partnership and a chance at self-sufficiency. In over three decades of operation in Mali, we have found that our garden projects are not only successful, but represent a model for sustainable development through a Malian cultural paradigm: emphasizing collaboration and community.
Recently, this project received some sizable donations that will help us reach our goal. It is possible that these donors will never be able to behold the fruits of their donations firsthand. However, all that must be done is to listen to some Vieux Farka Toure or some of the rhythm of Amadou & Miriam to hear the types of songs and gratitude that is constantly present in the hearts of the people of Ouelessebougou.
Iniche!
Recently, I have been reading critiques on international NGOS written by anthropologists, development experts, academics and other individuals intimately familiar with the field. I strongly believe that no individual or organization is above criticism, and for this reason I've been introspectively analyzing not only the Ouelessebougou Alliance, but the organizations that we partner with as well.
The strongest critique that I have consistently found in these papers, both academic and editorial, is the lack of sustainability in programs implemented by certain international non-profit organizations. Sometimes, programs have been designed by individuals that, while knowledgeable, are far removed from the daily struggles affecting their target populations.
Although the Alliance, like any other organization, certainly has room for improvement, we continue to pride ourselves in our model of development which emphasizes sustainability and villager involvement above all else. Unfortunately, countless stories exist of well-intentioned initiatives failing due to a lack of buy-in from the local populace. While we have problems like any other organization, this is not one of them. All Alliance programs are villager-initiated and emphasize sustainability - a fact we are very proud of.
Lastly, nearly all of the papers I read emphasized vaccinations as a simple but effective way to change lives. I know this to be true because I have heard of it first-hand from our field director. For the villagers of Ouelessebougou, vaccinations represent several additional years of life, as opposed to a routine visit to the doctor like it may be for many of us. Thank you for supporting our vaccination program. Thank you for caring about the people of Mali. Most importantly, thank you for saving lives.
WARNING: Javascript is currently disabled or is not available in your browser. GlobalGiving makes extensive use of Javascript and will not function properly with Javascript disabled.
Please enable Javascript
and refresh this page.