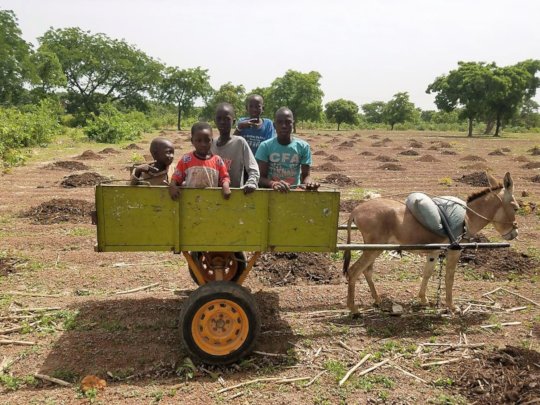 Chronic food insecurity is a serious concern in Mali. While malnutrition afflicts the entire population, it is the second leading cause of death in children under the age of 5. For decades, the Alliance has partnered with villagers in Ouelessebougou to fight the issue of malnutrition with sustainable projects that emphasize collaboration and community. We have constructed more than 150 drinking and garden wells, created community gardens and provided nutrition, gardening and small farmer training. These efforts have decreased malnutrition-related deaths and illness in 25 villages.
In 2014, the Alliance developed an agricultural program specifically aimed at village women and children. The Nurturing Nutrition program provides education on nutrition and gardening practices so women and children can work together to produce healthy food for their families. This program was modeled after the successful Women's Association Garden, established many years ago by the Ouelessebougou Alliance and community women.
In 2016, the primary school in Famana became the pilot program for our first school garden. The Alliance partnered with the school to construct two concrete wells in the student garden, supply tools and provide training. Here students gained practical knowledge such as basic gardening techniques, how to grow and preserve food properly and use chemical fertilizers and composting methods. Over 120 students learned the lessons taught to their mothers by the Alliance and are now working side-by-side in the school garden. Thanks to our donors the garden continues to be a great success.
The Ouelessebougou Alliance is seeking funding to construct a solar pump well for the school of Bassa. Bassa is a small rural village in the region of Ouelessebougou with approximately 1,000 inhabitants. The villagers and school leadership want to start a garden modeled after the one at the Famana school.
Based on the success of the OA Women's Garden and the Famana School Garden, we anticipate families will have a guaranteed food source, which will help create a generation that suffers less from nutrition related illnesses. Approximately 65 women and over 75 2nd – 6th graders will work in the garden together, taking home healthy food to their families which will benefit the Bassa community. When there is an excess crop, the women and older children will be able to sell their produce at the market to increase their income which will support their families. The goal is to not only provide sustainable food sources at home, but also increase crop production so families have more to eat and have enough left over to make extra income.
Thank you for supporting the nutrition program in Ouelessebougou, Mali!