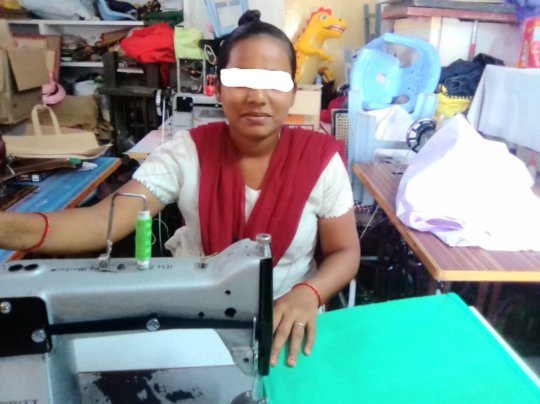 Bharani (18) was from Nellore. Her father name was Subramanyam. Mother was Jyoti. She committed suicide setting on fire after realizing he had already got married by then and had three kids.
Bharani was three months old by that time. Bharani's father's first wife was Lalitha, a nurse. She used to be very kind with Bharani and cared more than her own children. As Bharani's father started a small petty shop and asked her to stop working as a daily labor, she stopped attending her job for the fear of being doubted by her husband, she started working at fish culture packing industry.
Bharani's father gradually, out of mental trauma about second wife's death, he turned to be a drunkard. He used to beat first wife Lalitha often severely without any reason at nights. Lalitha who was very weak physically bore everything with patience as she loves her family very much. Bharani's father had kidney and nerve issues. Lalitha used to be hopeless with all the issues. Later, when Bharani got matured, her mom took debts from different relatives. Previously, she was indebted to many due to the issues of her husband. Later, unable to bear financial and mental issues, she committed suicide after getting hit by the train at the railway track. The family members lately realized her death. All her children i.e one girl, two boys and Bharani loved their mom and were shocked at this sudden happening.
Later, Bharani was sheltered under Grandmother's care. She used to work at frawns (Aqua) Company locally. Out of personal issues, her brothers poisoned her father a short period after her mother's death. Later, they also tortured her with different reasons physically. Unable to spare, Bharani fled away with a neighboring guy who flirted her for long. He was nice to her till her first pregnancy. Later, he got some papers signed by Bharani that intended there would be no relation between him and her along with her kid. In this gap, some neighbors pitied her and sent her to kaikaluru for some period. Later, local heads alleged her of loving somebody and fleeing away. Her husband took away her kid creating negative impression on her in the eyes of villagers. Over a period of time, Bharani realized he was in love with some lady and she attempted suicide with frustration. Her husband left her and went away with her lover. There was no use even after local village heads probed him to stay with Bharani. With the suggestion of her grandmother, she left her native place. She was 14 by that time.
While searching for jobs, she was lured by different brothel agents whom she believed innocently. She was cheated everywhere. Finally, when she was working at frawns (aqua) company, her relative who was brother in law by relation and had kids by then already has raped her and sent to brothel. In this period, she got close to a flirt namely Rajasekhar and he very cunningly sent her to a brothel in Markapur. She was caught in a police raid and taken to Markapur police station. Later she was sent to HELP Asha Sadan Rehabilitaton home in the month of July 2017 for counseling and rehabilitation services.
She had both physical and mental health problems, it took her a considerable period of time, to come back to normalcy. She had learnt "embroidery" & "Jute Bag makings in the ASHA SADAN rehabilitation home.
"Many days of my life have already gone by," says Bharani. "But now I want to do good work in the time that's remaining."
Bharani is motivated to succeed thanks to your compassionate gift. She is willing to overcome her unfortunate circumstances to provide a better life for her and her children. Thank you for changing her life.