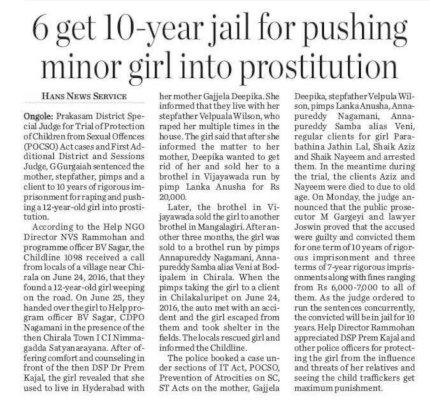 "I delighted that, my mother along with five other traffickers have been penalized with 10 years imprisonment and no bounds to my joy indeed. I live a life of dignity with courage and confidence hereafter that made me to decide to work for the welfare and protection of rescued victims of trafficking with the motivation of HELP organisation. I cordially extend my gratitude and my hearty thanks to HELP" - Lakshmi
12 Yrs old Lakshmi (name changed) was forced to enter in to prostitution and was sold to brothel house at Vijayawada by her own mother Deepika for Rs. 20,000/- in January 2016. Later after some time, she sold to a brothel house at Mangalagiri and again to a brothel house at Bodipalem in Chirala after 10 days. It is so pathetic to say that, she sold to a brothel house at Chilakaluripet immediately within 10 days from Chirala. The girl was escaped from an auto when she was shifting from Chirala (Prakasam Dist) to Chilakaluripet (Guntur Dist) on 24th Jun 2016. She reached Chirala railway station where an unknown person has observed the girl who looks so distressed and feeling some insecurity. He has taken to his house and got to know the issue. He informed to CHILDLINE 1098 who have bounded to his house and rescued the girl. They have produced her before Child Welfare Committee. After careful examination of the issue and recording the statement of the girl, a case has been booked in Chirala Police Station. The girl has been referred to HELP's Asha Sadan Rehabilitation home for rehabilitation including basic needs, safe shelter, counseling and other care and protection services.
During her stay at Asha Sadan, as part of counseling by home staff, the girl revealed entire story about how she has been pushed in to flesh trade that is too by her own biological mother. The information by the girl has been conveyed to the CWC who recorded the statement of the girl under Sec 164 Cr.PC through Mrs. Prema Kajal – DSP of Chirala before the Magistrate. As a result, the mother of the girl, two traffickers, two brothel owners along with two customers identified by the girl have been taken in to the custody of the police and arrested under POCSO, IPC and ITPA Acts.
The girl was receiving trainings in preparing bakery items and Jute bags making and without caring the pressure from her family members has deposed her witness in Hon'ble court of law against her mother other traffickers and also customers. As a result, on 17th Jun 2019, the court has disposed the case with conviction to her mother along with two other traffickers with 10 year rigorous imprisonment and 7 years imprisonment to customers and brothel owners.
The girl stated that, "I have deposed witness even against my mother along with other perpetrators involved in the crime as I was facilitated with enough care and protection through Asha Sadan since 3 years. I thank to HELP organisation & staff of Asha sadan people that protecting, inducing self confidence and moral support to innocent girls who fall prey to the traffickers and other such criminals and are losing their lives like me. Hence, I decided to work for the girls who are at risk of trafficking like me with the motivation of HELP hereafter".