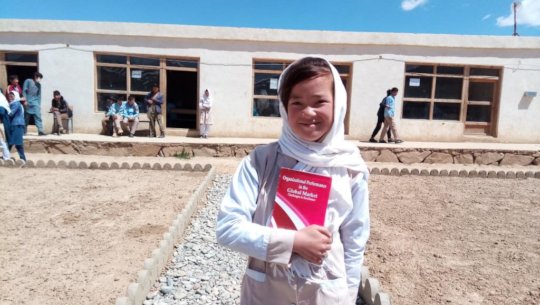 Dear Friends and Supporters,
First, we thank you for your continued support of Bamyan Foundation and share with you our students' 1st quarterly progress report for 2019 academic year. Second, we are very pleased to also share with you that, with the help of your generous donations, we have provided 84 additional scholarships to students at our partner schools in Afghanistan. This brings the total number of scholarships we are providing this year to 164, which is slightly over 50% increase from the total number of scholarships (80) we provided in 2018. Similar to last year, we are continuing our partnerships with Baba, Marefat, and Rahnaward High Schools, and the ROYA Mentorship Program. Below are some additional details on our scholarship recipients and a few examples of the students' educational journeys at each of the schools.
Baba High School: this year, we are supporting a total of 23 students, 9 male and 14 female, at Baba. Thus far, they report perfect attendance and pursue their education with enthusiasm. Arezu's story is one example of our scholarship recipients' progress at Baba. Like many of our students, Arezu comes from a poor family background. An 11thgrade student, she lost her father when she was a little child. Her mother is illiterate and works as a cook at the school. Her monthly salary equates to around $65-70 with which she supports Arezu and her siblings. Arezu is a talented girl. She practices creativity in her school work. Her favorite subjects are English, Math and Science. Arezu envisions herself as a future politician who will work to improve women's education in Afghanistan.
Marefat High School: we are providing a total of 44 scholarshipsto students at Marefat, nearly double the number of scholarships we provided in 2018. Our scholarship recipients include 20 male and 24 female students. In the 1st quarter, all, but 2 of our students are reporting nearly perfect attendance. We are intent to follow up with Marefat regarding the remaining 2 students with inconsistent attendance reports to identify the cause and monitor their progress as they move forward. Pakiza, an 11thgrade student at Marefat, is a brilliant example of our students' educational progress. She came among the top 15 students in her class at the end of 2018 academic year. Pakiza is interested in Math and Physics. After finishing high school, she is determined to get into engineering school and become a civil engineer in the future. In addition to her academic endeavors, Pakiza is involved in extracurricular activities to include singing and martial arts. She is a member of Marefat's singing group and a member of the Sound of Afghanistan music band. She also trains in Taekwondo.
Rahnaward High School: students at Rahnaward comprise the largest number of our scholarship recipients this year compared to the number of students at our other partner schools. We are providing scholarships to a total of 88 students at Rahnaward with the majority being female. All of our students report nearly perfect attendance, and are eager to pursue their education.
Farzana, the eldest daughter of a 7-member family, is an 8th grade student at Rahnaward. Her father was a construction worker through which he supported his family. Unfortunately, last year, during a fight between the government forces and a local militia commander in the area, Farzana's father was caught in the conflict and lost his eye. He is now unable to make ends meet. Before the start of the school year, he told Farzana about his inability to support Farzana's tuition. Farzana was greatly disappointed until she found out about Bamyan's scholarship opportunity enabling her to continue her education. Farzana's favorite subjects are Biology and Chemistry. She wishes to become a physician in the future. She also has great drawing skills and loves drawing pigeons which in her culture signifies peace. Her memories of war and her father's injury as a result of that have strengthened Farzana's resolve for peace and stability in Afghanistan. She wishes for peace so she can continue her education, which would in turn enable her to support others in the future.
Ahmad, a 2ndgrade student, is from a distant and severely impoverished village in Lal-wa-Sarjangal District, Ghor Province, Afghanistan. He comes from a family of 7 and her parents are farmers through which they struggle to support themselves and their 5 children. Ahmad's father always wanted to enroll him in school, but due to his poor financial situation, he had not been able to do that until his friends informed him about Bamyan's scholarship program at Rahnaward. He then sought his relatives' help with finding a place for Ahmad so he could move from the village to the district center where he would be at a manageable distance to attend the school. Bamyan's support enabled Ahmad to enroll at Rahnaward in 2018, and he has successfully made it to 2nd grade this year. In last year's Final exams, Ahmad became the first position holder in his class. Ahmad wishes to become a teacher in the future and teach the children in his home village, where there is hardly anyone literate. He enjoys studying Dari, drawing, and the class on "Life Skills."
ROYA Mentorship Program: this year,we continue our support to 8 former child laborers and added a new student for a total of 9, 6 male and 3 female, at ROYA. Overall, these students continue to make progress in their education. In the 1st quarter, all but one of them had perfect attendance. Rahmatullah's attendance has been poor, but the school has been monitoring him to see if they should keep him in the program. On the bright side, Zainab, who attended special education classes during last winter, is now in 10th grade at Royesh Private High School. She earned high grades (two As and one B) at the end of the winter sessions. In addition to her regular school studies, she attends English and Pashto classes conducted by senior ROYA students. While Zainab appears to struggle academically after missing several years of school and attending among the worst schools in Kabul prior to that, her persistent efforts and perfect attendance demonstrate that she treasures the opportunity of having returned to school. Prior to receiving Bamyan's scholarship, she was stuck at home weaving carpets while all her brothers and younger sister went to school. Her parents believed that a 6th grade education was enough. Watching Zainab's progress, her parents appear to have a new appreciation for her.The school director has stated that, "Zainab possess strong skills, but she lacks confidence which affects her participation in class compared to other students. However, her teachers work with her to improve her self-confidence and help her become more comfortable socially."
We thank you again for your continued support of Bamyan Foundation. As this report demonstrates, the majority of the students we support with your generous donations are facing financial, emotional and sometimes even physical, in the case of child laborers, hardships. We hope that their stories and the progress they are making as a result of our collective efforts inspire you as much as they have inspired us. We kindly ask that you share these stories with others in your networks. The more support we receive, the more students we can help pull out of child labor or other dire circumstances, and provide them educational opportunities, which is any child's basic right.