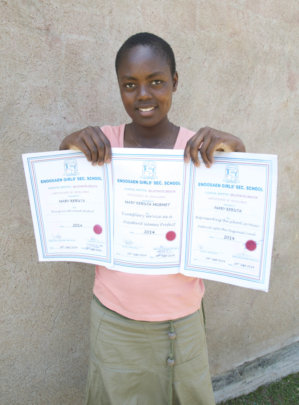 Our fight Against Female Genital Mutilation Rages On
First for the good news: We wired $7,100 just three days ago to Global Roots transparency manager (AK) in Nairobi to pay all past due boarding school fees for the 72 girls we support.
All school fees will be paid on January 4th, 2016
We would like to thank all Global Roots donors at GlobalGiving and We Giving (Nike) for your support.
Had we not gotten this chunk of coin over to Kenya in time, most of our girls would have been evicted from school and sent home.
Once back at their birth "manyatta" (village in Maasai) they would have been subjected to Female Genital Mutilation and sold for cattle to the highest bidder. Ten percent of these 72 girls would have died by the age of 16 due to hemorrhaging while giving birth and the rest would live as slaves for the rest of their lives and suffer a host of diseases related to their initial genital cutting.
Thank you for helping us save lives and keep these girls in school.
New Year's Update (Global Giving policy requires us to abbreviate all names)
Our transparency officer AK will make a special trip from Nairobi to visit each and every Maasai girl we support at each boarding school. Anthony has been charged with the task to make sure all of our girls are performing at a high academic level and that each are safe from the constant threat of abduction by their families.
AK delivers feminine products to each girl as well as other items they don't have the spending money for. Keep in mind that most children who attend boarding school in Kenya are sent spending money by their loving parents.
Anthony will also spend time bridging with the admin underlings of the schoolmaster at each school so that we receive word whenever a schoolmaster gets overly anxious about fee payments.
Anthony will also continue to put pressure on the Kenyan national and regional governmental agencies to protect the rights of the girls we support and eventually pay for their school fees.
1-Every Kenyan child has the right to an elementary school education
2-Forced marriage of minors is illegal in Kenya
3-The sale of children into marriage is illegal in Kenya
4-Female Genital Mutilation is a human rights crime that is illegal in Kenya
Mary K. is graduating — a note to Mary!
"Congrats Mary! Along with three other extremely brave and smart Maasai girls, you are the first of the Maasai 72 to graduate from high school.
We are happy to announce that "PM", an 84 year old widow in Portland, Oregon, has offered to contribute 1K a year to your post secondary education. Furthermore, our executive director is reaching out to college deans across the USA for sponsorship.
We believe in you and we know you will one day be the lawyer who will bring an end to FGM among the Maasai for all time.
We love you Mary. You are our inspiration."
Attached is a photo of our director with Mary in Kenya. Mary is holding a "best Pupil" award from her school.
September, 2015
Report from AK, Global Roots oversight manager in Kenya
I had two lengthy chats with Carol this afternoon. She has not been greatly successful in raising school fees on her own and so far has only paid US$ 600 towards the debt at two schools.
For another school, Sossion high school, she has applied for a bursary cheque from the county government for US$ 1,800 which will cover the entire year's fees. She is confident that the application will be successful.
However to date only 1/3rd (30%) of the school fees have paid for the girls. So in order to keep them in school, at least another 30% needs to be paid. This calculates at US$ 4,500.
As usual payment will be made directly to the schools. The school with the more problematic administration, Christ The King will be allocated at least US$ 1,000 as will Enoosaen. The rest of the money will be split amongst the other schools, including around US$ 700 to the Father Kaiser school in Transmara, that also hosts a substantial number of girls.
Regards
Anthony
November, 2015
The total figure of the fees outstanding for this year has gone up by US$ 1,000 to reflect the balance unpaid at Sossio school. As Carole was unable to present the bursary cheque as promised, the school headmaster has called upon Global Roots to settle the amount.
You are quite right. It has come to light that not all of the girls are under the threat of FGM and indeed some may not even be Maasai.
This year we have been successful in compiling a more updated roster of the girls supported by Global Roots. But there is plenty more to be done.
I learnt over the last school holiday that Carol dispatched some of the girls back to stay with their parents and relatives as she couldn't afford to feed them at her home. This obviously proves that not all the girls are at risk of being married off and that their predicament is basically lack of finances to go to school. We will certainly have our work cut out now to determine which girls need to be prioritised for assistance.
I am sure Femnet have some sort of wait list of their own. In any case they would want to carry out their own due diligence to determine which girls to support. I also suspect that like many other charities and NGOs they face funding challenges. However it will do no harm to ask if they could take some of girls under their wing.
With the schools closed, it may be a challenge to get Mary's transcripts quickly, but I will call the headmistress for assistance.
Thanks!
Regards
Here is a link to the BBC piece: http://www.bbc.co.uk/ethics/femalecircumcision/femalecirc_1.shtml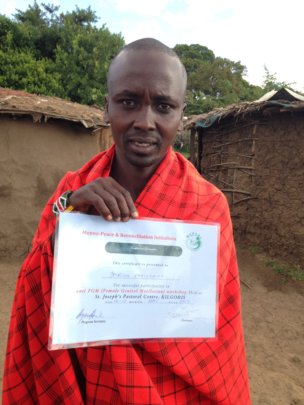 Links: