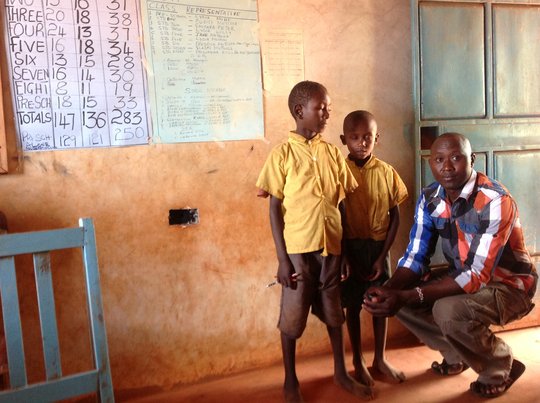 Matulani
Our Children's Garden in Mtito Andei is not only convincing parents to send their children back to school, it is saving lives!
The story of Muuo
Finding himself in a life or death struggle at home, twelve year old Muuo took it on himself to run away to the small town of Emali where he hoped he find some small jobs. He decided to hide himself in a Mombasa-bound container. Unbeknownst to Muuo, the lorry driver decided to rest for a few hours in Mtito Andei, one of the poorest towns in Kenya.Fortunately for Muoo, it is the site of our Children's Garden at Matulani Elementary School.Muoo alighted from the lorry in middle of the night and he was noticed by a night watchmen who questioned him. Muuo explained that he was desperate, hungry and he had nowhere to go.The kind night watchman took Muoo immediately to a very poor, local rescue center for children. He couldn't be taken to school without a local sponsor and there was no food at the center. Once again, Muoo took it on himself to walk to Matulani Elementary School after he heard a rumor from other hungry runaways the school had a successful lunch program. Upon arrival at the school, he told his story and he received a school uniform. Muoo is now eating a daily lunch and Global Roots is paying his school fees!Ritchie Mutua of Global Roots met Muuo the first time at Matulani and he tried to interview him but Muuo wept too much. On a second occasion, with the confidence afforded by a full belly and new clothes, Muuo told us his story.Muuo is from Kati Komu — a village far from Mtito. He was raised by his grandparents after his dying mother abandoned him seven years ago. His grandparents, however, have fallen on hard times and they, too, are unable to care for him. Muuo's human survival instincts kicked in when he knew deep down he would starve to death if he stayed at home.Now all he wants is to find a way to care for his grand parents!Muuo is a beautiful boy and he is the reason we do what we do. That our garden saved his life is a testament to grassroots aid work!
Please visit our website to watch a video interview with Muuo
2014 spring update
Because Mtito Andei is one of the most corrupt environments on the planet we must move forward from year to year with a great deal of due diligence, oversight and transparency. Celebrating our successes too much could divert our attention from the constant forces of corruption in one of Kenya's most forsaken areas.
We are pleased, however, to finally have solid evidence that our school lunch program at Matulani Elementary School has raised test scores. Please see attached spread sheet.
The following is an oversight report from our lead transparency officer in Kenya.
"The attached document is my take on the Matulani school grades metrics as per the data provided by the headmaster.
The analysis is based only on the Primary School section and compares the academic performance of the first school term of this year with that of the last term in 2013.
The headmaster tells me that the total number of students enrolled at any given time tends to fluctuate from school term to term, in particular to the classes below Standard 7 due to the transient nature of the employment of some of the students' parents. The proximity of the school to the Mombasa highway means that a good number of school parents derive their income from business or occupations related to the road and so they do tend to pack up and leave to follow other opportunities or jobs in towns situated along the road.
The enrollment of students in the nursery section has however increased by 38% from the end of last year. There are now 33 nursery students, up from 24.
An orphaned boy (Muoo) has also been enrolled as the school and is being housed by well wishers. He originally comes from a location approximately 100 kms from the school. When local residents became aware of his status, Matulani was made the school of choice for his placement due to its feeding program.
Cases of truancy have also reduced.The headmaster states that 90% of the students attend school on a regular basis. The 10% no-shows usually include the more sickly, H.I.V infected students.
The headmaster has also issued bylaws and opened up a register through which parents are encouraged to regularly visit the school, tour the gardens and to record their comments and suggestions. He is trying to get the school community to take more ownership of the project.
The student body usually spends their mid-morning break of 30 minutes a day working in the chicken shed changing the drinking water and looking for newly laid eggs.
In the afternoon, students will also assist in the gardens with harvesting vegetables and weeding where necessary. The headmaster intends to use them to help him clear more land for additional planting over the coming weeks.
The chickens are laying an average of 3 eggs a day, but now that the plastering work at the original chicken house has been completed, the chicken will be moved there from their current temporary home and he expects the chicken's productivity to improve. The room they are kept in at the moment is close to the classrooms and he thinks the noise and commotion from the students has been stressing some of the chicken.
I also spoke to the Chairman about the organizing committee. He echoed the headmaster's sentiments that all is going smoothly with the project. He repeated the headmaster's concern about the high water bill and their intention to install a water drip system. The Chairman divulged to me that World Vision has donated a water tank to the school and they intend to use it to store water for the drip system. I had already discussed with the headmaster that he would have to source funding for this initiative from the monthly allowance the school receives and I am glad to hear that they are making progress to achieving this objective.
The headmaster and the chairman are eager to open up an bank account and appoint signatories for more transparent handling of the monthly allowance. I would however suggest that we wait until your visit in July. It will give you the opportunity to meet these other members of the committee personally so that you can make your own assessment of their characters. Your presence will also provide the necessary 'gravitas' over formalization of their management roles.
Report from Richie Mutua. Global Roots Lead Outreach Officer, Mtito Andei.
The two children below joined Matulani primary school after the lunch program was introduced. They explained to me why they chose to come to Matulani without even the company of their guardian. Their mother got married to an old man at Matulani village and he never bothered to take them to school. In the evenings they would mix with other kids from Matulani at local playgrounds. It's by this mingling that Kyania and Maswili learned about the food at Matulani. Amazingly, they came to learn morning without books, guardian and uniform. Please have a keen look at their clothing. This is not school uniform but they school has taken them the way they are. We continue to appreciate Global Roots for helping Kenyan kids return BACK to school.
_______________________________________________________________________________________________________
We thank all generous donors for your support!
The Global Roots Team, Kenya
Attachments: