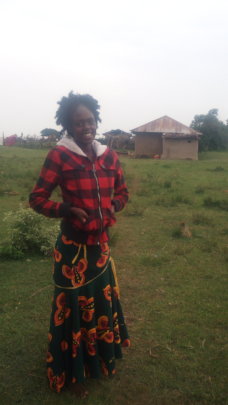 Greetings GlobalGiving friends.
Your support means the world to our ongoing work in Kenya to stop the horrific tradition of Female Genital Cutting.
We at Global Roots have decided not to refer to it as Female Genital Mutilation because that term is disrespectful to the millions of women who have suffered it and survived. These women were unfairly cut but they survived and should not be called "mutilated".
Many young girls, however, died when their healed wounds reopened and hemorrhaged while giving birth to their first child.
What follows is a letter from Mary K. to GlobalGiving donors. Mary is the first girl we supported when she ran away from genital cutting in 2011. We are not allowed to provide Mary's full name.
We will never forget the moment we met Mary. All of us who served on that particular Global Roots supply mission were awed by Mary's strength and determination. We vowed that we would fight for her and we thank each and every GlobalGiving donor for helping us get the job done.
We will follow up this report with a detailed accounting of the 4K wire we just sent to pay for boarding school fees for girls who are currently threatened with genital cutting.
Mary is 21 now, in college and married to the man she chose and loves.
Here is Mary's letter to you.
Dear Global Giving donors.
My name is Mary K and I am 21 years old. I have been supported by Global Roots since I was 14. I would like to tell you my story because I am now a woman and I want to save more little girls like I was.
I was brought up in a humble Maasai polygamous family. My dad had five wives and along with three of his late father's wives (my grandfather) we had a population of above 40.

My parents took me to school at the age of 6 where I learned for eight years. I completed my primary school at the age of 14 of which is considered a suitable age to undergo the FGM according to my parents. FGM is the first qualification to marry me off to a man of their choice who was an old man.
This was more advantageous to them and my brothers since they will obtain wealth in form of cattle. My parents had the intentions of getting cattle to educate my brothers for they believed education was meaningless for a girl child. But before their plan could succeed, I remembered about Caroline whom I once attended a youth rally and witnessed her campaigning for the right of a girl child. She said that she was ready to support any girl being forced to undergo FGM and early marriages. This made me make a decision to escape to Carol to get an education and eventually marry a man of my choice.

On that night I told my mum that I was going to to visit my nearby aunt only to get a way to escape. The following day, I woke up early and proceeded with my journey to Carols place in Kilgoris (in the rolling hills above the Maasai Mara). I walked for seven hours to reach her. On the way, I passed through thick bushes with fierce wild animals. In addition, the journey was tedious with hunger, thirst and loneliness but my hope was to get a bright future.

When I arrived in Kilgoris, I found one passerby and I politely asked him where Carol lives. Though he was a stranger to me, he kindly showed me the way. I found Carol at her house and I told her about my problem. She welcomed me and promised to take me to secondary school as the schools would open in January the following year (2012).

In early 2012, Carol took me to Enoosaen Girls secondary school as she promised. While there, I found Rick from Global Roots who had been sponsoring Carol's girls by all means possible.

Global Roots actually supported me up to the end of my high school level and they continue to help me now.
I have found a good man of my choice to marry and I am now in college. I know that many people outside of Kenya might think that 21 is too young to marry -- but here it is not. I was able to marry the man I love and attend college -- I have Global Roots to thank for this. Rick tells me that a portion of my support comes from another group called "GlobalGiving". This my chance to thank you all.
Above all I thank God and Global Roots for their assistance. I am remain in touch with my Babu Rick. I call him my Babu (father in Swahili) because he stepped in to take care of me when my birth father wanted to cut and sell me.
My husband is a young Kenyan man who does not support FGM. He is a very intelligent man who is studying biology and wants to be a veterinerian. We have the love. I hope my Babu meets him soon.
There are so many young Maasai girls who are still threatened by FGM. Help me and help my Babu stop this ugly and unnecesary tradition.
Mary K