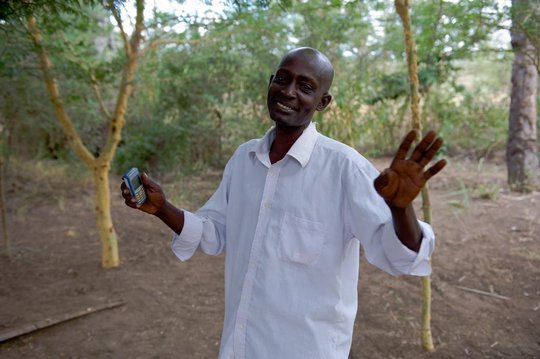 Global Roots in Kenya, December 2nd to 20th , 2010
Travis Gearhart, Global Roots
The goal of this trip was to lay the legal and administrative groundwork for the construction of our vocational facility that is planned to begin in February. Though the trip was short, it was essential for the purpose of strengthening our relationships with our local partners. It was an extremely successful bonding experience for all parties.
I arrived in Nairobi, Kenya on the morning of December 4th after 27 hours of travel. That same day after checking into my hotel, I went out to meet James Odaba, a native Kenyan who is an expert in agriculture and solar technologies, and George Karicha -- a young, idealistic and up-and-coming politician. Both of these young men are important components of Global Roots' operations in Kenya and contribute to our efforts in many ways. In our preliminary meeting, we confirmed the schedule for the next week, arranged for James and my departure south to Mtito Andei on the 8th, and got re-acquainted with one another.
My first four days in Kenya were spent meeting various political and legal figures. These meetings were essential to ensure that Global Roots has a sound legal and political foundation and support for the project we launched last year: a vocational school and community-led tourism center outside of Mtito Andei. I met with three lawyers on the 6th of December alone. Each provided us with invaluable information about how to protect and best move forward with our projects. One lawyer in particular, pledged his support to travel with us to Mtito Andei when we return in February to personally oversee and draft all legal agreements free of charge. These are the sort of people that Global Roots seeks to work with worldwide. I felt privileged to have been able to make his acquaintance.
On December 8th, James Odaba and I made the four hour trip south to Mtito Andei on the single road connecting Kenya's capital with one of the most important trade hubs in East Africa; Mombasa. We chatted and listened to a mix of traditional Swahili and Western Hip Hop music to pass the time. When we arrived in Mtito Andei, we dropped off our luggage then went to say hello to Rosina, the woman who runs a local network of foster care for HIV/AIDs orphans. Rosina has been the recipient of Global Roots' aid for many years and she is one of our most trusted global partners. Rosina's children's shelter, library and office were all built by Global Roots' volunteer work crews last June and July and they all looked beautiful! The work we did had even allowed her to expand into raising poultry to provide sustenance and money for the orphans' well-being. She was very thankful. Before my return to Nairobi, Rosina asked for Global Roots support in paying for the connection of electricity to the Library and Children's shelter. I immediately contacted Global Roots' headquarters in the States we received immediate funding. Rosina's children's shelter now has electricity!
The focus of my stay in Mtito Andei, however, was to work with Leva Wabua, or as he is more commonly called: "Chairman" or "Chairman Leva". This man has organized a small CBO or community-based organization and aims to start a tourist camp and vocational school on his land in order to provide jobs and education to the youth unable to attend university. He carries himself with an ageless youth and is always quick to smile. Our primary goals were to confirm the status of the plot of land, have it surveyed, and re-confirm previous agreements made by Chairman Leva with his heirs, wife, the entire committee of his CBO, the local chief, and district officer. This is to prevent any complications due to unforeseeable events in the future. There were no complications and everyone was very eager and willing to give their help to this project. We arranged for a surveyor to come and along with Leva's sons, we all went out in the thick of the bush to take the measurements. This land is adjacent to the Tsavo West National Park. Wildlife was all around us as we worked, even once we had to holler and throw stones to chase away several cape buffalo that were grazing nearby. Several days later, right before I departed to return to Nairobi, Leva called me urgently out to his land for there was a small herd to of elephants passing nearby that he wanted me to see. What a way to end a successful stay in Mtito Andei! I returned to Nairobi with all of our partners on board, ready, and in agreement. We also carried the accurate blueprints of the land for our volunteer architects Ben Wood and Dwight Law.
Back in Nairobi, I coordinated with George and James to prepare for Global Roots' return to Kenya in February. I also met with several of the lawyers once more and discussed how things went and our future plans. Overall, it was a very successful and productive trip that has allowed Global Roots to solidify a strong base from which to we will move forward to begin construction of the Kimer-Kamba Vocational School in February.