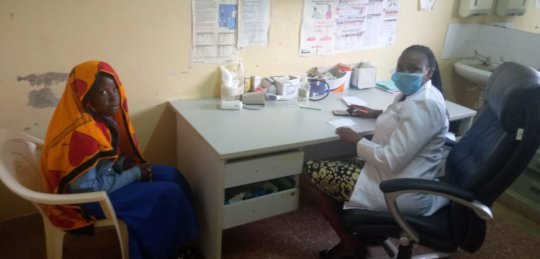 Just when things were starting to stabilize at our Rescue Center for girls threatemened by Female Genital Mutilation (FGM) in Kenya, trajedy struck.
One of our girls (Nelly) and the head of the center itself (MK), were struck down simultaneously by both Typhoid and Malaria.
Fortunately, thanks to funds saved from past GlobalGiving donations, we were able to pay all costs of the emergency. They had to be transported from Lolgorian to the much larger town of Kisii and stay in a hospital there for several days.
Both women were severely ill one month ago but they each doing better now. Mary has made a full recovery already but Nelly is still very weak and we are keeping her off of her feet.
We have attached a photo of Nelly receiving medical attention in Kisii, Kenya and the receipts that we require to make sure emergency funds are spent on target.
MK and Nelly wanted me to be sure to thank GlobalGiving donors for your support!
It is easy to feel alone during Covid -- but it gets much worse when you have no money and you are sick.
New developments
MK has finally received her teaching certificates and will soon be assigned a teaching post somewhere in Kenya.
Fortunately, we will have time to find a replacement teacher for MK because she currrently serves as both house mother and headmaster at our rescue center.
We have attached a photo of MK teaching scicence to one of the students at our rescue center.
Village outreach -- finally possible
Now that she is healthy, MK can travel next week to meet with the elders of a village where FGM is still commontly practiced.
We were forced to cancel meetings like this a few months ago when COVID reared its ugly head.
MK's main goal will be to set up a visit to the village by Silvia, another of our college graduates. Silvia will share her life story with young girls in the village so that they can understand that they have the right to stay in school and become whateer they want to be. Silvia will make it clear during her presentation that what she did was not easy.
In Silvia'se case, she had to run away from home to find help. Fortunately, she found a woman who was supported by Global Roots and GlobalGiving. The woman, protected Silvia until Global Roots started to pay for her boarding school fees and, later, college.
Global Roots paid for all of Silva's education expenses and she is now a shining example of what can happen to a young Maasai girl who refuses to accept the brutal tradition of FGM and the lifetime of pain and slavery it promises.
We believe parents will be shocked when they learn what Silvia's starting salary will be when she starts as an IT developer at a security surveillance company in Nairobi next month!
Only by showing parents the true value of education can FGM be stopped!
Thank you for you ongoing support. We won't stop until FGM is 100% extinguished.