ASHTAR International Youth Festival in its 4th edition brought together 50 youth and theatre experts from Palestine, Russia, USA, Poland, France and Germany. They spent 10 days to gether in a Camp-Fest Style; followed daily training in theatre techniques, and peformed 7 new plays in 5 cities around the West Bank. 1700 people attended the performances, 900 of them were children and youth from rural and marinalised areas.
The performances were very well received by the audience and the mass media covered the event on daily basis.
All international participants were very enthusiastic and some of them expanded their stay in the country after the festival, to volunteer at AHSTAR Theatre and see the country even more.
Some of the participants comments on the festival:
Malik Meyer from Germany said: "The youth from Ashtar hosting the festival made it very successful, welcoming, making me a real part of it."
Delia Remi from France said: "It is a rare thing to take part in this type of festival in such a warm and inclusive atmosphere. It brings everyone to give their best and I feel everyone really did."
Ashely Merinaccio from USA said: "Cultural trips really helped the American group understand the situation in Palestine."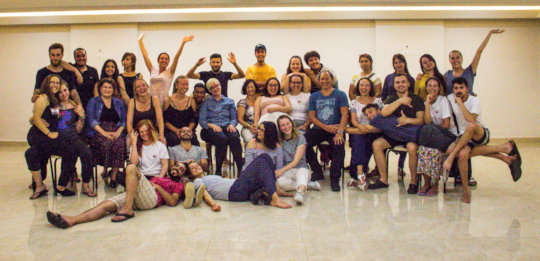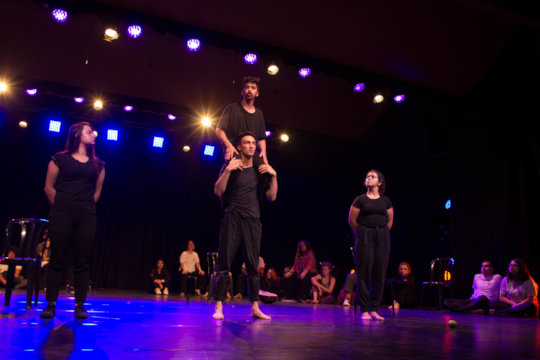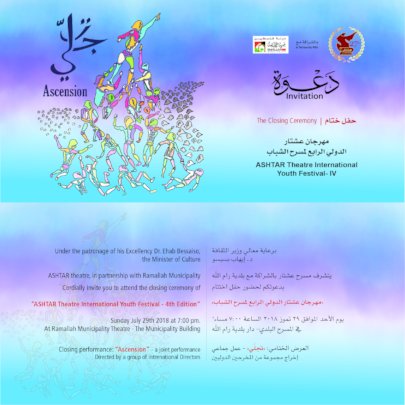 ASHTAR Theatre Students are full on, the final preparations of their festival. 12 graduates, 50 participants from around the world, 7 performances and 5 workshops will be runing for 10 days.
All this will be reaching some 3,000 audience menbers in 5 cities around the West Bank.
The countdown is on and we are 10 days away from the opening of the festival.
ASHTAR Theatre students and staff would like to thank you for your generous support and wish to invite you to attend the fetival if you are close and in the country.
More to come :)
Thank you,
Links:
Attachments: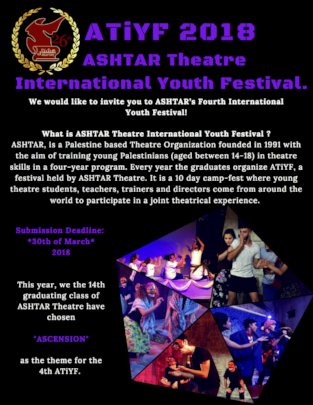 ASHTAR Theatre is in the process of preparing for it's International Youth Theatre Festival, whereby it will be reaching out to marginalised audiences in the West Bank in four different areas: Jenin, Qalqilia, Deheisheh Camp and Hebron.
The plays that will be presented will vary from international repertoir plays like "Peer Gynt" by Ibsin to newly written plays like "The right move" by Ghassan Naddaf a young Palestinian playright. The plays target audiences of differnt ages and backgrounds from age 14 - 40+.
The plays will tackle differnt issues that revolve around making choises, fighting for human rights, questioning personal identiy and much more. Time frame of the performances will be between July 20 - 29, 2018.
At the moment 20 youth of ASHTAR Theatre Students, are working on the play Peer Gynt that will be opened on the 21st of July, they come from different backgrounds and cities, Ramallah, Jerusalem and Bir Zeit. They are around 17 to 19 years old and they have been studying theatre at ASHTAR for 3 - 4 years.
ASHTAR Theatre is also partnering with other theatres in Palestine; Yes Theatre in Hebron, Al-Hara Theatre in Bethlehem and The Freeedom Theatre in Jenin whereby they will be sending their youth to our festival to take part in the workshops, and as will host some of the performances at their theatre or in their towns.
The amount of people we hope to reach is 3,000 around the West Bank.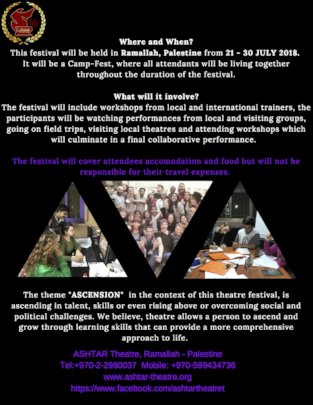 WARNING: Javascript is currently disabled or is not available in your browser. GlobalGiving makes extensive use of Javascript and will not function properly with Javascript disabled.
Please enable Javascript
and refresh this page.