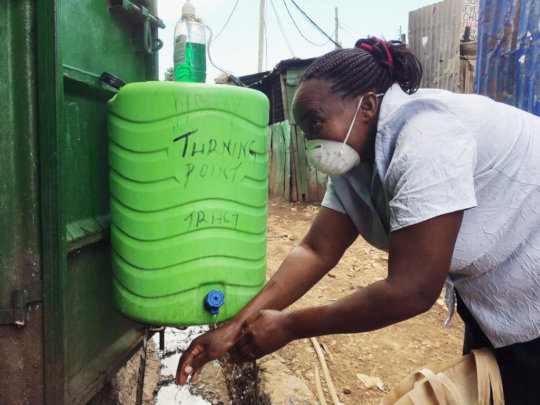 Kenya recorded its first case of coronavirus in March 2020. In a bid to slow the spread of this virus, the Kenyan Government temporarily closed all learning institutions. This meant we also closed our programmes for the time being.
This abrupt turn of events also caused a sudden shift in the lives of our beneficiaries. The measures taken to curb the spread of the virus have adverse effects in their community. The closure of schools has meant that our beneficiaries can no longer rely on the feeding program offered in our programmes. The work from home directive translates to a loss of income for most of our parents who rely on casual work.
We have, therefore, shifted our focus to support our beneficiaries and the community during this period. Our current activities are geared towards reducing hunger and promoting health amongst vulnerable families worst hit by the pandemic and reducing the spread of coronavirus in Kibera.
We've set up a food voucher system to support the 150 vulnerable families that we serve. We provide a weekly food voucher that enables families to purchase essentials from the local shops we have partnered with. This system ensures that our beneficiaries don't walk long distances to do their shopping and we also support local businesses in Kibera.
Funds that would normally be used to run our free primary school are being put towards these food vouchers. It's a lot cheaper to buy food in bulk and cater for a school than to provide food for individual households so we're also raising additional funds to make these vouchers go further, you can support our coronavirus response directly through this GlobalGiving project page.
We are deeply concerned about our students who are now out of school due to the pandemic. Our teachers and social workers are checking in with each family regularly. We also have plans to support the children to continue learning at home. This is a real challenge as the majority have no internet access, but we are finding creative solutions!
Regular handwashing is one way to slow down the spreading virus but in a community with no piped water, where residents have to purchase water daily, in an already strained economy, this is a challenge. Our solution has been to set up handwashing stations around the community and provide soap and water at no extra cost. This activity is also creating an income for some of our parents and community groups that supply us with soap.
Social distancing in a densely-populated area is not possible and the use of face masks cannot be downplayed. We are currently providing face masks to our beneficiaries and their households. We hope that, with your help, we can be able to provide masks to more community members at no cost. These masks are made by our parents who have tailoring skills and they are therefore able to earn an income. We have also partnered with an organisation that has trained some of our parents to provide kid-sized masks.
We look forward to resuming all our normal programmes soon. Until then, your giving ensures that the families of the children we returned to school this year remain healthy and safe. We've been blown away by our friends' support for this so far, we are so grateful for the community of supporters standing with us at this time.
"None of us is safe until all of us are safe and no one is left behind" Ahunna Eziakonwa.