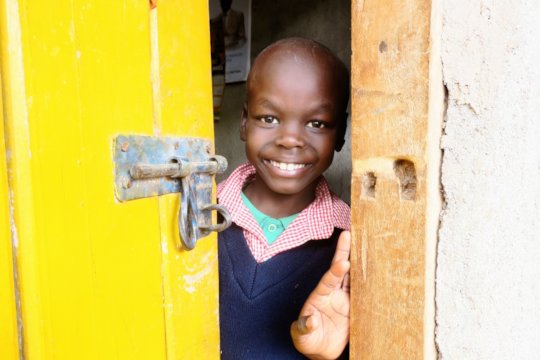 Super heroes have special powers that make the lives of others better and during the April Holiday clubs, our friends from Colour My World, took time to teach our children on the sustainable development goals and how they can be super/service heroes by contributing to the development of their community and the nation.
Did you know that you are our super hero? Let's show you how
1.Contribution to Goal 2 : Zero Hunger
When you give towards our feeding program you not only help us address mild cases of malnutrition but you play a part in ensuring that 170 children from poor households have access to safe, nutritious and sufficient food during the entire school year.
2.Contribution to Goal 4: Quality Education
One of the objectives of our feeding programme is to encourage school enrolment and attendance. This means that as the children attend school they are able to access free, equitable and quality primary education and this increases their chances to transition to secondary, tertiary and/ or vocational training. Ultimately, this contributes to increasing the number of youth in Kibera with relevant skills for financial success.
3.Contribution to Goal 8: Decent Work and Economic Growth
As an organisation we ensure that all our produce and ingredients are sourced from small businesses within Kibera and by doing so we contribute to the economy of these households and the community.
These are just some of the ways you contribute to the achievement of Sustainable Development Goals and that makes you our Super Hero!!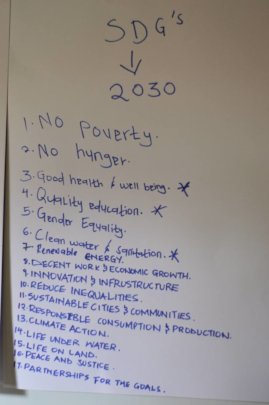 The start of April holiday marked the beginning of an exciting week for class 5-8 students at Fountain of Hope primary school. The 87 students together with their teachers and volunteers from Colour my World gathered for a week of fun and learning that took place during the holiday club.
This year was special, aside from the teachings and drama facilitated by our teachers, Colour My World took the time to teach the children on the Sustainable Development Goals(SDGs), they dubbed it "The Super Heroes Camp".
It was interesting to hear the children shout out whom they considered super heroes, they mentioned cartoon characters, founding fathers of the nation, their parents and leaders they considered as powerful influencers. The volunteers then took the time to journey with the children, slowly helping them not only understand some of the SDGs but also making them realise that they had the power to make a difference in their community by addressing some of the goals and thus become "service heroes".
The children learnt about the relationship between SDGs and the issues facing their community. They were able to identify the problems in their communities and listed them down. The challenge they were given throughout the clubs involved picking solutions that would work for their community and visualize it through art or drama. This was definitely a highlight for the students, as they begun to realize that they had the ability to become service heroes in their community. It was also a highlight for the volunteers and teachers because they had the opportunity to realize how brilliant the children were and how capable they were when entrusted with tasks.
Each student received a service hero band on the last day as a reminder of what they had achieved that week. It is our hope that we will continue inspiring our students to realize the power they hold, the power to change their community and that of the world they live in.
Your support and contribution makes a difference by helping us work towards quality education, and for this, you are our super hero.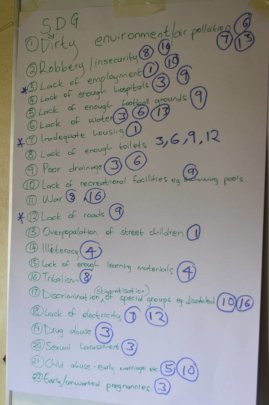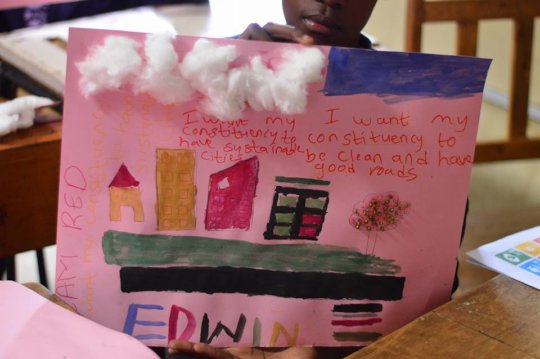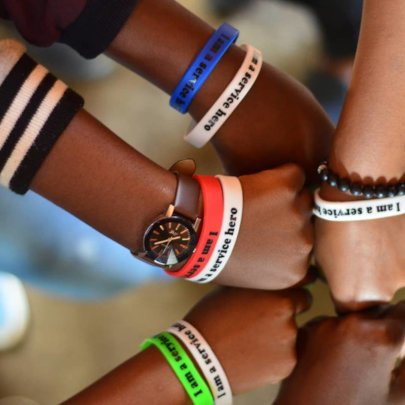 The new year is always exciting for us at the transition school, we not only welcome new kids to the project but we also celebrate as the kids we had transition to formal primary education.
This year 27 kids out of the 30 chidren have successfully transitioned and Maria is among them. When you meet Maria along the corridors of her new school, Fountain of Hope Primary school, she exudes a gentle confidence. She's calm yet has blended in with the rest despite her being the new kid in Class 5.
She joined us in Transition class last year after dropping out of her previous school due to the inability of her mother to pay school fees. The single mother gets casual jobs in Kibera and therefore has an unstable income and struggles to support her family. These struggles don't show on Maria's face, she's determined to do her best especially now that they don't have to worry about school fees or meals while she's at school. When this photo was taken, it was breaktime and most of the kids were out playing but she came back to class to try work on her assignment before the day ends.
We are excited that children like Maria will receive a chance to join school or reenter the education system despite the financial situations back at home and we will continually share their stories with you , because you are a part of these life changing moments.
WARNING: Javascript is currently disabled or is not available in your browser. GlobalGiving makes extensive use of Javascript and will not function properly with Javascript disabled.
Please enable Javascript
and refresh this page.