"I want to share my grandson's uniform with the students who can't afford their own"
Salima's grandson finished at the Fountains of Hope School last year, he was the school president for the year and always kept his uniform perfectly neat. He didn't need them any more and they were still in great condition, so she decided to bring them to our centre to be passed on to younger students who couldn't afford the uniform.
Salima's grandson benefitted from our feeding programme which is a huge help to parents who are struggling to put 3 meals on the table.The programme provides 2 meals every day for the children in our primary school and our School Transition Programme where children are getting ready to join school.
We were so touched by this generous act by a family who lives in Kibera and has many struggles of their own. The uniform was shared out between three new kids at our School Transition Programme. What a great way to pay it forward.
Thank you for your support for our feeding programme, be encouraged that your gift has inspired others to also give.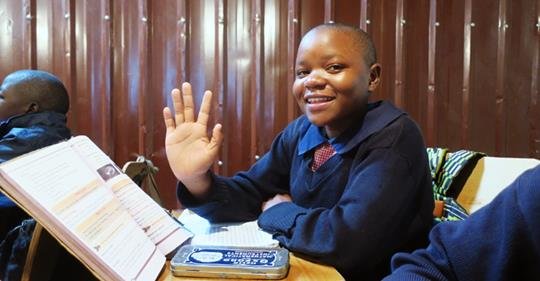 The last year ended on a high note at Fountain of Hope Primary School. Over the the past four years we have been supporting our students in different schools as they sit for their final primary school exam but last year we had our first class sitting the exam at the school.
Out of the 20 candidates who sat the exam, 90% of the students attained above 250 points out of the possible 500 points with our highest score being 352/500. This was truly commendable and we are excited that all the students received admission letters to different secondary schools and we cannot wait to see them learn new things and grow in this new phase of their lives.
We are also excited that two of our students who went through our education program and received support during their secondary school education achieved grades that will guarantee them placement at a public University. We hope that their success will encourage those who have just joined secondary school to pursue their very best.
These stories of achievement have truly stirred us up to not only continue doing our best but to also find new ways to become better and inspire our students to achieve more in this new school year.
Thank you for continually being part of our community and we hope that you too will have stories of achievement to celebrate with your community this new year.
We've reached the end of the school year in Kenya, and another group of children have completed their time in the School Transition Programme and will join our free Fountains of Hope Primary School in January. It is a moment to celebrate how far they have come.
Meanwhile, our first ever group of Class 8 children have successfully completed their end of primary school exams and have performed so well. The average marks were a full 20 points higher than last year's results when we were supporting children in other schools.
So Class 8 will move on to secondary school and make room for the new children entering the school from our School Transition Programme. This in turn makes space for new children to join the School Transition Programme, the admissions process will begin in January.
As we have evaluated the project at the end of the year, we've identified some areas that need improvement and we'll be trying out some new things in the new year as we strive to ensure each child gets the best care and opportunities.
For example, we've learned that when we admit children towards the end of the year, they don't have enough time to catch up on the education they have missed fast enough to join school the following January, but remaining in Transition for another year can be demotivating. For this reason, we'll start admitting more children earlier in the year in the hope that the whole group will move on to school together.
We want to put a special focus on raising literacy levels too as many children really struggle with their reading and this holds them back in every subject. We want to start as early as possible to work on improving literacy and we're excited about the plans we have to achieve this.
Thank you so much for supporting our work this year!
WARNING: Javascript is currently disabled or is not available in your browser. GlobalGiving makes extensive use of Javascript and will not function properly with Javascript disabled.
Please enable Javascript
and refresh this page.